BJP in campaign mode with Bengal thrust
In Varanasi, Modi slams his political opponents and the "pundits of the world" for being purveyors of hate and falsehood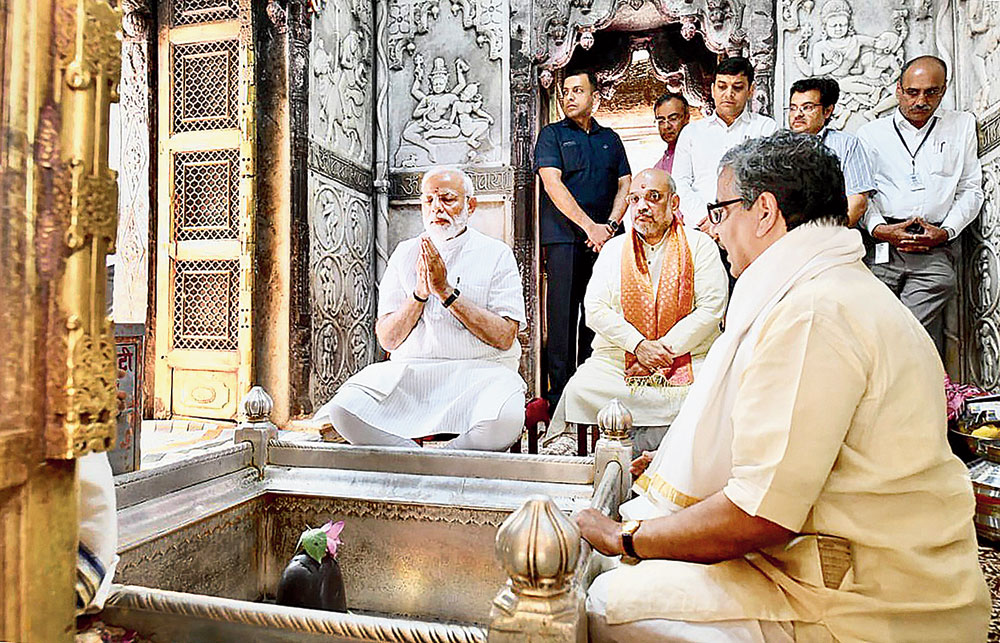 Prime Minister Narendra Modi, along with BJP president Amit Shah, offers prayers at the Kashi Vishwanath temple in Varanasi on Monday.
(PTI)
---
Lucknow/New Delhi
|
Published 27.05.19, 08:25 PM
|
---
Prime Minister-elect Narendra Modi on Monday signalled that rather than savouring his general election victory he would be in perpetual campaign mode as long as rival parties remained in power in states like Bengal or Kerala.
Addressing party workers during a thanksgiving visit to his constituency of Varanasi, Modi devoted most of his speech to attacking his political opponents in India and the "pundits of the world" as purveyors of hate and falsehood.
"There are two crises before us: whether in Kerala or Kashmir, Bengal or Tripura. These things don't appear in the media. One crisis is that of selective humanism, which rejects the truth," he said.
"Hundreds of our political workers are being killed for their ideology. Our workers were hanged when (Assembly) elections were on in Tripura (last year). Murders are still taking place in Bengal. Our people are still dying in Kashmir and being killed in Kerala. A narrative of hatred (against the BJP) has been created to legitimise violence. It's a huge crisis."
He went on: "The second crisis is that of political untouchability: even taking the name of the BJP is prohibited (in some circles). We have been in power for so many years but to them, we are 'divisive'. Those who style themselves as custodians of unity divided Andhra but didn't work for peace there. We didn't divide hearts while carving out Uttarakhand from Uttar Pradesh, Jharkhand from Bihar and Chhattisgarh from Madhya Pradesh."
Telangana had been carved out of Andhra Pradesh under UPA rule, while the three other states were created during Atal Bihari Vajpayee's stint in power.
"Still, a perception was created that we were untouchables. I want a new beginning today and want to urge our critics to come with us. We may have weaknesses but our intention is good," Modi said.
He, however, tore into the Left saying the Opposition had been denied a voice under its rule in Tripura. "Now that we are in power in Tripura, the voice of a strong (state) Opposition can be heard in Delhi," he said, contending the BJP has "democracy in its veins".
Targeting his "pundit" critics, Modi said: "Some people are like old cassettes. The pundits of the world try to create a perception (against Modi)…. They do two things: prevent the emergence of a correct perception about us, and destroy any (good) perception through false arguments. They create a perception (of the BJP and Modi) so that people start fearing us."
An article in Time magazine recently called Modi "India's divider-in-chief" while Britain's The Guardian newspaper termed his landslide win "bad for India's soul". Modi didn't mention names but said his answer to false criticism was hard work and transparency in governance.
He explained the BJP's victory in the Lok Sabha polls as the triumph of "chemistry over mathematics"— a media cliché for the way his personal popularity has repeatedly trumped caste and demographic equations.
"Elections in the 20th century may have been based on arithmetic, but political analysts have to accept after the elections of 2014 (Lok Sabha), 2017 (Uttar Pradesh) and 2019 (Lok Sabha) that a chemistry has been at work after mathematics," he boasted.
"The chemistry of social power in the country and the chemistry of ideals and commitment defeated all multiplications and divisions. Chemistry has defeated arithmetic this time."
Earlier in the day, Modi participated in a victory procession in Varanasi and prayed at the Kashi Vishwanath Temple.
BJP president Amit Shah told the workers' meeting that the people of Varanasi were fortunate to have Modi as their MP.
"I'm not saying this because Modiji is going to be Prime Minister again; what I mean is that getting Modiji as your representative means good fortune," he said.