Vegetarian wazwan? Kashmiris won't stomach this
BJP-friendly director forced to delete tweet after outrage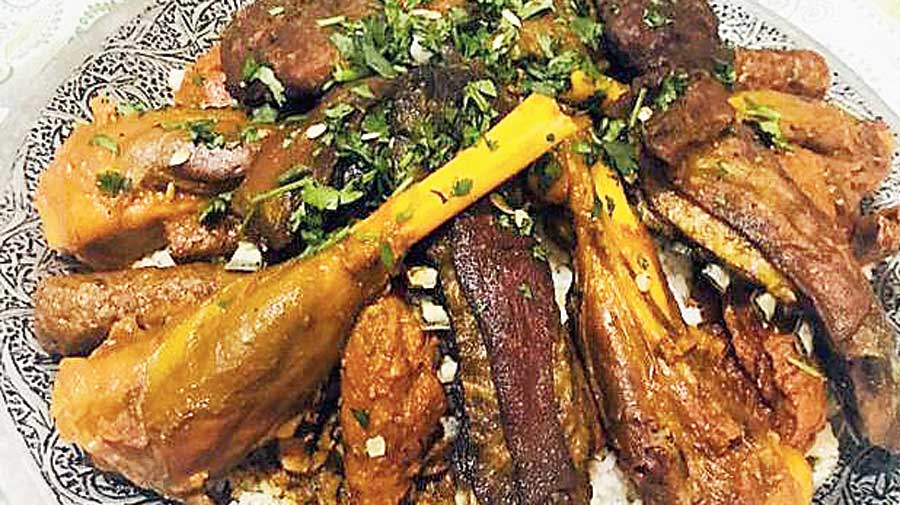 A plate of wazwan
Sourced by The Telegraph
---
Srinagar
|
Published 17.01.21, 02:06 AM
|
---
Kashmiris will not stomach any hanky-panky with their cherished spread, the wazwan, a BJP-friendly Bollywood director has learnt the hard way.
Vivek Agnihotri, visiting the Valley for the shoot of a film on Kashmiri Pandits, had on Thursday introduced Twitterverse to what he called "vegetarian wazwan" — with an apparent threat to change Kashmiris' food habits.
For many Kashmiris, "vegetarian wazwan" sounded like "cultural invasion".
Wazwan, a multi-course spread, is all about meat, so much so that the vegetable dishes that are part of it are immersed in mutton gravy before being served to guests. In Kashmir, people from all faiths — Muslims, Pandits and Sikhs — relish the wazwan.
After social media exploded in outrage, the filmmaker deleted the post while claiming he was doing so because his colleagues had received threats and abuse.
Agnihotri, a member of the Central Board of Film Certification, had on Thursday posted pictures showing his team eating vegetarian dishes at a Srinagar hotel.
"Nobody knows how to make a vegetarian Wazwan in Kashmir. But I am here to bring about change," wrote Agnihotri, whose upcoming film, The Kashmir Files, is based on the "unreported story of the most tragic and gut-wrenching genocide of Kashmiri Hindus".
Many saw in Agnihotri's tweet a design to not just impose "vegetarianism" on Kashmiris — amid the Centre's alleged moves to change the Muslim-majority character of the region — but also bring caste-based apartheid to Kashmir.
The wazwan is not just about the cuisine but also about the way people eat it. Four diners irrespective of faith and origin are together served with the dishes on a big copper plate, called trami, as a statement against caste and class divisions.
Fozia S. Qazi, a mathematics professor, posted a picture showing his father sharing the "same food" with a Kashmiri Pandit, a Sikh and a Parsi.
"When the wazwan and the custom of eating together was introduced, it was a statement against the harsh and rigorous caste and class divide," wrote journalist Muzamil Jaleel.
"It was and it is a leveller. It was the same principle that makes people stand in a line, shoulder to shoulder, to pray irrespective of who they are/their social status, etc.
"Think how revolutionary eating from a single plate with the hand and standing together (shoulder to shoulder) to pray was in an era... when even the shadow of 85 per cent of the population was considered a (source) of ritual pollution."
Author and journalist Gowhar Geelani suggested Agnihotri was on a cultural mission.
"Vegetarian narratives. Vegetarian intellect. An intellectually challenged filmmaker, who doesn't know how to recite a poem and has no idea about the poets, is on a mission Cultural Aggression in Kashmir," Geelani tweeted.
Geelani was referring to a Persian couplet praising Kashmir — "Agar firdaus bar roo-e zameen ast; Hameen asto, hameen asto, hameen ast (If there is paradise on earth, it is here, it is here, it is here)" — that Agnihotri had recited recently.
The filmmaker had claimed the poem was written by "Firdaus", apparently unaware that the word is Persian for "paradise".
Yashraj Sharma, a Twitter user, posted: "Been here for three years — never seen anything more beautiful, and tastier, than a Kashmiri Wazwan. Don't be a colonialist. And what in hell is that in the plate?! Keep it away."
On Friday night, Agnihotri tweeted: "With deep pain I am deleting this tweet because ever since I posted it, my local guests have come under intense threat, abuse & trolling from evil minds. I had learnt that people who eat together stay together but some people don't want anyone to stay together. May God bless all."
Some netizens dismissed his claim of threats as propaganda and demanded evidence.