BJP fails to rise to Arun Jaitley's defence
The PM's 'dear friend' was termed the 'biggest failure' in a purported WhatsApp chat involving Republic TV managing director Arnab Goswami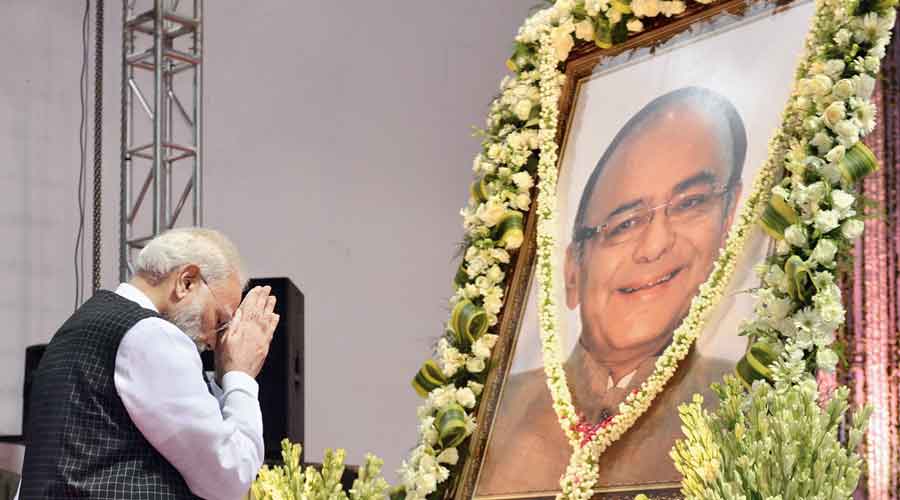 ---
---
Not one BJP leader has come forward to defend Prime Minister Narendra Modi's "dear friend" and late finance minister Arun Jaitley, termed the "biggest failure" in a purported WhatsApp chat involving Republic TV managing director Arnab Goswami.
An April 2019 WhatsApp message attributed to Partho Dasgupta, then CEO of TV ratings agency BARC, terms the then ailing Jaitley the "biggest failure" of the government, and Goswami purportedly writes back: "That I agree totally."
When Jaitley died of cancer four months later, Modi declared from the middle of a foreign tour: "I can't imagine that I am here in Bahrain while my dear friend Arun Jaitley is no more."
The same day — August 24, 2019 — the Prime Minister also tweeted: "With the demise of Arun Jaitley Ji, I have lost a valued friend, whom I have had the honour of knowing for decades. His insight on issues and nuanced understanding of matters had very few parallels…. We will miss him!"
Just five days before that, on August 19, 2019, a purported WhatsApp message from Goswami to Dasgupta had said: "Jaitley stretching it. PMO doesn't know what to do. PM leaving on Wednesday for France."
Jaitley was then battling for his life.
Dasgupta is purported to have asked: "So hasn't died yet?"
Goswami's purported reply: "Maintaining him. I expect something by evening. One of my meetings in Delhi this week gets pushed because of this."
So far, the content of the chats has not been denied.
Last month home minister Amit Shah unveiled a statue to Jaitley at the Feroz Shah Kotla in Delhi, now renamed Arun Jaitley Stadium, and said his departed colleague had "served the nation with passion and devotion".
On December 28, 2020, Modi tweeted: "Remembering my friend, Arun Jaitley Ji on his birth anniversary…. He worked tirelessly for India's progress."
However, BJP leaders have not felt obliged to challenge the belittling of Jaitley in the WhatsApp chat or condemn the insensitive comments made when he was battling death, maintaining silence in public and arguing in private that the controversy is a "TRP war between two channels" not worth according importance to.
Information and broadcasting minister Prakash Javadekar too comes under fire in the purported chats between Dasgupta and Goswami.
A message attributed to Dasgupta describes Javadekar as "useless" while one attributed to Goswami expresses preference for Smriti Irani in Javadekar's place. The BJP has not reacted to this, either.
Javadekar, fielded on Tuesday to address the media and attack Rahul Gandhi, was asked about the messages but refused to react, saying the subject had nothing to do with his news conference.
Many in the BJP believe that Goswami, known to have had easy access to Modi and Shah, was expressing what those in the power corridors genuinely felt about Jaitley at the time.
It was widely speculated that Modi and Shah wanted Jaitley out of the finance ministry but couldn't act on the desire since both had accepted his services as a lawyer. Jaitley had defended Modi in Gujarat riot cases and Shah in the Sohrabuddin fake encounter case.
Modi-Shah's alleged intent was bared when Jaitley underwent a kidney transplant in May 2018. Piyush Goyal was "temporarily assigned" additional charge of the finance ministry while Jaitley was designated "minister without portfolio".
BJP parliamentarian Subramanian Swamy had at the time flagged how the Prime Minister's official website said Goyal was the finance minister while the finance ministry's website continued to accord that distinction to Jaitley.
It was Nirmala Sitharaman and not Goyal, though, who eventually succeeded Jaitley as full-time finance minister. BJP insiders say Jaitley had long been promoting Sitharaman and may have expressed a dying wish saying she be given the finance portfolio.
Sitharaman, who termed Jaitley a "visionary leader" while presenting the 2020 budget, too has chosen not to react to the allegation that the former finance minister was "the biggest failure".