BJP: Congress trying to scare Enforcement Directorate
The BJP claimed that the protest over price rise was just an excuse to shield the Gandhi family from corruption allegations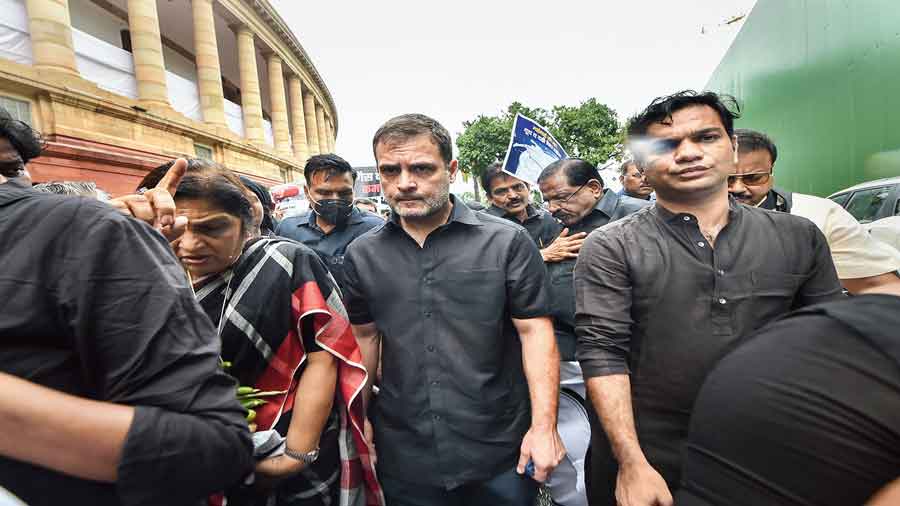 Rahul Gandhi, along with party MPs, marches towards the Rashtrapati Bhavan in New Delhi on Friday as part of the party's nationwide protest against price rise, unemployment and GST hike on essential items.
PTI
---
New Delhi
|
Published 06.08.22, 12:50 AM
|
---
The BJP on Friday accused the Congress of "intimidating" the Enforcement Directorate through protests and suggested that the Opposition party had scant regard for democracy, seeking to turn on their head the most scathing allegations against the Narendra Modi government. 
The BJP claimed that the protest over price rise was just an excuse to shield the Gandhi family from corruption allegations at a time they have been questioned by the ED.
The party fielded former law minister Ravi Shankar Prasad to slam the Congress in general and Rahul Gandhi in particular against the backdrop of the Opposition leader's sustained criticism of the Modi government and the protests against price rise, unemployment and GST on essentials."Price rise is just an excuse. The real intention is to intimidate the ED and save the family in the National Herald corruption case," Prasad said.The BJP leader also slammed Rahul for his remarks on "death of democracy" at a media conference on Friday."Rahul Gandhi is lecturing on democracy.… Is there democracy in the Congress?" Prasad asked, recalling the Emergency, the BJP's go-to defence from close to half a century ago that is flashed whenever it is accused of repression."Stop demeaning the institutions of India for covering your misdeeds and corruption. Why do you blame democracy when the people of India reject you?" Prasad added.
The ED and other central agencies are increasingly being accused of hounding the political rivals and critics of the Modi government, which has also faced allegations of launching an unprecedented assault on democratic principles and basic rights. Prasad claimed that the Congress was not concerned about price rise or democracy and its real aim was to scuttle the ED probe through protests.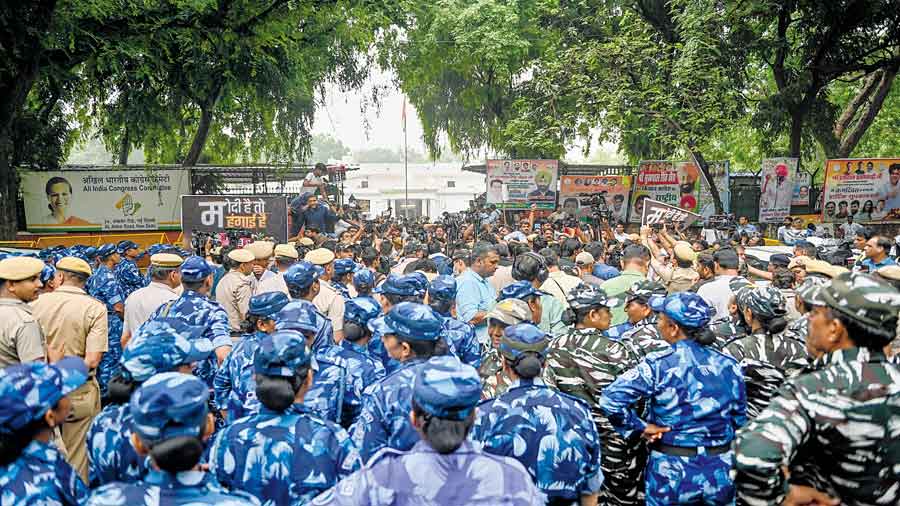 "Rahul Gandhi is lying that he is not allowed to speak on price rise in Parliament. He doesn't come to the House and his party walks out when finance minister Nirmala Sitharaman tells Parliament how India has performed well despite Covid," the BJP leader said.Some ministers also joined the attack on Rahul. Parliamentary affairs minister Pralhad Joshi called the family "fake Gandhis".
"Congress leaders have taken to the streets because their corruption has been exposed. They want to put pressure on the probe agency," women and child development minister Smriti Irani said.