Bihar stares at drought and impact on paddy crop
Rice is a part of the state's staple diet and paddy is cultivated in all the 38 districts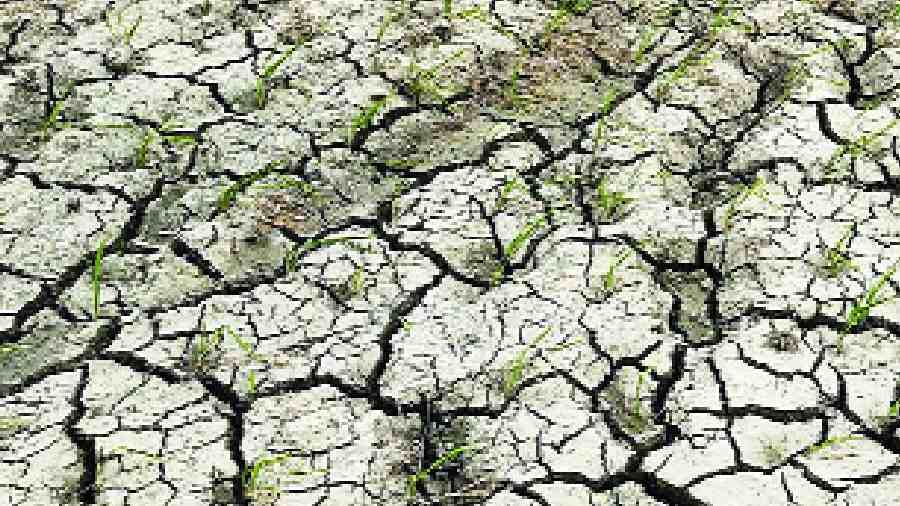 A parched and cracked agriculture field in Rohtas district. The district accounts for around 13 per cent of paddy production in the state.
Sanjay Choudhary
---
Patna
|
Published 29.07.22, 01:17 AM
|
---
Bihar is staring at a bad drought and failure of the all-important paddy crop this year. July, considered the most important month for paddy transplantation, is about to get over, but just over 33 per cent of the targeted 35 lakh hectares have been sown across the state.
Experts said paddy production in the state could drop by around 45 to 50 per cent.  
Rains have been deficient, canals are empty, smaller rivers are dry and the ground water table has dipped. Agricultural fields that should have been full with water to aid paddy cultivation are lying parched and have developed cracks.
Rice is a part of the state's staple diet and paddy is cultivated in all the 38 districts. However, sowing has been less than 10 per cent in 17 districts, including the fabled 'rice bowl area' consisting of Rohtas, Kaimur, Buxar, Bhojpur and Aurangabad districts.
"Rains have been very less this time and the canals in our area do not have adequate water. Farms closer to the canals are managing to sow paddy, but those located a few kilometres away are finding it difficult to do so. We are still hoping that nature will bail us out, but if this continues, we will be in trouble," Manoj Singh, a farmer from Sasaram in Rohtas district, told The Telegraph.
Manoj, who cultivates around 25 acres, said paddy production would suffer this year and pointed out that the state government had done little on ground to popularise paddy varieties that ripened quicker (90 to 110 days) than the currently prevalent ones.
The government also did not try to make the farmers shift towards climate-resilient crops, Manoj added.
Bihar has suffered in two ways because of the weather this year. First, the advent of summer was early, with temperatures shooting up to 40°C in mid-March, drying up water sources and the ground.
Second, the pre-monsoon and monsoon rains have played truant. The long-term average annual rainfall in the state is around 1,000mm. 
"Overall Bihar is 45 per cent deficient in rainfall this year so far. It is very difficult to tell whether the rains over the next couple of months will make up for it or not," senior scientist of the India Meteorological Department (IMD), Patna, Anand Shankar, told this newspaper.
However, the overall deficiency does not give a clear picture as far as agriculture is concerned because the average rainfall that should have been around 270mm in July has been just around 70mm, or slightly over 25 per cent.
"We don't just want sufficient rainfall, but timely rains also. What is the use of rain when the sowing season is over or the crop has wilted? We need so much rain that water accumulates in our fields for paddy transplantation," said Mithilesh Rai, a farmer from Sarai in Vaishali district.
Asked about the situation, state agriculture secretary N. Saravana Kumar said: "We are keeping our fingers crossed. Paddy transplantation has been done on just 12 lakh hectares out of the total 35 lakh hectares targeted area till now. This denotes the seriousness of the situation."
"Paddy is transplanted when the seedlings are around 20 to 25 days old. The seedlings are already 40 days old now.
"Even if there are good rains now and the farmers are able to do paddy transplantation, there will be a loss of productivity due to this factor. The damage has already been done," Kumar added.
The agriculture secretary pointed out that some areas in Magadh and Munger transplanted paddy a little late, up to August 15, which could improve the situation a bit.
Agriculture department scientists said they were expecting over 86 lakh tonnes of paddy production in the state during 2022-23 but were now looking at around 40 to 45 lakh tonnes due to the lack of rains.
The scenario will worsen the existing financial condition of farmers; hit the state economy as well as the food security, stoking the fire of inflation further.
"We are doing our utmost to salvage the situation. The government has given orders to supply electricity for 16 hours daily through agriculture feeders instead of the eight-hour supply previously provided.
"This will help the farmers who use electric pumping sets for irrigation. We are also providing around Rs 30 crore as diesel subsidy to farmers who still rely on diesel pumping sets," Kumar said.
The agriculture secretary also said efforts were being made to provide short-duration paddy seeds, pulses and other contingent crops to help farmers.