Senior BJP leaders hit back at Nitish for criticising Yogi's population bill
They have accused the Bihar chief minister of indulging in doublespeak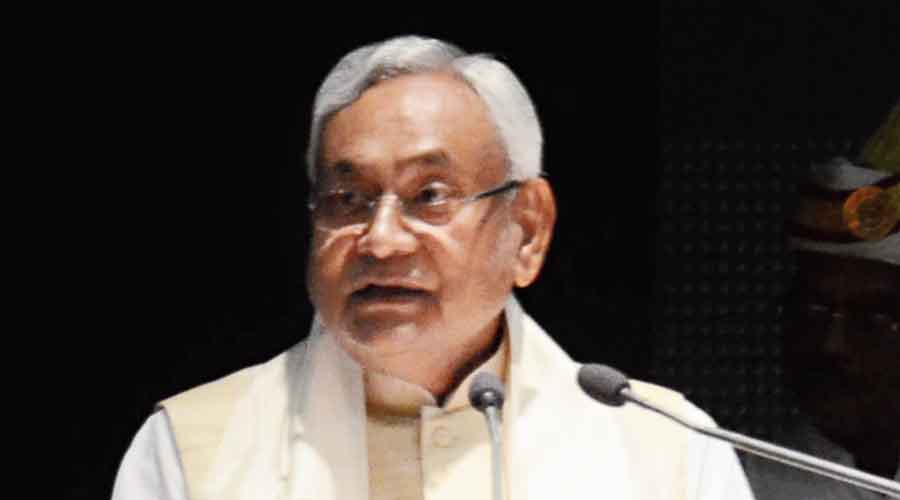 ---
Patna
|
Published 14.07.21, 01:47 AM
|
---
Senior BJP leaders hit back at ally Nitish Kumar on Tuesday after his apparent criticism of the draft population bill brought by the Yogi Adityanath government in Uttar Pradesh, accusing the Bihar chief minister of indulging in doublespeak.
Nitish had asserted on Monday that making laws to curb population growth would not work and that the best alternative was to educate women.
Panchayati raj minister and BJP legislator Samrat Choudhary pointed out that Nitish had led the passage of the Bihar Municipal Act, 2007, which barred candidates with more than two children from contesting urban local body elections. The threshold date was fixed at April 1, 2008, under the law for counting the children of the contestants.
Choudhary asserted that it was time to implement similar norms in the panchayat polls and said that preparations were afoot to bring a legislation.
"Nitish Kumar had brought the law that barred candidates having more than two children from contesting municipal polls in Bihar. It is now time to implement the law in panchayat elections as well. We are preparing the draft for it," he said.
Choudhary clarified that such provisions will not affect the upcoming panchayat polls in the state.
Deputy chief minister and senior BJP leader Renu Devi also hit out at Nitish's stand on population control and said his statements were inherently flawed.
"Men should be made aware and enlightened to curb population. They are too afraid to go for vasectomy as a family planning method. The number of vasectomy operations in various districts of Bihar is negligible. Just educating women will not control the population growth. It's a fact that family members put pressure on women to have more children due to their desire to have sons," Renu said.
The deputy chief minister, however, denied that her opinion could have been influenced by the forcible vasectomies performed during the Emergency between 1975 and 1977.
Union rural development minister Giriraj Singh, the MP of Begusarai, said: also refused to accept Nitish's stance on checking population growth.
"A law is needed because population growth has become a major obstacle to national development," he said.
As the BJP leaders cornered Nitish over the issue, leaders of his Janata Dal United leaders returned the fire, asking them to check facts.
"The work done to provide education to girls over the last 16 years has led to a decline in the fertility rate in the state The experiment has been successful and the country should follow it. It is not possible to control population with the help of laws," JDU chief spokesperson Neeraj Kumar said.
Nitish had also disapproved the talks about imposing a uniform civil code in the country.
The JDU has opposed the National Register of Citizens, National Population Register, Citizenship Amendment Act, scrapping of Article 370 and uniform civil code, which have been supported by the BJP.