Kin alleges govt officer with Covid left on footpath
Son of deceased patient alleges that his father was a victim of systemic mismanagement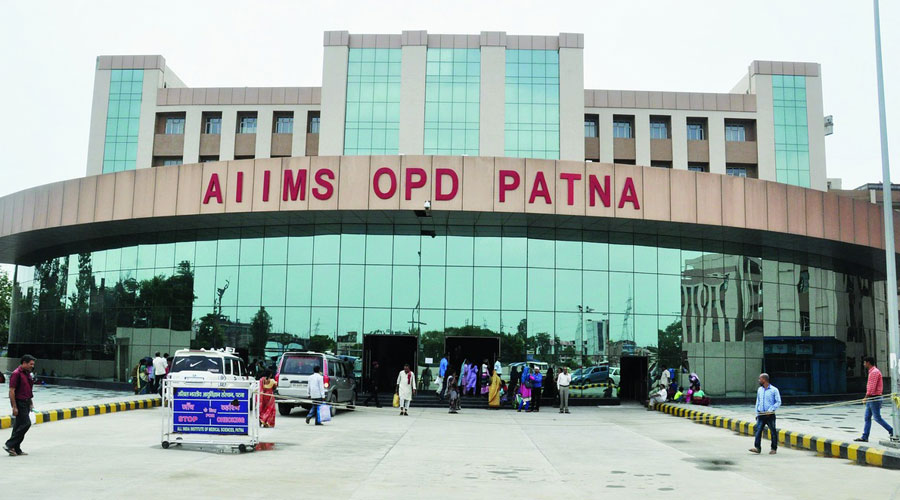 All India Institute of Medical Sciences, Patna
File picture
---
Patna
|
Published 16.07.20, 02:41 AM
|
---
Family members of a government officer, who was diagnosed with Covid-19 and died at the All India Institute of Medical Sciences here on Tuesday, have alleged he had to spend a night on the footpath on the hospital campus owing to "mismanagement".
Umesh Rajak, 60, was working on extension as an under secretary in the home department, after retiring in January this year. He had been admitted to Indira Gandhi Institute of Medical Sciences (IGIMS) here after he started showing Covid-19 symptoms like cough, cold and fever on July 8.
"Samples were taken at IGIMS for the Covid-19 test. At first, the hospital said his reports were negative, but later declared him positive. He was referred to Nalanda Medical College and Hospital (NMCH) on Sunday evening. There were other patients and all were taken there in an ambulance. But the hospital (NMCH) refused to admit them," said Rajak's son Tapan Kumar Bharti.
Tapan, a manager with India Post Bank in Sheikhpura, said all the patients were then shifted to AIIMS Patna, but they were again refused admission. With no other option open, the patients had to lie down on the footpath on the sprawling hospital campus.
AIIMS and NMCH are the only hospitals dedicated to Covid-19 treatment in the state capital.
"My father was having difficulty in breathing and his oxygen level seemed to be decreasing. My mother and I kept pleading to the AIIMS authorities to take him in and provide oxygen, but they did not listen to us. He spent 10 hours, including the entire Sunday night, on the footpath. The hospital admitted him on Monday, but his condition had deteriorated by that time. He died a day later. My father became a victim of systemic mismanagement," an inconsolable Tapan said.
Sources said AIIMS Patna admitted Rajak after somebody shot a video of him and other patients in white PPE (personal protective equipment) kits lying on the footpath at night, and uploaded it on various social media platforms. The video was shared widely and Opposition leader Tejashwi Prasad Yadav also tweeted it and challenged chief minister Nitish Kumar to inform about the steps taken to contain the spread of coronavirus.
The video, which The Telegraph has not verified independently, shows three patients lying on the footpath. It also shows a woman resembling Rajak's wife crying and running around seeking help, while his son is also seen.
Asked about the incident, AIIMS Patna superintendent C.M. Singh expressed helplessness. "We have just 300 beds and an intensive care unit with 41 beds to treat Covid-19 patients. All were full. We are here to treat people, but could not admit anybody due to lack of vacant beds," Singh told this newspaper.
"Similar situations will keep recurring unless more hospitals are built to treat corona patients. At present all patients rush to our hospital due to lack of options. This issue is being highlighted on media and social media. But I am sure that they must have seen the condition in Italy, France, the US and many other developed countries when beds fell short," he said.
Two other government hospitals in Patna — IGIMS and Patna Medical College and Hospital (PMCH) — were previously treating coronavirus patients, but stopped a couple of weeks ago. The situation has become more precarious because private hospitals in Patna are not accepting coronavirus patients.
Recently, public sector undertaking NTPC wrote to the state government to ensure private hospitals treat Covid-19 patients after a hospital discharged and abandoned two patients, who are family members of the company's employees, after they tested positive for coronavirus.