Bridge collapses within a month of opening
Sattarghat Bridge came as a fulfilment of the decades-old demand of the people of Gopalganj district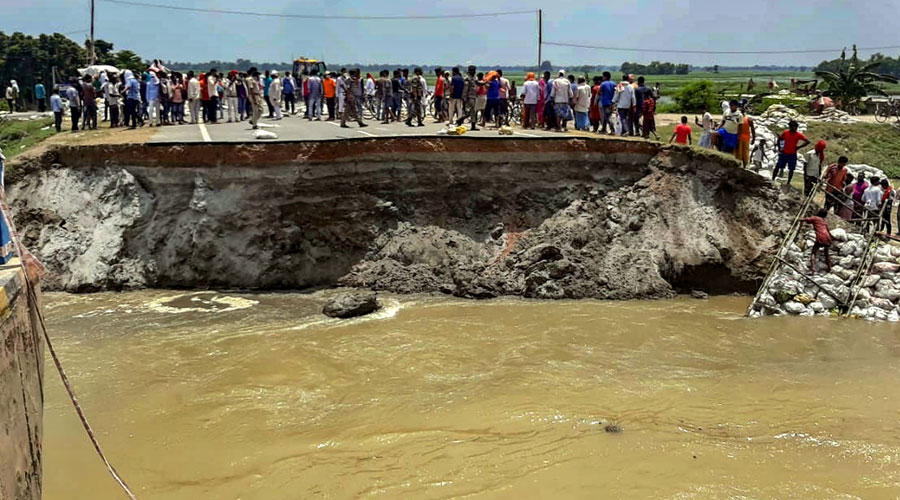 ---
|
Patna
|
Published 17.07.20, 02:12 AM
---
A newly-built bridge over Gandak river in Bihar's Gopalganj district collapsed on Wednesday within a month of its inauguration by chief minister Nitish Kumar, exposing poor construction and providing a chance to the Opposition to corner the National Democratic Alliance government over corruption.
Known as Sattarghat Bridge, it connected Gopalganj with East Champaran and other districts of north Bihar, and came as a fulfilment of the decades old demand of the people of that area.
It took eight years and Rs 264 crore to construct the 12km-long stretch that includes four bridges — a 1.44km long main bridge and three shorter ones — along with approach road. Nitish inaugurated it on June 16 through video conferencing. He had laid its foundation stone in April 2012.
"These bridges are located between Gopalganj and East Champaran districts in a north-south alignment. Around 20-metre-long stretch of the approach road towards the southernmost smaller bridge on Gopalganj side collapsed due to the pressure of flood waters of Gandak river," road construction department (RCD) additional chief secretary Amrit Lal Meena told The Telegraph.
Meena added that the damaged portion of the road will be filled and repaired within three to four days once the water level in the river recedes to make it motorable again.
Asked whether the floods and water pressure were not taken into account in the construction approach path, Meena said, "Breaches happen due to unforeseen movement of the river. It is common and not unusual."
RJD leader Tejashwi Prasad Yadav hit out at Nitish over the collapse and asserted that it exposed corruption in the government.
"This collapse is a common phenomenon in Nitish's rule. This bridge costs Rs 264 crore and collapsed in 29 days of its inauguration. Thankfully nobody has died in the incident, but it highlights the fact that corruption and the corrupt flourish in his rule," Tejashwi said.
The leader of Opposition in the Legislative Assembly further said that there have been 55 scams in 15-year-rule of Nitish. "These are the ones that the state government has accepted. Many more scams are still invisible. The collapse should be probed and the culprits should be punished. But this will not happen and any probe, if initiated by the government, will become stalled," he added.
Bihar Congress chief Mandan Mohan Jha also took a swipe over the bridge collapse. "The inauguration of the bridge was constructed at a cost of Rs 264 crore on June 16 and destruction on July 15. Now do not accuse the poor rat for this," Jha said.