Bihar Assembly to see contest for Speaker
The BJP persuaded Nitish Kumar's JDU to part with the Speaker's chair on the back of a far better poll performance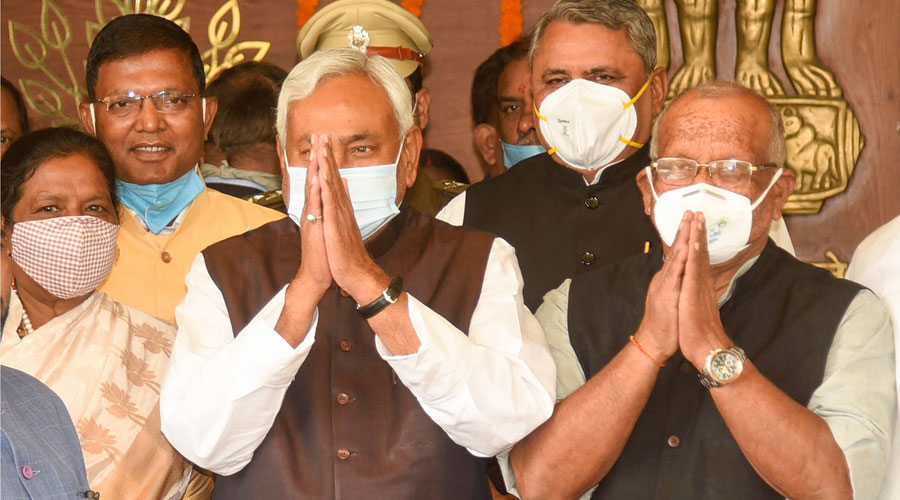 ---
|
Patna
|
Published 25.11.20, 02:40 AM
---
The recent electoral battle in Bihar spilled onto the Legislative Assembly on Tuesday with the ruling NDA and the Opposition Grand Alliance throwing their hats into the ring for the Speaker's post.
The leading parties of both the alliances have fielded their own candidates — while the BJP has put forward former minister Vijay Sinham, the RJD has nominated Awadh Bihari Chaudhary — breaking the tradition of unanimous selection of the Speaker. The last time Bihar witnessed a contest for the Speaker's chair was in 1969. Since then, a unanimous candidate has held the post.
Voting will be held on Wednesday and the contest is being billed as another showdown between the NDA and the Grand Alliance after the closely contested Assembly elections where they won 125 and 110 seats, respectively, in the 243-member lower House.
The BJP, after persuading Nitish Kumar's JDU to part with the Speaker's chair on the back of a far better poll performance, zeroed in on Sinham, who has won the Lakhisarai seat thrice in a row, to fulfil the caste considerations. He hails from the Bhumihar caste like previous Speaker and JDU leader Vijay Kumar Choudhary.
The move is also being seen as an attempt by the BJP to appease the general category castes after handing over the deputy chief ministers' positions to leaders from the backward (Tarkishore Prasad) and extremely backward (Renu Devi) castes. This was also one of the reasons behind dropping former minister Nand Kishore Yadav.
On the other hand, the Grand Alliance partners met at RJD leader and former chief minister Rabri Devi's residence in Patna on Tuesday and decided that the alliance would field their own candidate for the Speaker's post. Awadh Bihari, the alliance's choice, is a five-term MLA from Siwan and former minister.
"We all, including our allies, have decided to field Awadh Bihari Chaudhary as the Grand Alliance candidate for the Speaker's post," Tejashwi told reporters.