BJP's Bihar offer raises ethical questions
Vaccine-for-vote virus infects poll
Health experts describe announcement as 'selling dreams'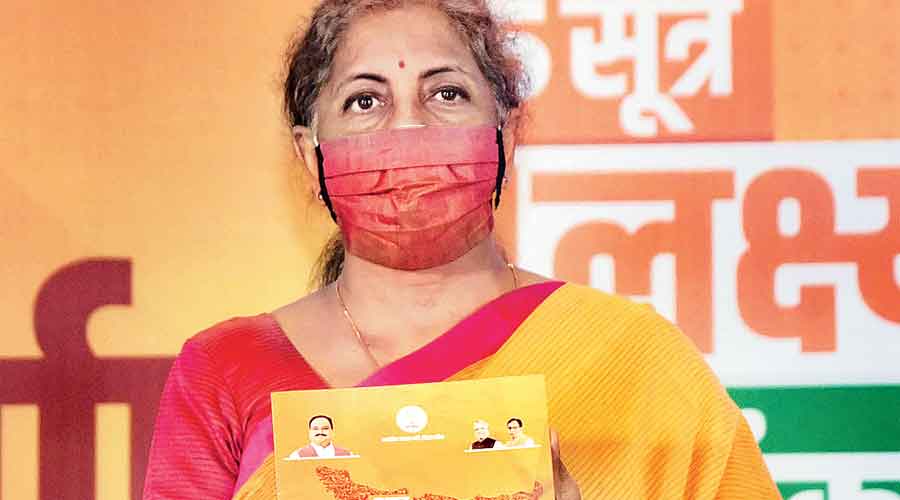 ---
Patna, New Delhi
|
Published 23.10.20, 01:14 AM
|
---
The BJP promised free Covid-19 vaccines for everyone in Bihar as it released its Assembly poll manifesto on Thursday, prompting the Opposition to accuse it of playing politics with the deadly pandemic and assert that any vaccine would belong to the nation and not a party.
Health experts, one of whom described the announcement as "selling dreams", said such promises were premature given the lack of clarity over which candidate vaccine might clear the tests and when, and how much of it could be produced and how fast.
"At least three coronavirus vaccines are now on the verge of production in our country. When scientists clear it (the vaccine), our country will have the capacity to produce sufficient vaccines to enable what we are promising here — in Bihar, everyone will get a free vaccine," Nirmala Sitharaman, Union finance minister, said while releasing the manifesto in Patna.
"This is our first promise in our sankalp patra (vision document)," she added.
Opposition parties castigated the BJP for its "cynical exploitation" of people's fear of the coronavirus and wondered whether the "politicisation of the vaccine" meant that states where polls weren't due anytime soon would be denied priority in access to the vaccine.
Rashtriya Janata Dal leaders accused the BJP of being in "the business of death for votes" and of "trading vaccines for votes after allowing Covid-19 to spread across the country".
"The coronavirus vaccine is of the country and not of the BJP. The political use of the vaccine shows that it (the BJP) has no other option than to sell the fear of disease and death. The people of Bihar have too much self-respect to sell the future of their children for a few paise," the RJD tweeted.
Congress leader Rahul Gandhi posted a sarcastic tweet: "The Government of India just announced India's Covid access strategy. Kindly refer to the state-wise elections schedule to know when you will get it, along with a hoard of false promises."
Congress MP Shashi Tharoor urged the Election Commission to act. "Tum mujhe vote do, main tumhein vaccine… what appalling cynicism. Will the Election Commission rap her (Sitharaman) and her shameless government on the knuckles?" he tweeted.
Bhupendra Yadav, the BJP general secretary in charge of Bihar, defended the poll promise, saying: "Vaccines will be made available to all Indians at a nominal cost. The states can make it free. In Bihar, we will (if voted to power)."
Health experts stressed the uncertainty about when and how fast a successful vaccine could be produced, which implies that promises about vaccinating an entire state like Bihar, whose population in the 2011 census was 10.4 crore, amounted to jumping the gun.
Members of an expert panel tracking the vaccine development efforts have said that until a candidate vaccine is approved, it will be difficult to predict how many vaccine doses will be available or to set a budget for a vaccine.
"How much of vaccine doses will be available will depend on which vaccine is successful," a member of the panel had told this newspaper earlier this month.
Different companies have different production capacities — although efforts are on to enable "unhindered global sharing" of technology to make Covid-19 vaccines.
The availability will also depend on whether a two-dose vaccine or a three-dose vaccine makes it. Health experts emphasised that it's too early to even predict which among the 44 candidates under clinical trials worldwide, including three in India, might be successful.
Scientists said that none of the vaccines had yet been proved through large-scale Phase 3 efficacy studies to protect people from Covid-19. India's home-grown vaccines are still undergoing Phase 2 studies to determine their capacity to generate an immune response.
A medical researcher familiar with the status of the vaccine trials appeared amused at the BJP poll promise.
"Health is a state subject. If the BJP and the state have the access to and the resources for a vaccine and they want to give it free to everyone... I shall also go and take it," he said.
"There is a thing called selling dreams," the researcher added.
The BJP manifesto also spoke of creating 19 lakh jobs, making 1 crore women self-reliant through self-help groups, providing 30 lakh houses to the homeless, making medical and technical education available in Hindi, and stipulating minimum support prices for various kinds of pulses.
Ally Janata Dal United too released its poll manifesto on Thursday, basing it on the "Seven Resolves for a Developed Bihar — Part II" announced by chief minister Nitish Kumar around a month ago.
Bihar's 243 Assembly seats will vote on October 28, November 3 and November 7, with counting on November 10.