Bihar: 19 people die after allegedly consuming hooch during Holi
The deaths occurred in Banka, Bhagalpur and Madhepura districts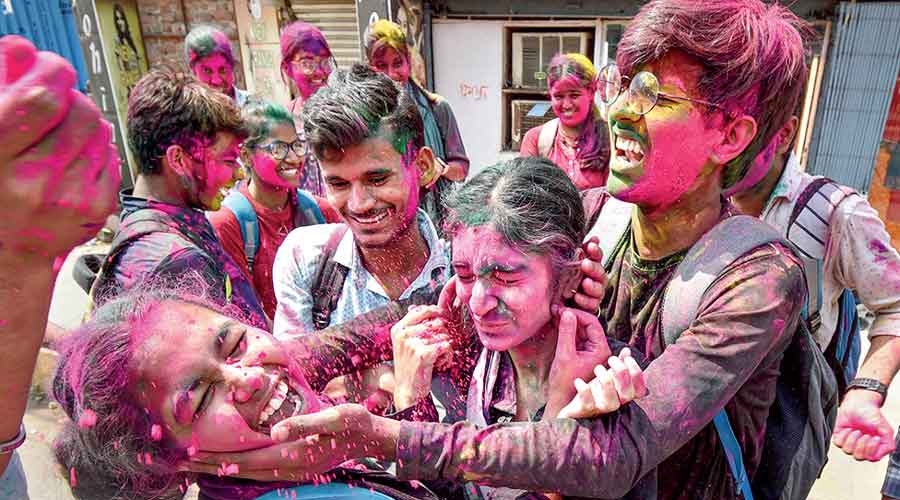 Students play with colours in Patna ahead of Holi last week.
PTI Photo
---
Patna
|
Published 21.03.22, 12:38 AM
|
---
At least 19 people have died and many are battling for their lives after allegedly consuming hooch during Holi in Bihar, a state where prohibition laws are so stringent that owning a bottle of liquor can lead to a five-year jail term.
The deaths occurred in Banka, Bhagalpur and Madhepura districts. Family members of the deceased said the victims had consumed liquor on Friday and Saturday during Holi festivities.
They died after complaining of nausea, disorientation, body ache, breathlessness, and loss of vision and consciousness — all typical side effects of consuming spurious liquor.
Eight people died in Banka district. Banka district magistrate Suharsh Bhagat told The Telegraph he learnt about the deaths from the media.
"Eight suspicious deaths have occurred in a bunch of villages in the Amarpur police station area. We have sent officials to physically verify this. We can say anything with certainty only after the verification," Bhagat said.
In Bhagalpur, seven people died in the space of a couple of hours on Sunday morning in Sahebganj, triggering panic.
"My father was a habitual drinker. He drank during Holi and started vomiting. We took him to hospital, where he died during treatment," said Chandan Kumar, son of one of the deceased, Vinod Rai.
Residents blocked roads passing through the Sahebganj locality and burnt tyres. They demanded compensation for the deceased, as well as action against those involved in the liquor trade.
"Liquor was being brazenly sold in our locality during Holi. We tried to inform the senior superintendent of police (SSP) about it, but he did not receive our calls to his cellphone. We informed the local police station and officials, but they did not take any action and now so many lives have been lost," said Kumar Gaurav, one of the protesters in Sahebganj.
Bhagalpur district magistrate Subrat Kumar Sen and SSP Babu Ram did not respond to calls from this newspaper.
Four persons died in Dighi panchayat in Madhepura district on Saturday. Their family members cremated their bodies out of fear of the police and the draconian prohibition law.
Repeated calls to Madhepura district magistrate Shyam Bihari Meena were not answered, while superintendent of police Rajesh Kumar's mobile was not reachable.
Chief minister Nitish Kumar imposed total prohibition in Bihar in April 2016.
Earlier this month, a special prohibition court sentenced a schoolteacher to five years in jail for possessing one bottle of Indian Made Foreign Liquor.
However, the prohibition law has only moved the liquor trade and consumption underground, with the mafia taking strong roots in the state.
At least 72 persons have lost their lives after consuming hooch in Bihar this year. The toll stands at 182 since January 2021.
Efforts by the police and excise officials at times lead to seizure and destruction of Indian Made Foreign Liquor (IMFL) and country liquor, but at best they are just a fraction of the illicit alcoholic drinks that are smuggled into Bihar through its porous borders with Uttar Pradesh, Jharkhand, Bengal and Nepal.
Sources said the number of deaths and people who are in hospitals in the aftermath of Holi could be much more because illicit liquor brewers prepare at least 75 to 100 litres of country liquor at a time.
"Imagine how many people would have consumed liquor in the three places where the hooch have occurred, and how many must have been affected. Deaths mostly occur when the illicit brewers mix methyl alcohol instead of ethyl alcohol in liquor, either unknowingly or deliberately. At times they also mix some chemicals to make the hooch more potent," a former liquor trader said.