Bid to save musth elephant
Forest officials usually tranquilise such elephants and even put them in rehabilitation centres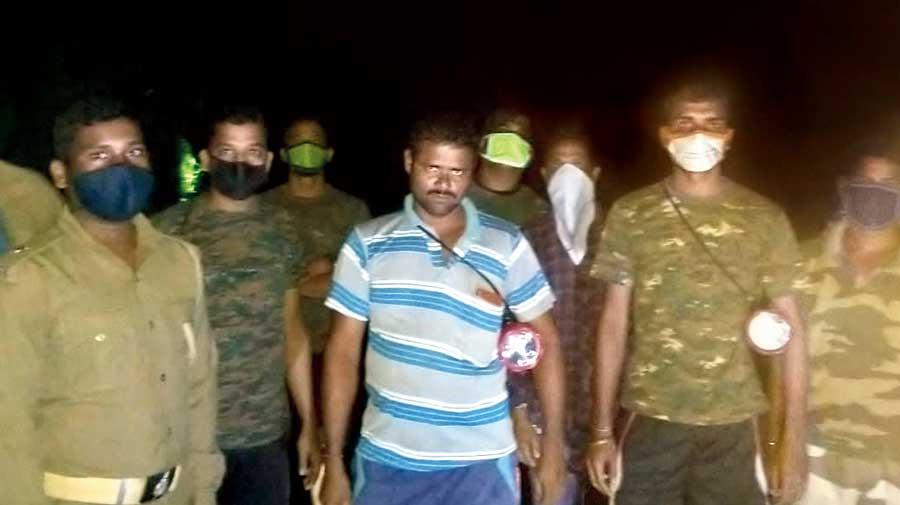 Forest officials and Gajabandhus patrolling a forest to save the musth jumbo.
Telegraph picture
---
Bhubaneswar
|
Published 02.10.20, 02:36 AM
|
---
A dozen forest officials and 20 Gajabandhus have been on their toes round the clock for past three days in the dense forests of Athgarh, about 65 km from here, to save a musth tusker from suspected poachers and angry villagers whose crops it has damaged. The tusker has caused largescale depredation in the Athgarh-Angul belt.
A male elephant in musth is characterised by extremely aggressive behaviour because of a steep rise in its testosterone levels. Gajabandhus are village volunteers who help forest officials save elephants in danger, especially when they come in conflict with human beings after straying into habitations such as villages in search of food.
An elephant in musth can be dangerous both to human beings and other elephants and cause widespread damage to crops and property.
Divisional forest officer (DFO), Athgarh, Sasmita Lenka said, "Musth is a periodic condition in (bull) male elephants characterised by highly aggressive behaviour and accompanied by a large rise in their reproductive hormones. The testosterone levels in an elephant in musth can be on an average 60 times greater than in the same elephant at other times."
Forest officials usually tranquilise such elephants and even put them in rehabilitation centres.
 In January, forest officials had to tranquilise a musth elephant (a tusker) near Telkoi in Jajpur district after it had trampled four people including a 60-year-old woman to death and caused widespread damage to crops. Forest officials said there were reports of tuskers in musth being tranquilised every year.
"People are demanding tranquilisation of this tusker. There is resentment against him because of the damage he has caused to the paddy crop. But we need to understand the biological phenomenon and give such elephants space to live. Our effort now is to push this tusker back to the dense forest without causing any harm to him," said the DFO.
Scientific investigation has revealed that musth is a problematic condition because even the most placid elephants become highly violent toward humans and other elephants during this period. Their food behaviour also changes.
"One can easily identify a musth elephant. There is a secretion over his ear and eye. It is prominent. The animal stands away from the herd. It feels restless. During this period it likes food that contains a lot of water. Feeding it herbal products like nishadal and dhala kaincha is good during this period when it also needs more frequent bathing. Some people mistake such behaviour among elephants as signs of madness and try to kill them. We are trying to make people aware of this biological phenomenon," said the DFO, adding that musth elephants become normal after sometime.
The officer has issued necessary instructions to the deputy ranger office, Khuntuni Range, through a letter on the issue. "A programme should be chalked out at your level to strengthen protection and anti-depredation duty round the clock so as to avoid further complaints. Any deviation will be viewed seriously," the communication said.
Lenka has also asked for the crop damage report following proper assessment for sanction of the compensation amount to the victims.