Evidence against Sudha Bharadwaj 'too poor' to be admissible, says lawyer
Writers, activists and academics seek her release from jail, urge intelligentsia to break their silence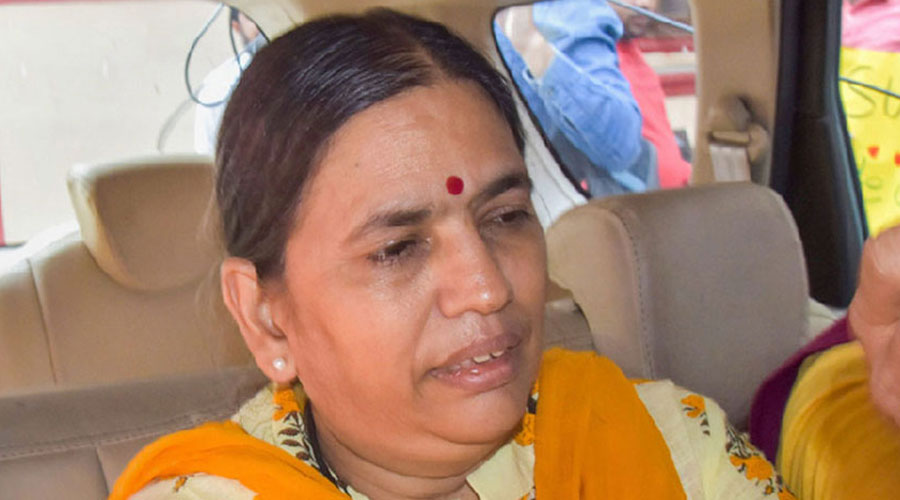 Sudha Bharadwaj
File picture
---
New Delhi
|
Published 25.01.21, 01:25 AM
|
---
Yug Chaudhary, lawyer of activist Sudha Bharadwaj who has been in custody since her arrest in the Bhima Koregaon case in 2018, on Sunday said the purported evidence against her lacked "sanctity" and was "too poor" to be admissible.
At a webinar, writers, activists and academics demanded that Bharadwaj be released from jail and urged the intelligentsia to follow her example and break their silence as the country's institutions were no longer reliable.
Writer Nayantara Sahgal, who had returned her Sahitya Academy award in 2015 in protest against the killing of rationalists, released a book, Sudha Bharadwaj Speaks: A Life in Law and Activism, at the event.
Bharadwaj and 15 other rights activists, writers and lawyers are accused of involvement in a Maoist plot to attack the Prime Minister's rallies and of instigating caste violence in connection with a December 31, 2017, Elgar Parishad meeting in Bhima Koregaon near Pune.
The Parishad aims to foster harmony between OBCs, Marathas and Dalits.
Currently, the case is being investigated by the National Investigation Agency.
"The specific case against her is that she is a Maoist who participated in bomb-making, sponsored others for underground training and indoctrinated others into Maoism," Chaudhary said.
He said the purported evidence consisted of photocopies of typed, signature-less documents obtained from the laptops of co-accused Rona Wilson and Surendra Gadling, and none from Bharadwaj's laptop.
Chaudhary cited the Jain hawala case of 1991, relating to entries in diaries on payments allegedly made by the Jain bothers to prominent politicians. The Supreme Court dismissed the case, declining to accept these entries as evidence.
"Similarly, in this case (against Bharadwaj), there is no corroborating evidence. The sanctity of the evidence they have cited is too poor to be admitted. There is no witness," Chaudhary said.
Sahgal described Bharadwaj as a heroic political activist who had given up the comforts of city life to live among the people in Chhattisgarh she was trying to help, inspired by trade union leader Shankar Guha Niyogi.
"Sudha says that in the 1980s, courts did deliver pro-labourer judgments. But after the 1990s, when liberalisation started, everything went against the working class. The corporate (sector) has money to hire top lawyers and set their own terms," Sahgal said.
"These days the government is hand in glove with the corporate (sector). The country has never known a more desperate situation when we cannot rely on institutions, be it the Election Commission, judiciary or the media. So keeping silence is not an option. So Sudha's courage stands to inspire us."
Bharadwaj's daughter Maaysha said her mother missed home very much.
The book is based on interviews of Bharadwaj taken by lawyers Darshana Mitra and Shantanu Chakravarty.
"We asked why she started practising human rights law. Sudhaji said she wanted to be a trade unionist but the trade union wanted her to become a lawyer," Mitra said.
"For Sudhaji, any rights that are available to people are the outcome of the people's fight. She believes that the Constitution comes to life and delivers only when the people fight."
Chakravarty said that even if a court dismissed a case, Bharadwaj never gave up the fight.
"When asked about the dismissal of cases she had fought, she said she knew she had to fight on," Chakravarty said.
Activist Harsh Mander, who was collector of Rajnandgaon in the 1980s, said Guha Niyogi and Bharadwaj had met him at his office several times to discuss equality and justice for the people of the area. She fought many landmark cases on labour rights, displacement and equality, he said.
Mander too flagged the lack of evidence against Bharadwaj in the Bhima Koregaon case.
Academics Apoorvanand and Uma Chakraborty, who addressed the webinar, also demanded that Bharadwaj be released from jail.