Bhima Koregaon case: DU professor Hany Babu booked for sedition, home searched
'When I asked for a search warrant, I was told there was none and that this case doesn't need one,' Babu said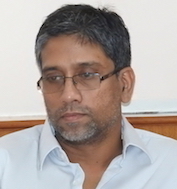 Hany Babu
Credit: Department of English, University of Delhi
---
New Delhi
|
Published 10.09.19, 04:10 PM
|
---
The Delhi University Teachers' Association (DUTA) condemned the search. 'Such raids without search warrants are against the very essence of democracy, individual freedom, and open the door for planting evidence. Arbitrary use of instruments of the State to harass and intimidate dissent is inexcusable,' DUTA said in a statement.
'We demand an immediate end to such blatantly threatening postures towards voices of dissent and democracy. This attack on academic freedom and freedom of expression will be opposed tooth and nail by the teachers of Delhi University and other academic institutions in the country,'it added.
Member of RSS-affiliated National Democratic Teachers' Front Rasal Singh said: 'We respect freedom of expression. But it is a matter of greater concern that Naxalite ideology and activities are being promoted in universities in the name of freedom of expression.'

'DU's English Department is becoming the centre of such anti-national activities. Anti-India ideas must not be propagated and promoted in the name of freedom of expression. We demand a free and fair inquiry in this matter,' he said.
Babu, a vocal anti-caste crusader is also a member of the Committee for the Defence and Release of Dr. G.N. Saibaba, the disabled Delhi University academic who is in jail for alleged Maoist links.
According to Babu, the police searched every room in his house and seized his laptop, hard disks, pen drives and books.
"They made me change the passwords of my social media accounts and my email accounts. They have complete access to my accounts now," read the statement. "I don't understand how a government agency can seize my work without providing me the reasons for it, or the basis on which a search was conducted at my residence."
A Delhi University professor's house in Noida was searched by a team of Pune police early morning on Tuesday.
Hany Babu M.T., an associate professor of English, said his house was searched for six hours from 6.30 am by 20 people who claimed to be from the crime branch.
In his statement, Babu said that five of them were in uniform, the rest were in civilian clothes. They didn't have a search warrant, the teacher wrote.
Babu was at home with his wife Jenny Rowena, who teaches in Miranda House, and their daughter when the police came knocking.
Pune assistant commissioner of police Shivaji Pawar told PTI that no arrest was made during the search at the 45-year-old teacher's house in Noida Sector 78. 'We have conducted a search at Babu's residence in Noida in connection with the Elgaar Parishad case registered at the Vishrambaug police station in Pune,' he said. The police had taken some electronic devices, Pawar added.
Babu, who teaches English in Delhi University, was booked under the Indian Penal Code Sections 120B (criminal conspiracy), 121 and 121A (waging or attempting to wage war against government), 124A (sedition), among others.
Today Pune police entered our house at 6.30 in the morning. They said that @hanybabu (my husband) is involved in the Bhima Koregaon case and that for this, they could search the house without a search warrant. They searched for 6 hours, took 3 books, lap top, phone, hard disks

— jenny rowena (@jennyrowena) September 10, 2019
"When I asked for a search warrant, I was told there was none and that this case doesn't need one," Babu wrote.
Rowena tweeted that the police claimed her husband was "involved in the Bhima Koregaon case and that for this, they could search the house without a search warrant".
On January 1, 2018, a Bhima Koregaon memorial located in a Maharashtrian village had witnessed violence when Dalits had gathered to commemorate the 200th anniversary of a historic battle fought against the British, in which 22 Mahar soldiers had died. The next day, an FIR was filed against Hindutva leader Sambhaji Bhide for instigating violence against the Dalits.
In the following months, the police raided several places across the country and arrested several people, accusing them of being involved in a Maoist movement.
These arrests included Telugu poet and writer Varavara Rao, Nagpur University professor Shoma Sen, Dalit activist-writer Sudhir Dhawale, human-rights activist Rona Wilson, advocate Arun Ferreira, advocate Sudha Bharadwaj, advocate Surendra Gadling, activist-journalist Gautam Navlakha and Dalit scholar Anand Teltumbde, who was released later.
This is my statement regarding the police raid at my apartment this morning. @jennyrowena pic.twitter.com/aQBKoI38rp

— Hany Babu MT (@hany_babu) September 10, 2019