Bhagat Singh's battle faces India once again
Today, we are fighting against the same circumstances (of growing inequality), like the circle of history: Punjab-based academic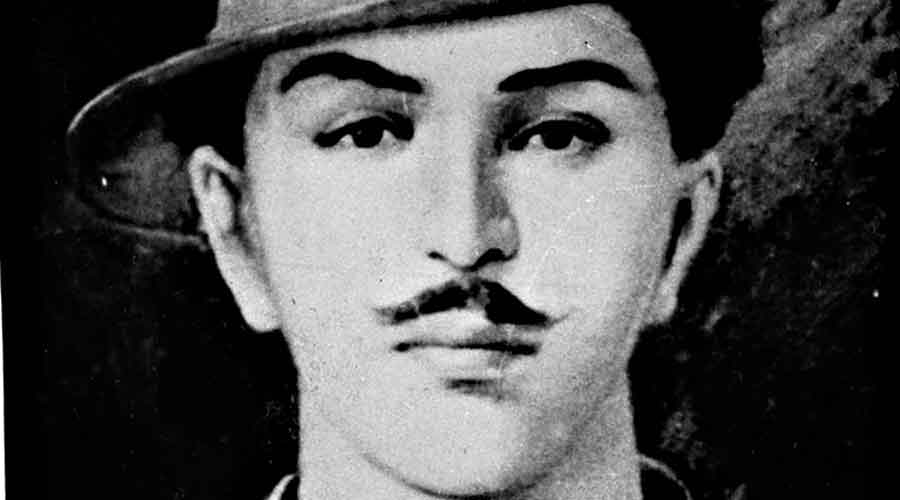 ---
New Delhi
|
Published 27.03.22, 03:43 AM
|
---
India today faces the same circumstances that Bhagat Singh had fought, an academic related to the revolutionary freedom fighter said on Saturday at a webinar.
Several other participants spoke in the same vein, contesting the perception, often promoted by the Right as well as some in the Left, that Bhagat Singh's political beliefs had no meeting ground with those of the Congress of his day.
The webinar was hosted by the Congress think tank Rajiv Gandhi Foundation. It comes at a time the Aam Aadmi Party has displaced the Congress in Punjab and has been promoting the legacies of Bhagat Singh and B.R. Ambedkar in a big way.
Punjab-based academic Jagmohan Singh — Bhagat Singh's nephew and head of the Shaheed Bhagat Singh Centenary Foundation — made the opening remarks in the discussion on "Writings of Bhagat Singh and his colleagues and the Indian national movement".
"Today, we are fighting against the same circumstances (of growing inequality), like the circle of history," he said.
"Back then Bhagat Singh had said that if progress stops in society, then reactionary forces become stronger. At the time when Bhagat Singh was raising the youth wave, the RSS also came into being."
Jagmohan Singh added: "After the hanging of Bhagat Singh, Rajguru and Sukhdev, the Karachi Congress passed the resolution on Fundamental Rights introduced by Pandit (Jawaharlal) Nehru as part of the Swarajya Resolution, and this became part of our Constitution."
Jagmohan said Bhagat Singh had no time for personality cults: "In jail, he gave an autograph on a handkerchief by signing 'Bhagat Singh Dutt' (as Batukeshwar Dutt was in prison with him)."
Chayanika Uniyal, a historian and secretary of the Rajasthan Pradesh Congress Committee, said: "If we want to pay true homage to Bhagat Singh, then he has to be read and not merely worshipped. Most people are deifying him. When he is deified, he becomes unattainable for us. It is important to read and understand him and adapt his ideas to today's context."
The AAP government in Punjab has installed portraits of Bhagat Singh and Ambedkar in all government offices, and the Bhagwant Mann government was sworn in at the freedom fighter's ancestral village of Khatkar Kalan.
"Bhagat Singh is commonly associated with the thrill of the bomb and the pistol," former Delhi University professor Ajit Jha said at the webinar.
"An organised propaganda has taken place that this path was absolutely different from the path taken by the Congress, Gandhi and (Bal Gangadhar) Tilak, (that) it was not just different but (was) the genuine independence movement. Through this an ideology is spread… especially by the Right wing but also some Leftists."
Jha quoted from Bhagat Singh's statement before a Lahore High Court bench in 1930 and from the freedom fighter's undated essay on terrorism.
"Bombs and pistols do not make a revolution. The sword of revolution is sharpened on the whetting-stone of ideas," Bhagat Singh had said in court.
In the essay, Bhagat Singh wrote: "Terrorism is an expression of the absence of the lack of influence of revolutionary thought in our society; or repentance... Irish revolt was a popular revolt on the national level rather than sporadic incidents of terrorist activities in which gunmen were deeply associated with the people."
Jha said: "The role of violence in the thoughts of Bhagat Singh and his comrades is one facet of a comprehensive plan. To negate the other facets of his life and personality and focus on this one facet, and not understanding his goal, and using this against leaders of the national movement is nothing but a conspiracy, if done in an organised manner. This is done by people who can't show even a pamphlet of Bhagat Singh which mentions them."