Bardhan refused donation from Ambanis, claims CPI leader
The amount reportedly worth Rs 25 crore was offered when Left supported UPA 1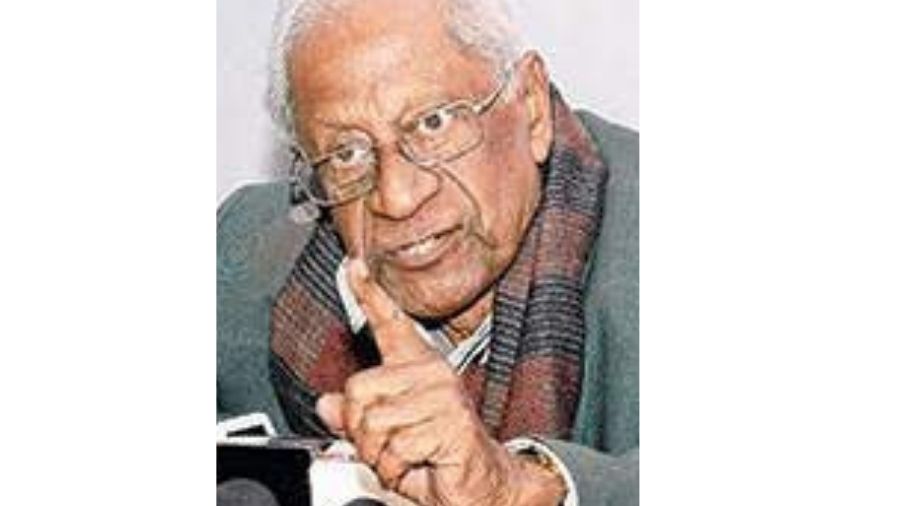 ---
Bangalore
|
Published 12.01.22, 09:10 AM
|
---
Senior CPI leader Pannyan Raveendran has said his party's then general secretary A.B. Bardhan had refused to accept a donation of Rs 25 crore offered by one of the Ambani brothers when the Left supported the Congress-led UPA-I government headed by Manmohan Singh.
The leader from Kerala, who was then one of the 63 Lok Sabha members from the Left parties, said he was present at Bardhan's office in Ajoy Bhavan when the Ambani brother walked in, spent around 10 minutes with Bardhan and offered to donate the amount.
"Since I didn't know them (Ambanis), I don't remember who among the brothers was that," Raveendran, chairman of the party's central control commission, told The Telegraph on Monday. Raveendran's account had been reported in two Malayalam publications earlier.
This newspaper sought a response from the two Reliance groups — one headed by Mukesh Ambani and the other by his brother Anil Ambani —but there was no response till Tuesday night.
Raveendran recalled that he was in a meeting with Bardhan when the latter asked him to stay on because a corporate figure was scheduled to arrive soon. 
While he didn't remember the exact date of the meeting, Raveendran said it was either in 2006 or 2007 when he was a Lok Sabha member. Bardhan helmed the party from 1996 to 2012 and passed away in January 2016.
"After they exchanged pleasantries, he (the Ambani) said he wanted to meet Bardhan as our party didn't accept any donations from him," Raveendran, the only third person in the room apart from the visitor and Bardhan, recalled.
"When he (Bardhan) asked how much (Ambani planned to donate), he (the Ambani) replied, Rs 25 crore. He did not say if he carried the money or not. I didn't find anything in his hand," Raveendran said.
"He (the Ambani) came specifically for this. He walked into the room alone (although) I don't know if someone else waited outside," the CPI leader said.
But Bardhan was upset the moment he was offered the donation, Raveendran said.
"He (Ambani) was silent after Bardhan's response. He then apologised saying he wanted to meet him (Bardhan) since the CPI doesn't accept any donation from him (the Ambani)," said the CPI leader.
"We then sent him (Ambani) off with all due respect. Perhaps he knew we won't accept and came to bridge the gap with us. But he was not successful in doing that," Raveendran said.
He, however, noted that the incident didn't have any significant relevance other than underlining the character of his party that didn't accept donations from corporate houses to this day. 
"We need to take special clearance from the party if we were to accept any donation of more than Rs 20,000. Our party should know who the donor is as we don't accept unaccounted money," he said.
"We are a party that criticised them starting from the time of Dhirubhai Ambani. This incident only shows that we haven't accepted their contribution even when UPA-I came to power with the support of 63 Left members," he said.