Ban on identified single use plastic items from July 1
Centre says control rooms will be set up and enforcement teams tasked with looking out for its illegal production, import, distribution, sale and use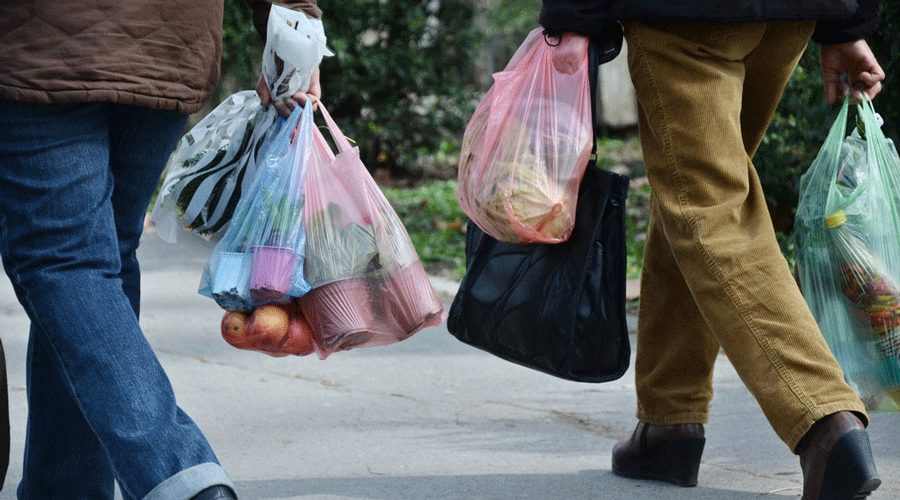 Guidelines promote development of new alternatives to plastic packaging.
File photo
---
New Delhi
|
Published 29.06.22, 01:01 AM
|
---
India will ban the production, sale and use of identified single-use plastic items that have low utility and high littering potential from July 1, the Union environment ministry said on Tuesday, a reminder of its notification issued last year.
The plastic waste management rules prohibit single-use plastic plates, cups, glasses, cutlery such as forks, spoons, knives, straw, trays, wrapping films over sweet boxes, invitation cards, cigarette packs, plastic flags, balloon sticks, and ice-cream and candy sticks, and banners less than 100 microns.
The rules, notified in August 2021 and reflecting India's efforts to phase out single-use plastics during 2022, will also change the minimum thickness of plastic carry bags from the current 75 microns to 120 microns by December 31, 2022.
The thicker carry bags are intended to eliminate the use of lightweight single-use plastic.
The ministry said for effective enforcement of the ban, national and state-level control rooms will be set up and enforcement teams tasked with looking out for illegal production, import, distribution, sale and use of banned single-use plastic items.
It said central and state pollution control authorities and the Union ministry for small, micro and medium enterprises would provide technical assistance to small industrial units for the production of alternatives to the banned single use plastic items.
The Central Pollution Control Board had estimated nearly four years ago that India generates around 9,200 metric tonnes of plastic waste daily, or over 3.3 million metric tonnes a year. Sections of industry have claimed nearly 70 per cent of recyclable plastic waste in the country is recycled.
The ministry had in February this year also notified guidelines on "extended producers responsibility" on plastic packaging that would require plastic producers to take responsibility for environmentally sound management of a plastic product until the end of its life.
The guidelines also promote the development of new alternatives to plastic packaging.
While biodegradable plastics are among the alternative materials, environmental experts say cutlery such as forks, spoons, knives and cups could be replaced through other materials such as bamboo or plantain leaves, paper, or areca leaf materials.
The ministry said the states have been asked to set up border checks to stop interstate movement of any banned single use plastics and the Central Pollution Control Board has launched a grievance redressal app to empower citizens to help curb plastic pollution.
Multiple studies have shown that waste plastic can break down into tiny particles called microplastic that can find their way into the guts of birds, animals and fish. Some studies have also pointed to the potential risks that microplastics pose to fish.
Scientists at the Indian Institute of Science, Bangalore, for instance, had earlier this year recorded heart defects and skeletal deformities in zebrafish embryos exposed to river water containing microplastics that they say provides evidence of potential health hazards of microplastics.
A report in an American Chemical Society journal last month said it is unclear what risks microplastics pose to the environment or to human health but, it said, researchers are now beginning to probe this question.