Baby steps for Kashmir unity
Muslims, pandits reach out on festivals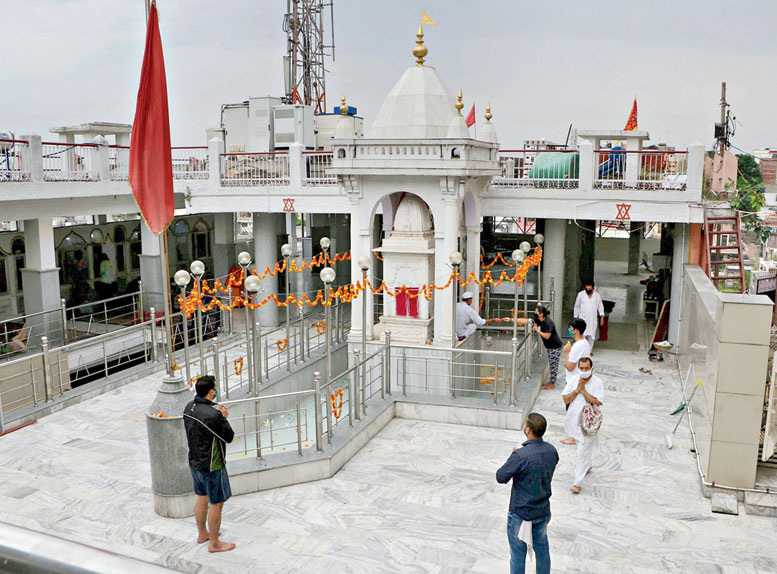 Kashmiri Pandits offer prayers at a replica of Kheer Bhawani temple on the occasion of the Mela Kheer Bhawani Mela in Jammu on Saturday.
(PTI)
---
Srinagar
|
Published 31.05.20, 08:58 PM
|
---
Kashmiri Muslims and Pandits have released video messages greeting each other during their festivals, marking baby steps towards bridge-building after their relations hit a new low with last year's abrogation of Jammu and Kashmir's special status.
The two communities enjoyed warm ties before the birth of militancy three decades ago, but have since then regarded each other with suspicion.
The divide deepened last August when the Pandits overwhelmingly supported the abrogation of key clauses of Articles 370 and 35A, which gave special rights and privileges to Jammu and Kashmir and its permanent residents.
However, some Pandits and Muslims are now trying to mend fences, issuing video greetings to each other on Id (May 24) and the Mela Kheer Bhawani festival (May 30). Twenty Pandits — young and old, men and women, and mostly living outside Jammu and Kashmir — came together to greet Muslims on Id in chaste Kashmiri.
They prayed for the well-being of Kashmiri Muslims and for peace and prosperity in the Valley and across the world. Pandit activist and doctor Amit Wanchoo uploaded the video.
Several Muslims reciprocated on Mela Kheer Bhawani, one of the biggest Pandit festivals. Although most Pandits have been living outside since their militancy-driven exodus three decades ago, they come in thousands every year to celebrate the festival at the temple of Rangya Devi in Tulmulla, Ganderbal, about 25km from Srinagar.
The celebrations, like those on Id, were muted this time because of the Covid-19 crisis. The temple wore a deserted look because of the lockdown restrictions.
In Saturday's video, Srinagar resident Javeed Shah recalled the days when the two communities lived peacefully side by side. "There was so much love and brotherhood those days. We used to live like a family: Pupa, Kaki, Buel, Rajae, Sundur, Beti — all these were our neighbours," he said.
These names are common among Muslims and Pandits, and Shah was apparently referring to Pandits who lived in his Chanpora locality.
Satish Mahaldar, chairman of the Pandit group Reconciliation, Return and Rehabilitation of Migrants, who says he was behind both the May 24 and 30 initiatives, argued this was the way to keep the hate-mongers at bay.
"This will increase brotherhood and lead to peace and prosperity," Mahaldar told The Telegraph.
Many in the Valley, however, have been dismissive, saying peace messages and support for the removal of Jammu and Kashmir's special status do not go together.
"Can a public move to support (the) August 5 (decisions), removal of the State subject law, demographic engineering and then Eid Mubarak co-exist? Isn't it like 'we support your destruction and disempowerment' but also 'greet you on your festival'?" Valley journalist Muzamil Jaleel wrote in a Facebook post.
Kashmiri Muslims see the removal of Article 370 provisions as a first step towards changing the Muslim majority character of Jammu and Kashmir.
Mahaldar said he supported the removal of the erstwhile state's special status, claiming it was "hollow" and "discriminatory" against some sections of society. "But at the same time, I support the protection of jobs and land rights for the permanent residents," he said.