Modi and Shah silent
RSS welcomes verdict and urges everyone to move forward for the 'progress of this country'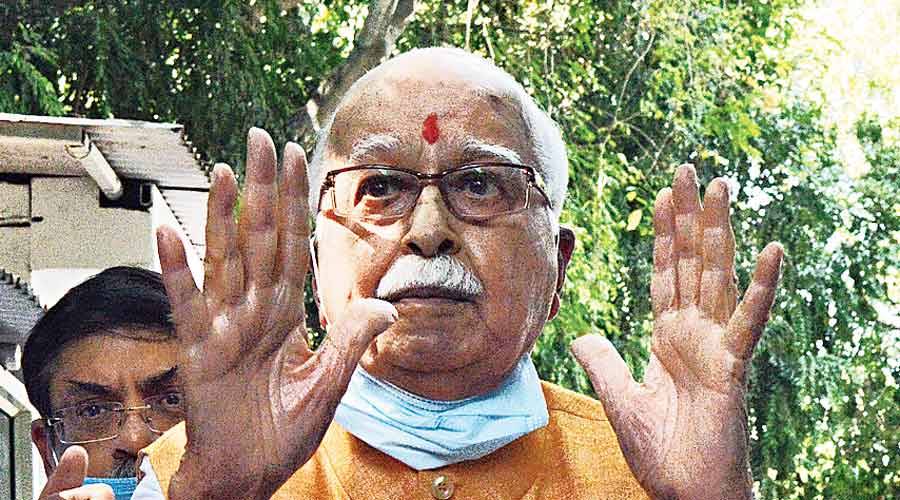 ---
New Delhi
|
Published 01.10.20, 01:35 AM
|
---
Prime Minister Narendra Modi, home minister Amit Shah and BJP chief J.P. Nadda remained silent on Wednesday's acquittal of all the Babri demolition accused but the RSS welcomed the verdict, urging everyone to move forward for the "progress of this country".
Defence minister Rajnath Singh too lauded the judgment saying it represented the victory of "justice", although a delayed one.
The silence maintained by Modi, Shah and Nadda appeared deliberate. Party sources said there was no need to celebrate the verdict as the decks had already been cleared for the BJP's main goal of having a Ram temple at the disputed site in Ayodhya.
Many of the acquitted accused from the BJP, some of them big names during the temple movement of the 1980s and early 1990s, are now sidelined within the party.
Uttar Pradesh chief minister Yogi Adityanath, however, chose an aggressive response.
In a tweet, he welcomed the verdict with "Satyamev jayate (The truth alone wins)" and went on to demand an apology from the Congress, accusing the party of "falsely implicating saints and BJP leaders" in the case.
"Rashtriya Swayamsevak Sangh welcomes the decision of honour acquittal of all the accused in the case related to the destruction of the disputed structure by CBI special court," RSS general secretary Suresh "Bhayyaji" Joshi said in a statement.
"After this decision, all sections of society should come together in unity and harmony and work successfully to face the challenges before the country, and work towards the progress of this country."
Marginalised BJP veteran L.K. Advani, one of the accused and the face of the Ram temple movement, said he had welcomed the verdict by chanting "Jai Shri Ram" at his home.
"The judgement vindicates my personal and the BJP's belief and commitment towards the Ram Janmabhoomi Movement," the 92-year-old, who attended the Lucknow court proceedings through videoconferencing, said in a statement.
Television channels flashed pictures of Advani waiting for the judgment at his Delhi home, holding the hand of his daughter Pratibha.
Advani said the judgment, along with last November's Supreme Court verdict handing the disputed Ayodhya plot to the Hindus, had "paved the way for my long-cherished dream of seeing a grand Ram Mandir at Ayodhya".
"May Shri Ram keep us blessed always," he added, concluding his statement with a "Jai Shri Ram" in bold capitals.