Assembly resolution on guru's temple
Ajay Dutt, MLA of the Tughlakabad area, tore his shirt in the Assembly hall to protest the demolition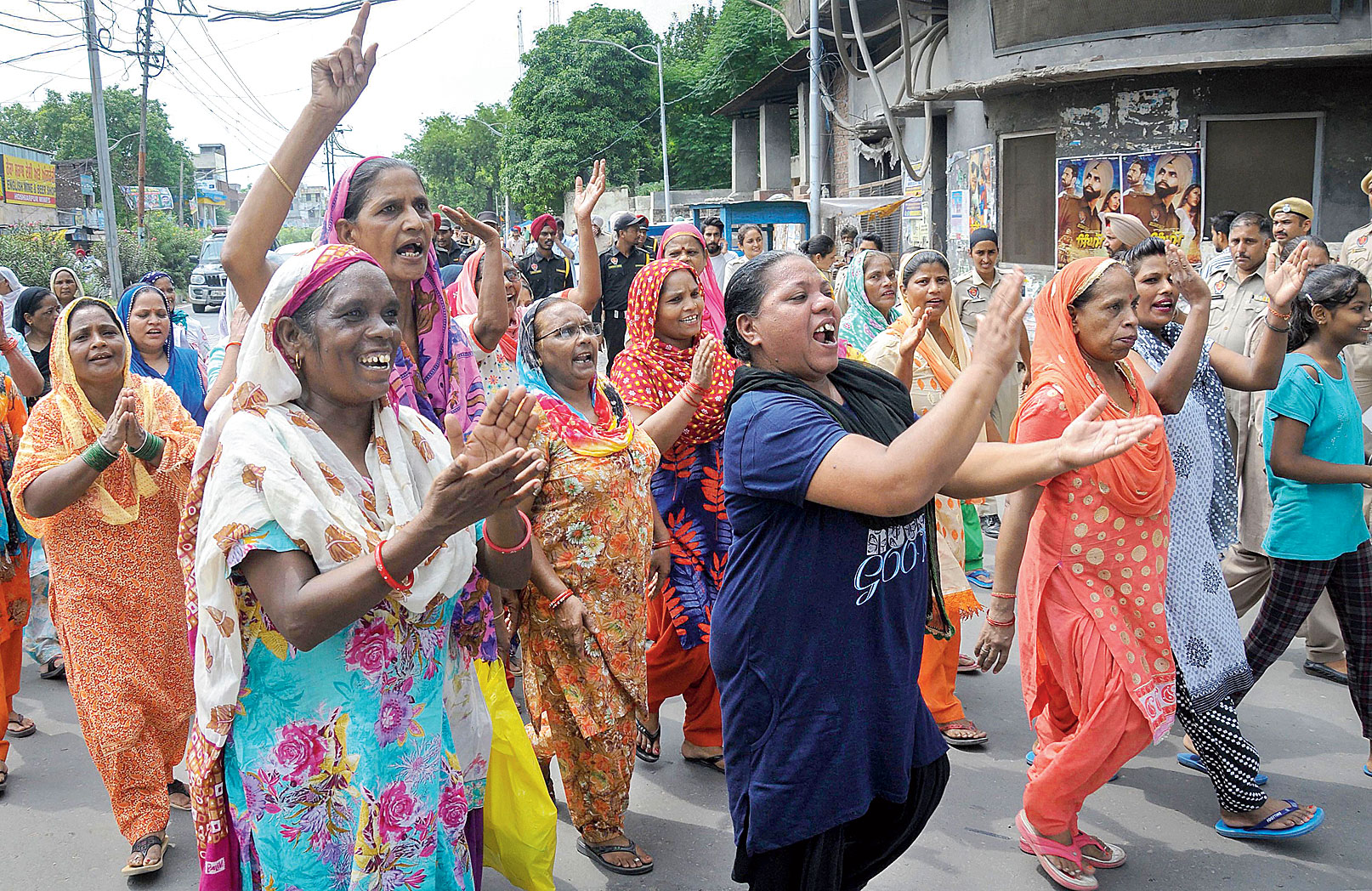 ---
---
The Delhi Assembly on Thursday passed a resolution to urge the central government to promulgate an ordinance to allot the same site for reconstructing a temple to Guru Ravidass, a day after a mega rally and violence in the national capital over the shrine's August 10 demolition.
The House held a special session where it passed the resolution, agreeing with the belief of the Dalit community that the site where the temple stood had been donated by Sikandar Lodi when Ravidass met the Delhi sultan in 1509.
"This is a historically significant site where Saint Ravidass himself had visited and lived for some time and forms a part of (the) Dalit struggle for identity and rights. Demolishing this temple not only crushed religious sentiments but also the history of Dalit struggle," the resolution said.
Thousands of Dalit, backward class and tribal people from Punjab, Rajasthan, Haryana, Uttar Pradesh, Bihar and Uttarakhand had gathered at Delhi's Ramlila Ground on Wednesday to protest the demolition of the temple in Tughlakabad, South Delhi.
The Delhi Development Authority (DDA) — an agency of the Union government — had demolished the structure following an order from the Supreme Court, which held that the shrine had been built on forestland.
On Thursday, BJP members in the Assembly protested against the resolution that blamed the central government for mishandling the matter.
"This House resolves that the central government has badly mishandled this issue… in the Court of law which finally led to its unjustified and unfortunate demolition," the resolution said.
"This House further resolves to convey the sentiments of millions of people to the central government and demands that the Centre must immediately bring an ordinance to allot the said land for Ravidass Mandir," it added.
"This House also resolves that the government of (the) NCT (National Capital Territory) of Delhi should construct a magnificent Ravidass Mandir at the same site after the Centre allots the land."
Ajay Dutt, MLA of the Tughlakabad area, tore his shirt in the Assembly hall to protest the demolition.
After the rally on Wednesday, a few hundred activists led by Bhim Army leader Chandrashekhar Azad had marched towards the site. According to Delhi police, the activists had turned violent on the way and damaged cars and attacked passers-by.
The police had to resort to a baton charge and fire tear gas to control the mob. Nearly a hundred activists, including Azad, were detained. On Thursday, all of them were sent to judicial custody for 14 days.
Bahujan Samaj Party chief Mayawati and several organisers of the rally, including Ashok Bharati, leader of the All India Ambedkar Mahasabha, have condemned the violence.