Assam detention camp: Another death reported
55-year-old 'doubtful' voter of Koch tribe had come to India in 1964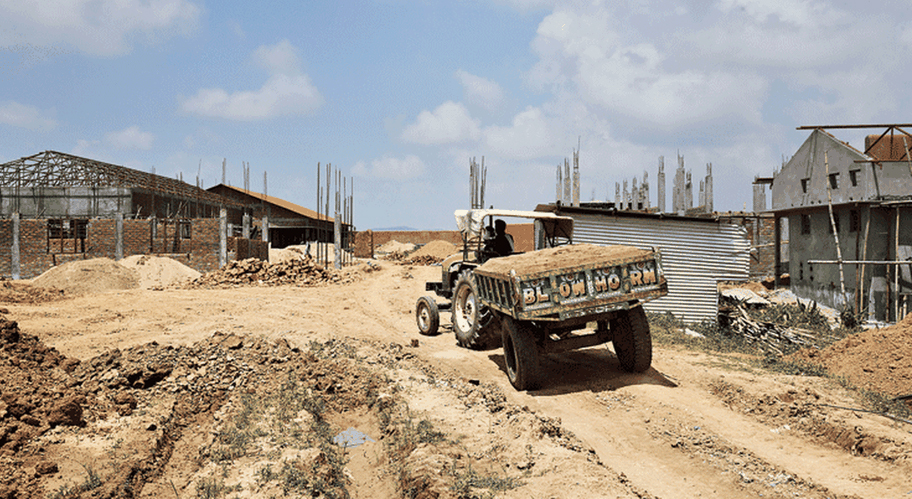 Under-construction detention centres, at Kadamtola Gopalpur village in Goalpara district of Assam on August 29, for those not included in the NRC.
(AP)
---
New Delhi
|
Published 04.01.20, 11:20 PM
|
---
Naresh Koch has become the 29th person to die in one of Assam's detention camps.
Koch's death comes after Prime Minister Narendra Modi denied the existence of the camps at a rally in the national capital on December 22.
Koch had a day earlier suffered paralysis after a stroke at a detention camp in the Goalpara district jail in lower Assam. He was taken to the Gauhati Medical College and Hospital where he died on the night of January 3. Koch was around 55 years old.
Koch had lived in a village, Tinkonia para, under police station Mornoi, in Goalpara. He had come to India in 1964 but it is not known with whom. People of several tribes — Garos, Kochs and Hajongs, among others — had migrated from East Pakistan (now Bangladesh) and settled in Meghalaya and lower Assam.
The Koch are scheduled tribes in Meghalaya but not in Assam. "When they arrived in India, the Assam government had issued them relief eligibility certificates (RECs). Some even got land," said Noni Das, a social worker and activist who lives in Goalpara.
According to Das, Koch was designated a "D" (or "doubtful") voter by Assam's border police. A daily wage earner, Koch wasn't educated and didn't know how to read. When a notice was issued to him to ascertain his citizenship, he had approached a lawyer.
However, a foreigners' tribunal in Goalpara had held that he was indeed a foreigner in an ex parte judgment. His case had reached the tribunal in 2005 and the judgment was passed on June 1, 2017.
"This tribunal is compel to pass an order declaring the opp. Party as a foreigner of post 1971 stream, who in to Assam without valid documents from specified country, hence he (the opp. Party) be taken into custody and be kept in detention camp as an internee till he is pushed back…(sic)," the order said, citing Koch's failure to appear before the tribunal.
After the order, Koch was picked up by the border police and sent to the Goalpara detention camp.
"His son, Babulal Koch, has made it to the NRC. He has a ration card and even received funds to build a toilet under the Swachh Bharat Abhiyan," Das told The Telegraph over the phone.
In a written reply dated November 27, the government told the Rajya Sabha that 988 "foreigners" were lodged in the six detention centres in Assam. The government had also accepted that 28 people had died in detention camps but clarified that these were not because of "pressure or fear".
The junior minister for home, Nityanand Rai, also told Parliament that though 28 people had died, there were adequate medical facilities for the detainees.
According to the Citizens for Justice and Peace (CJP), a rights group, about 100 people have died during the doubtful-voter and NRC processes. While some died in detention centres, others committed suicide. The CJP has been tracking these deaths since 2011.