Ashok Gehlot clue to churn in Congress
Leadership aware of the 'mistakes' and 'misdeeds' committed in Bihar and was determined to take corrective measures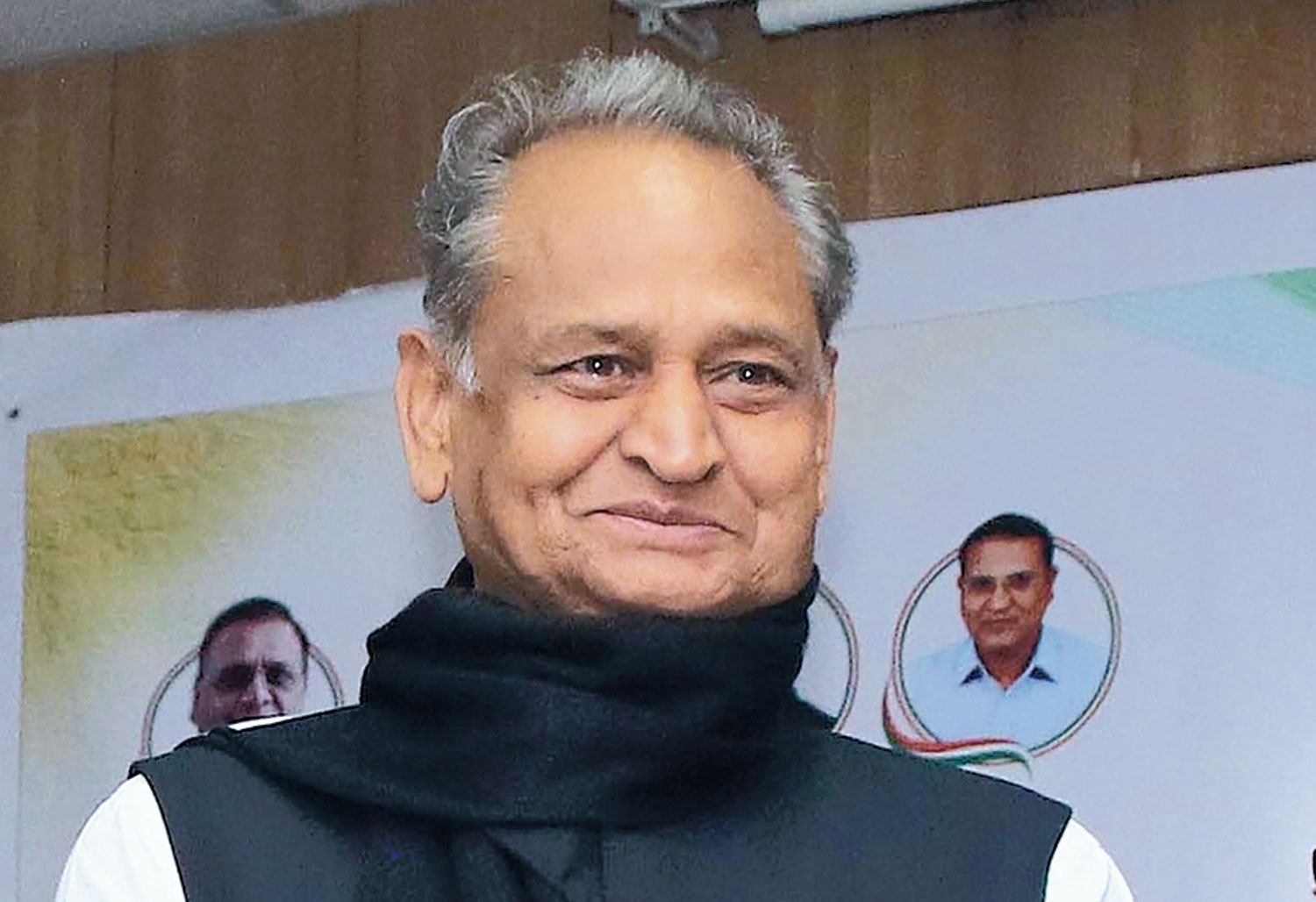 ---
New Delhi
|
Published 17.11.20, 04:25 AM
|
---
Congress veteran and Rajasthan chief minister Ashok Gehlot has told off party colleague Kapil Sibal in a series of tweets at a time a view is growing in the party that matters may be heading to a "logical conclusion".
"There was no need for Kapil Sibal to mention our internal issue in media, this has hurt the sentiments of party workers across the country," Gehlot tweeted after Sibal said in an interview to The Indian Express newspaper that the party's problems were not being addressed and people no longer saw it as an effective alternative.
Gehlot added in his tweets: "The Congress has seen various crises including 1969, 1977, 1989 and later in the 1996 — but every time we came out stronger due to our ideology, programmes, policies and firm belief in party leadership. We have improved with each and every crisis and also formed the UPA government in 2004 under the able leadership of Soniaji, we shall overcome this time too."
"There are various reasons for electoral losses. But each time, the rank and file of the Congress party has shown undivided and firm belief in the party leadership and that is why we came out of it stronger and united after every crisis. Even today, the Congress is the only party which can keep this nation united and take it forward on the path of comprehensive development."
A few hours earlier, a senior functionary had said in private in New Delhi that the Congress leadership was aware of the "mistakes" and "misdeeds" committed in Bihar and was determined to take corrective measures.
But the leadership is anguished that a fresh eruption of dissent is dragging unconnected issues into the discourse, he had added.
"We are aware that something went terribly wrong in Bihar, primarily with the selection of seats and candidates. Nobody denies that. We are aware of both mistakes and misdeeds," the source, a key All India Congress Committee functionary, told The Telegraph. 
"But dragging the leadership question into the discourse to blame Rahul Gandhi is opportunistic and driven by mala fide intention. All these issues would have become irrelevant had we won a few more seats in Bihar. Logic based on situations is often driven by a negative agenda."
He also referred to what Sibal had said in the interview about organisational affairs, the alleged lack of introspection and the Congress not being seen as an alternative anywhere in the country.
"These issues have been resolved; the process for a new president has been set in motion," the AICC functionary said.
"Public bickering cannot be allowed. One person speaks and then others start. This will have to be taken to the logical conclusion. Morale is anyway low after the Bihar results, and internal sniping makes it worse."
He did not explain what he meant by "logical conclusion" but appeared to be hinting at tough action that could put the Congress at the crossroads.
That the leadership is prepared to confront the dissenting voices was reflected also in the reactions from other office-bearers. 
Congress general secretary Tariq Anwar said Sibal should not have spoken about the party leadership and other unconnected issues. Spokesperson Pawan Khera and Youth Congress chief B.V. Srinivas asked those who deliver sermons on the party's plight what they had done in the past few years to strengthen the Congress.
There seemed a determination to crush dissent if it came through the media.
Sources close to the leadership said the "Group of 23" dissenters were no longer united. The term refers to 23 senior politicians who had written to Sonia Gandhi in August about the drift in the party and were sidelined after that. They included Ghulam Nabi Azad, Anand Sharma, Sibal, Manish Tewari, Shashi Tharoor and Veerappa Moily.
"There is no doubt a divide, though many of those 23 leaders who signed the letter to Sonia Gandhi have realised their mistake and don't want to intensify the internal rift," a source said.
"We are aware that some leaders aren't willing to reconcile. That's unfortunate. But we hope there will be corrective measures. Those who break party discipline, those who violate laid-down processes of candidate selection, those who underperform --- none of them will be spared. We have also taken note of the poor performance in the by-elections and action will follow."
Congress leaders believe that it's because of the internal bickering that the attacks are coming from outside as well.
RJD leader Shivanand Tiwary had on Sunday questioned Rahul's handling of the party and his interest in the Bihar election, accusing him of picnicking in Shimla instead of campaigning in the state. He said Rahul had visited Bihar just three times and that the Congress's performance had hamstrung the alliance.
Tejashwi Yadav didn't endorse the attack, asking party spokesperson Manoj Jha to immediately issue a clarification. Jha dismissed Tiwary's outburst as his personal opinion and insisted that all the alliance partners had fought the election with unity of purpose.
Some Congress leaders wondered why such swift actions didn't come from Sonia. While many Bihar Congress leaders were openly playing the blame game, general secretary Anwar had said the alliance had lost because of the Congress's poor performance.
Sibal, in his interview, regretted that it was business as usual in the party despite the successive setbacks.
"For six years the Congress has not introspected; what hope do we have for introspection now? We know what is wrong with the Congress. Organisationally, we know what is wrong," he said.
"I think we have all the answers. The Congress party itself knows all the answers. But they are not willing to recognise those answers. If they do not recognise those answers, then the graph will continue to decline. That is the sorry state of affairs that the Congress is in, and that is what we are concerned about."
Vivek Tankha, Rajya Sabha member and head of the party's legal cell, tweeted in response: "Kapil ji is an iconic lawyer & hardcore Congress personality. Together & individually we have fought countless battles & continue to fight against BJP shenanigans. For our democracy to survive Congress has to survive. Time to act is now or tomorrow may be too late."
Former finance minister P. Chidambaram's son and Lok Sabha member Karti Chidambaram quoted Sibal's interview and tweeted: "It's time we introspect, ideate, consult & act."
Rahul avoided the debate and remained focused on his pet theme.
Posting a news report that said industrialist Gautam Adani's wealth had increased by 230 per cent since Narendra Modi became Prime Minister, Rahul tweeted a query: "And Yours?"