Emperor's nose smashed… Vikas mask has no use
Sangh parivar pushes for Ram temple to build momentum for the 2019 elections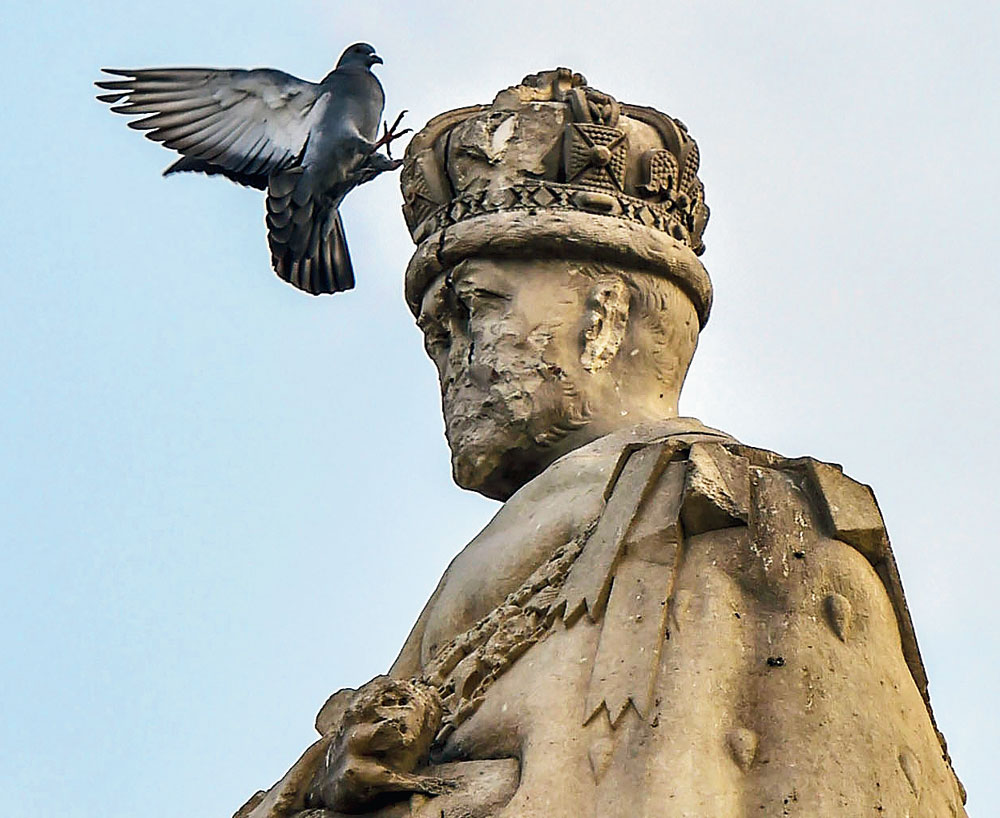 ---
---
Prime Minister Narendra Modi was greeted with vociferous slogans of "Jai Shri Ram" by jubilant Shiv Sena members in the Lok Sabha on Wednesday morning.
"Har Hindu ki yahi pukar, pahle mandir phir sarkar, (Temple first and then government, this is the cry of every Hindu)," the placards brandished by the Sena members in the well of the House read.
The rabble-rousing chickens were coming home to roost and rip the mask of vikas (development) on a day it was confirmed officially that the BJP had lost all the three states where it was in power and where polls were held.
The losses in Madhya Pradesh, Rajasthan and Chhattisgarh were grabbed with alacrity by the Sena, the oldest NDA constituent that holds a grudge against the BJP for its alleged Big Brother attitude. Sena members were seen standing just in front of the Prime Minister's seat in the House and raising slogans.
The Sena may have been using its time-tested nuisance quotient to settle a score but its voice is unlikely to be an isolated one.
Sections of the Sangh parivar, clamouring for a law or ordinance to free up the Ayodhya land for a Ram temple, are expected to seek fresh ammunition from the election setback that was already being touted as evidence of the limitations of "the development plank".
"Development" was the sugar-coating that made Modi and his muscular brand of politics digestible for large sections of the middle class who were looking for an "acceptable narrative".
The current campaign by the Hindutva brigade presupposes that the Modi government has delivered on development, an assumption out of sync with the perceived discontent in the country, particularly in rural India and among the urban poor.
The call to step on the pedal on polarising issues appears to hinge on an apprehension that the government may not be able to do much in the remaining months on development, which makes the Hindutva plank an easier — and fraught with dire consequences for the country — option to choose.
Subramanian Swamy, the BJP parliamentarian who often test-fires controversial ideas for which the government cannot be directly held responsible, underscored that "vikas" alone need not help win elections and Hindutva can to some extent compensate for the lack of vikas.
He tweeted that the figures suggested the BJP lost Rajasthan and Madhya Pradesh narrowly. "This means for BJP that recovery is easy if...," Swamy tweeted and followed it up with another tweet. "I have always said that vikas is only a necessary condition for electoral victory but not sufficient. Lack of vikas can be compensated by real achievement on Hindutva and fighting corruption in winning election, but up to a point."
Endorsing this line, a poster by a fringe Hindutva outfit appeared in Lucknow, slamming Modi's "jumlebaazi" (hollow promises) and suggesting a replacement by "Hindutva brand", Uttar Pradesh chief minister Yogi Adityanath.