Are you a millennial moving city? Co-living could be for you
On offer are furnished rooms for rent with common areas for gyms, yoga sessions and swimming pools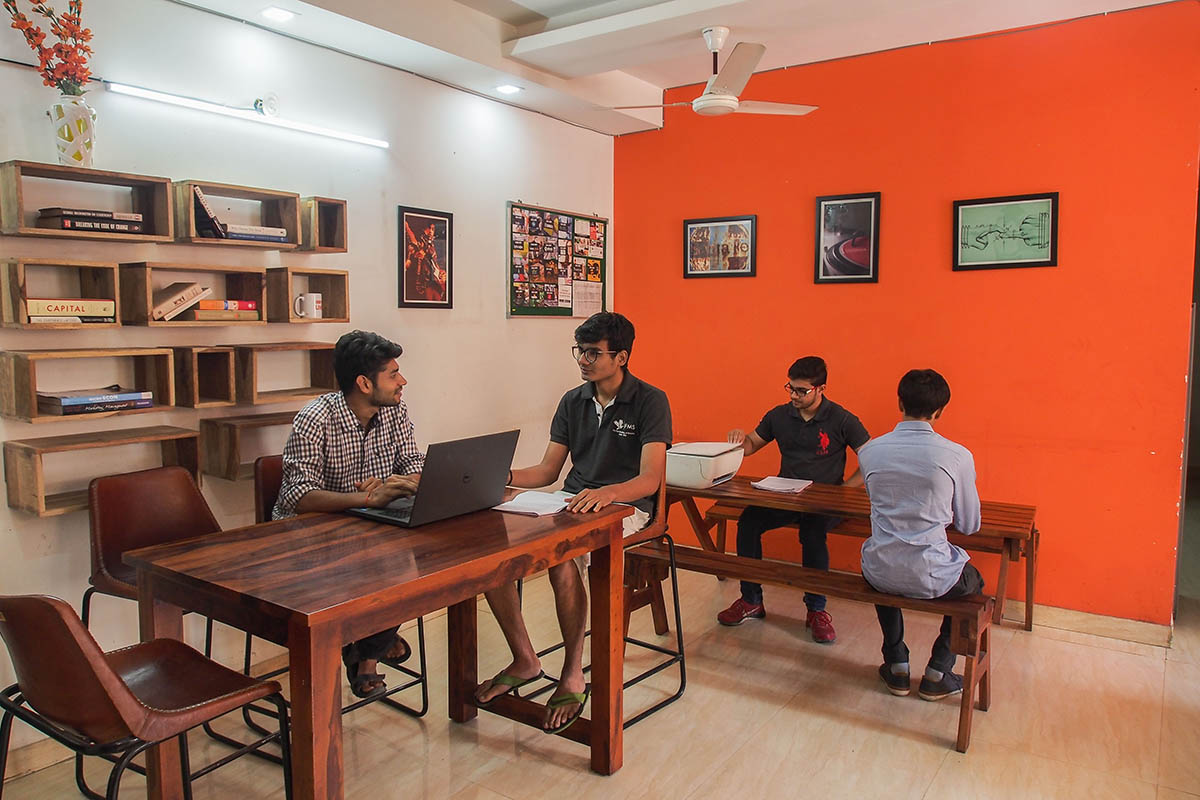 One of CoHo's dorms
Courtesy: CoHo
---
Mumbai
|
Published 08.11.18, 12:01 PM
|
---
When Raja Shyamsukha moved to Gurgaon to join Dunzo, a hyper-local concierge app service in June this year, he didn't expect much more than crummy flats in random buildings in an expensive urban wasteland. So, when a chance online search led him to CoHo Villa in Greenwood City, a co-living space for millennials, he was more than surprised.
'When I first walked in, I thought it was a hotel. I never thought PGs could be so clean,' he says. For one, the place was exactly like the 3D walk-through he had seen online complete with biometric entry at the entrance. Not only was his room smartly appointed and fully furnished down to the bed linen but the deal also included free wifi, DTH and housekeeping services with weekly changes of bed linen and also a facilities maintenance team on call through an app. There was even a free-for-all coffee and tea machine in the pantry.
'It was hassle free. In a flat, you have to take care of lots of things and I didn't have the bandwidth or time for that,' he says. But the clincher was the cheerful common lounge with PlayStations, pool tables, board games et al where residents could chill out. ' I was in a new city where I didn't know anyone so it was good to know there were other people around to talk to,' he adds.
Welcome to the new world of fully managed co-living spaces for young professionals and students. 'The millennials' experience has evolved in every sphere. They're using Netflix for entertainment, Ola to travel and Zomato for food. But when it comes to accommodation, it's the same old broker and the physical world. We want to provide the same seamless experience that millennials enjoy in other spheres in housing,' says Uday Lakkar, who worked in private equity before co-founding CoHo in 2015.
CoHo, which operates 2,500 beds across 40-odd properties in Delhi-NCR and Bangalore today, isn't the only one offering this new co-living experience. Over the last few years, over a dozen tech-enabled players from Zolo Stays, Homigo and Placio to Stanza Living, Your Space and Campus Student Communities have come in to redefine the largely unorganised market for student and singles housing across India.
'It's plug and play so that when you walk in, it's ready to live in immediately,' says Kavikrut (he uses only one name), chief growth officer, OYO Hotels & Homes, the latest entrant in the fray, which launched its OYO Living housing product with 2,000-plus beds in 36 properties in Noida, Gurgaon, Bangalore and Pune last month (after a soft launch in May).
Naturally, technology is at the heart of the business -- both to streamline operations and manage the properties and also to scale up. Indeed, all the players have aggressive expansion plans. OYO Living is targeting 50,000 beds in the top 10 cities by 2019 end.
'It's a very clear problem to solve and at OYO, we are going after it big. Our plan is to be in 10-plus cities with 50,000 beds in a year from now. In any of these cities, you can pick a mall or office building or train or metro station and there will be an OYO Living property close by,' says Kavikrut.
Zolo's Sikri too expects to ramp up to 50,000 beds within a year. And CoHo is also talking of 5x growth to touch 12,000 beds by end-2019. Stanza Living is even looking at creating student housing clusters and partnering with colleges in future to create student housing.
Of course, the operational challenges are immense. Zolo, for instance, added 20,000 beds in its first six months only to realise it couldn't control the experience through landlords and so scaled down and decided to go full-stack instead. OYO's Kavikrut points out that apart from the operational play in the business, there's also the acquisition play in terms of getting properties and the distribution play in terms of making them accessible to singles and students on multiple channels. But as Sikri says, 'The market is large and there's room for multiple players.' Clearly, they're all eager to tap the housing crunch.
Aarti Dua is a Mumbai-based freelance journalist who writes on business and lifestyle
The new professionals' and students' housing start-ups are essentially leasing entire apartment buildings or villas and converting them into well-designed and fully managed flats and rooms that are ready to move in, where there's wifi on call and regular housekeeping services to clean up behind you and maintenance teams to ensure the water pressure in the shower doesn't drop and the back-up electricity clicks on in time. They're offering affordable and tech-enabled community-based living -- there are separate buildings for men and women usually -- with cheerful game rooms equipped with pool tables, mini-theatres and gyms to chill out and build new communities in. Prices typically range from Rs 7,000-Rs 15,000 a month on a twin-sharing basis to Rs 18,000-Rs 30,000 a month for single rooms, depending on the location and amenities.
'We offer hassle-free living with a great community experience,' says Nikhil Sikri, CEO and co-founder, Zolo Stays in Bangalore. Launched in 2015, Zolo has 13,000 beds in six cities -- Bangalore, Chennai, Pune, Kota, Hyderabad and Delhi-NCR -- today.
While some players like OYO Living are targeting young professionals, some like Stanza Living, which launched in Delhi-NCR last year and which recently raised $10 million funding, are focusing on student housing. Others like CoHo and Zolo Stays are targeting both.
The market is clearly huge. According to a Jones Lang LaSalles-Ficci report titled 'Future of India Real Estate', the student housing market alone is Rs 1,267 crore today. Santhosh Kumar, vice-chairman, Anarock Property Consultants, points out that of the total 36.6 million students enrolled in higher education institutions in India currently -- the number is growing at a compounded 9 per cent per annum -- over 75 per cent live away from their home. What's more, existing hostel facilities can accommodate only 18 per cent to 20 per cent of the total migrant student population.
'There is a huge untapped potential for student accommodation in the country. Student housing catalyses a massive demand of more than 10 million beds across the major cities of the country,' says Kumar. And that's not even counting the huge demand for singles housing from young professionals working in cities away from home.
So, what are the various co-living players offering? Zolo has two types of residences, Zolo Standard, which are stand-alone buildings with large common areas for residents, and the high-end Zolo Select like Zolo Crown in Baner, Pune, where Zolo has taken over an entire tower in a housing complex and which comes with a swimming pool, gym, club house and mini-theatre. Rentals at Zolo range from Rs 6,000 to Rs 25,000 a month on a twin-sharing basis.
CoHo also operates CoHo Villas and CoHo Dorms. Lakkar, who feels that the issue with shared housing is no different today from when he moved from Calcutta to Gurgaon to join McKinsey back in 2005, says that the real estate is the least of the problems in the business. 'The bigger thing is understanding the consumer and getting the product right.' For instance, he points out that women residents want yoga spaces -- and greater storage for shoes -- while males want gyms with weight-training equipment.
The players are all designing the co-living spaces to meet the millennials' requirements. For instance, CoHo has customised beds with light sockets and charging points. There's biometric entry into the buildings for security and individual pay-as-you-go electricity meters for each room. Also, everything is powered by technology or on the app. Customers can choose residences and pay the deposit and rent online. Any service issues -- such as rescheduling housekeeping timings or complaints about food -- can be raised on the app.
OYO is also using its experience with millennials in its hotels business to design its OYO Living spaces. 'Every night, some 180,000 people stay in an OYO property and we get feedback from them. We're using all of this to make our shared living spaces a better place,' says Kavikrut.
For instance, since most millennials consume entertainment on phones, OYO Living residences have TVs only in the common areas and not in the rooms. 'Or, a lot of people who're living away from home want to be in touch with their parents and friends. So, we have created phone booths or Skype corners in all our homes,' adds Kavikrut. The kitchens are also fully equipped with all the appliances in place.
Naturally these amenities come at a premium. But as Dheeraj Kashyap, who moved from Jaipur to join a start-up in Gurgaon says, 'The price is justified by the services, the value proposition is higher than what you are paying.'
It's not just about the real estate and amenities though. At companies like Zolo, CoHo and Stanza, the thrust is also on building communities to create brand value and stickiness -- albeit building communities is not a core proposition for OYO Living. Hence, the need to take over an entire building and create large common areas with game rooms, reading rooms et al.
'The idea is not to just come home and crash out but to have a great time. The community experience is very important for us. We feel it helps to increase longevity. When people are staying for 12-24 months, it makes sense to bring them into a community,' says CoHo's Lakkar. So, the company regularly organises events like karaoke and comedy nights and even ties up with say, insurance or beauty service providers to offer discounted services and experiences to residents. Kashyap, who stays in a CoHo villa, says: 'The community experiences and events help you build a network.'
Zolo even has a cricket league and chess championship apart from festival celebrations. Stanza Living also has two community programmes, Stanza Social and Stanza Springboard -- the latter focuses on helping students acquire skills for the workplace -- where it partners with companies to offer services to students. Says Dutta: 'The student housing asset class lends itself very well to the creation of community. We take an active interest in creating programmes that help drive this community organically and inorganically.'
However, student housing in India is very different from that in the West, as Anindya Dutta, co-founder, Stanza Living, points out. Datta had dealt in the Western student housing market while working with a private equity firm in London in 2014 when he realised the potential for it in India. He teamed up with IIM Ahmedabad batch-mate Sandeep Dalmia to launch Stanza Living in Delhi-NCR in 2017 and has grown it from 100 beds in 2017 to 2,000 beds across 16 properties today.
He says: 'In the West, a 17-18-year-old is typically leaving home for good and is very self-sufficient. Student housing there is more of a real estate play. But the Indian consumer expects student housing to be an extension of home with a high emphasis on service quality. We felt it was more of a hospitality play and realised that student housing in India would have to be tech-enabled community living and service-oriented.'
It was this similarity with the hospitality business that prompted OYO to enter the singles housing space too. 'The opportunity looks extremely OYO-like and that's what we are after,' says Kavikrut. After all, he says that at the core of OYO is 'our ability to transform existing real estate into quality space and then provide them on an accessible platform at an affordable price and make them available everywhere'. 'We do this using technology and our operations and revenue management ability. And how it manifests itself is that you know that any given night if you need a place to stay, you can walk in an OYO. So, when we looked at the opportunity and our clients, we realised that OYO can also be the place where you can stay as housing,' he adds.