Archbishop of Canterbury set for delicate India tour
India visit as 'religious, not political, leader'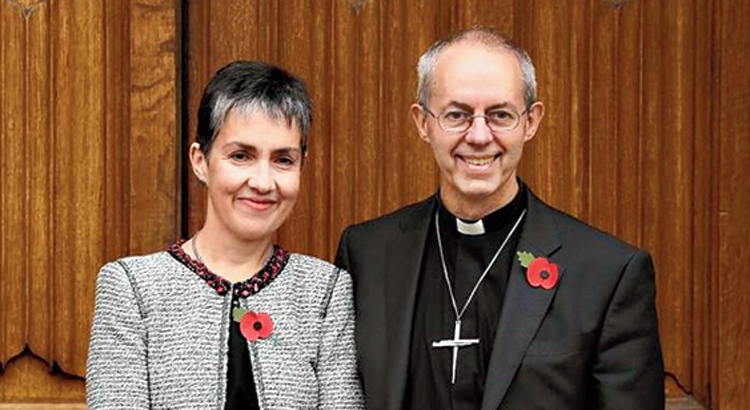 Archbishop Welby with wife Caroline
(Picture sourced by correspondent)
---
London
|
Published 30.07.19, 10:05 PM
|
---
When the Indian itinerary of the Archbishop of Canterbury, the Most Reverend Justin Welby, was announced on Tuesday here, the elephant in the room was whether Prime Minister Narendra Modi might be tempted to ask, "Will no one rid me of this turbulent priest?"
For the record, "Will no one rid me of this turbulent priest?" (sometimes expressed as troublesome or meddlesome priest), is an utterance attributed to Henry II of England, which led to the death of Thomas Becket, the Archbishop of Canterbury, in 1170.
Welby, it was made clear, has no intention of "challenging Modi" about the alleged persecution of Indian Christians since he will be visiting India as "a religious leader, not as a political leader". But he will listen to their experiences and, if there is a message to deliver, he will do so in as careful and diplomatic a manner as possible.
So far no meeting with Modi has been scheduled.
From August 31, the Archbishop of Canterbury will undertake a long and delicate mission to India aimed at strengthening relations with "Christians who make up 2.5 per cent of the country's population".
The Archbishop will be in Calcutta on September 8, attending Sunday service at St Paul's Cathedral, but there will be no time to go to Mother Teresa's home.
Welby will be accompanied by his wife, Caroline, as well as Richard Sudworth and William Adam, his top advisers on inter-religious and ecumenical affairs, respectively.
On Tuesday, Sudworth and Adam were at Lambeth Palace, the Archbishop's historic residence overlooking the Thames. They briefed a group of journalists, mainly religious affairs correspondents.
The BBC's religious affairs correspondent, Martin Bashir, who is a Pakistani Christian — he made a name by securing an exclusive interview with Princess Diana — could not have been more blunt in asking whether the Archbishop would challenge Modi about the persecution of Christians in India.
Another journalist wondered whether Indian Christians would feel let down if the Archbishop failed to do so.
This was a "have you stopped beating your wife?" type of question.
The response from Sudworth and Adam was the same: "He is not going as a political leader — he is going as a religious leader. What we don't want to be doing is lecturing another country."
But Welby would meet a wide cross-section of Indian Christians and listen to their experiences.
The 10-day visit will begin in Kottayam, Kerala, on August 31 and take in Bangalore, Hyderabad, Medak (Telangana) and Jabalpur (Madhya Pradesh), "where Christians appear confident", Welby's advance party found.
On September 9, a day after visiting Calcutta, he will leave for Amritsar, where he will visit the Golden Temple and Jallianwala Bagh where it seems he will offer an apology for the massacre that Theresa May could not quite do as Prime Minister. The Archbishop would give a "transparent account of what happened", aware his comments would have "ramifications" as far as the Indian diaspora in the UK was concerned.
Although the Archbishop has been invited by the Church of South India and the Church of North India, there is a political dimension to the visit.
As UK foreign secretary, Jeremy Hunt had said "we can and must do more" for persecuted Christians all over the world and appointed the Bishop of Truro, the Rt Reverend Philip Mounstephen, to report to him.
In a statement, Welby said: "My prayer is that this visit will first and foremost provide opportunities for me to pray with local Christians; secondly, I want to listen to the stories of local people, to hear the joys and challenges they face in their daily life; and, finally, I am looking forward to visiting key places of worship and significance. India has a long and distinguished Christian history, going back as early as the first century when Saint Thomas is said to have travelled to Kerala. I am looking forward to learning from the Church in India and sharing in their worship."
Dominic Raab has replaced Hunt as foreign secretary but on the question of Christian persecution, British policy is unlikely to change.
The issue was being handled by Tory peer Tariq Ahmad, a minister of state at the foreign office, who is of Pakistani origin and an Ahmadiya Muslim. He is seen as being even-handed when dealing with India. He has been retained in his job.
The Archbishop of Canterbury is the senior bishop and principal leader of the Church of England, the symbolic head of the worldwide Anglican Communion and the diocesan bishop of the Diocese of Canterbury.
Welby, who was enthroned at Canterbury Cathedral on March 21, 2013, is the 105th in a line which goes back more than 1,400 years to Augustine of Canterbury, the "Apostle to the English", sent from Rome in the year 597.