Anti-CAA protests: Delhi court grants bail to Bhim Army chief Chandrashekhar Azad
The court also restrained Azad from visiting Delhi for 4 weeks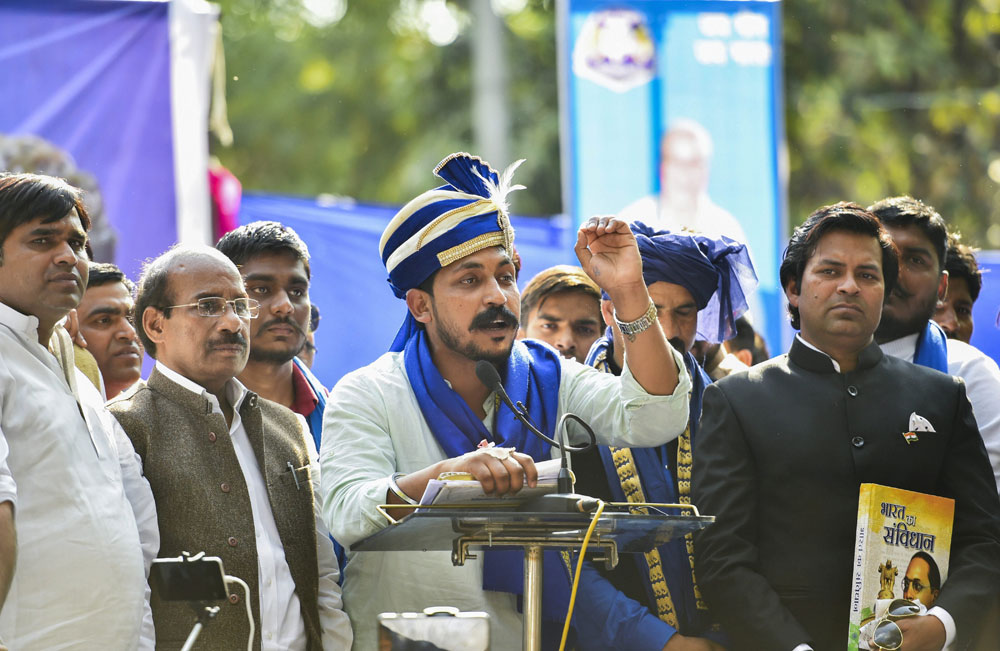 ---
New Delhi
|
Published 15.01.20, 12:09 PM
|
---
A Delhi court on Wednesday granted bail to Bhim Army chief Chandrashekhar Azad, who has been accused of inciting people during an anti-CAA protest at Jama Masjid on December 20.
Additional sessions judge Kamini Lau granted relief to Azad, while putting certain conditions on him. The court restrained the Bhim Army chief from visiting Delhi for 4 weeks and directed him not to hold any dharna till Delhi Assembly elections.
Hearing the case a day earlier, Lau had observed that people are out on the streets as what should have been said inside Parliament was "not said".
Azad has a constitutional right to protest and Delhi police were behaving as if the Jama Masjid was Pakistan, the judge said.
"Inside Parliament, things which should have been said were not said and that is why people are out on the streets. We have full right to express our views but we cannot destroy our country. We cannot disintegrate it," the judge said.
Lawyer Mehmood Parcha, representing Azad, had told The Telegraph yesterday: "In my view, the whole approach of the government was to project that the anti-CAA and NRC protests were only being done by Muslims. This has been defeated by the participation of Azad in the protest. Azad also said the CAA and the proposed NRC were against Dalits, the tribals and the poor. That is why he was arrested. He has done no wrong."
The judge had asked if the police had any video or audio recording showing objectionable content against Azad. "We just have a drone CCTV footage," the public prosecutor said.
The judge said: "Do you think Delhi police are so backward that they have no tools to record? There must have been some recording....
"Also show is there any prohibition on such gathering? Show any law that prohibits this kind of gathering."
Azad's outfit had called for a protest march from Jama Masjid to Jantar Mantar against the Citizenship (Amendment) Act on December 20, without police permission. Azad has been in jail since December 21.
Other 15 people arrested in the case were granted bail by the court on January 9.