An account of torture and profiling in UP
Sadaf: I was beaten and my loyalty questioned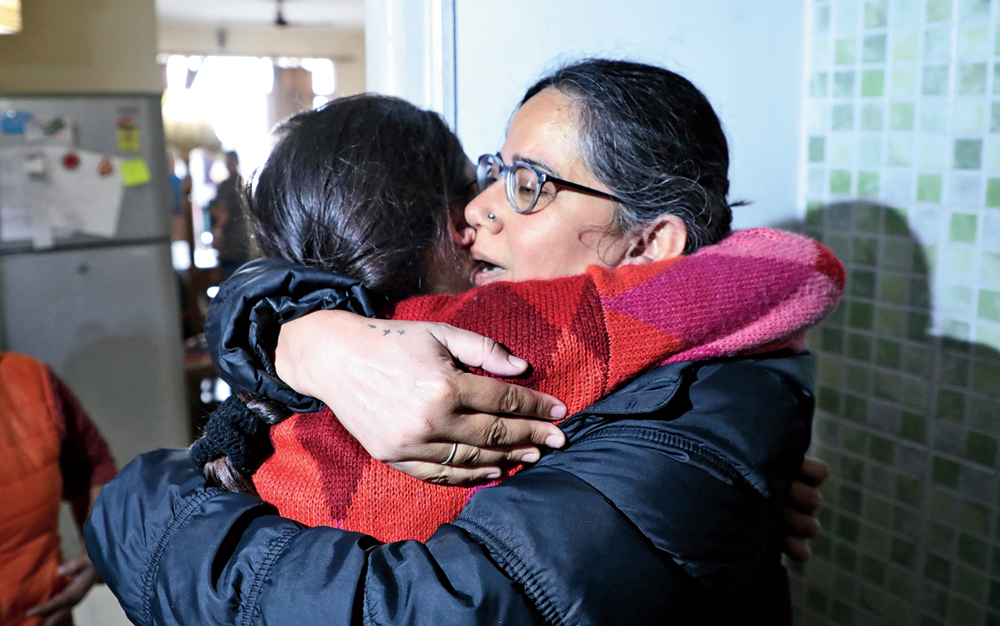 ---
|
Lucknow
|
Published 07.01.20, 08:18 PM
---
Police thrashed her almost the whole night and told her she was "a Muslim who eats in India, gives birth in India but praises Pakistan", social activist Sadaf Jafar said after she was released on bail on Tuesday.
"Tum log khate India ki ho, bachche India me paida karte ho aur taarif Pakistan ki karte ho," the Lucknow-based teacher quoted a policeman as telling her while thrashing and slapping her repeatedly.
Sadaf was arrested on December 19 during the protests against the amended citizenship act although she had said she did not take part in any violence. She was kept in the lock-up at Hazratganj police station in Lucknow for the night and sent to jail the next day.
She said the policemen and women kept referring to her as "tum log (you people)" and calling her "a terrorist from Pakistan".
"I was brought out of women's lock-up at night and then every policeman who was returning from duty was slapping me, pulling my hair and saying that I am a Pakistani," Sadaf told The Telegraph on Tuesday.
"A constable told me late at night that a senior officer wanted to talk to me and took me to a room. An officer was sitting there with another, who immediately started using abusive language. Then he asked a constable to slap me many times. But the officer was not satisfied with the way the constable was slapping me. Then, the other police officer who was sitting there stood up and kicked me in my belly and then all over me," Sadaf said.
"Hazratganj police station had turned into a black hole that night. While I was in the women's lock-up, I was constantly hearing the voices of men who were yelling and crying as the policemen were torturing them."
In response to a question from The Telegraph on Tuesday, Abhay Mishra, circle officer of Hazratganj police station, said: "We followed the guidelines after arresting people during anti-CAA protests and produced before a magistrate within the given time. The accused are in the habit of maligning the police. There is nothing new in it. But it is wrong that anybody was manhandled at the police station."
Sadaf said the policemen had already kept ready computer-printed papers with several sections of Indian Penal Code and Code of Criminal Procedure written on the top. They wrote the names of whoever were brought in that night, she added.
Narrating the incident of December 19 during a protest at Parivartan Chawk, she said: "While some people were burning vehicles, the policemen were taking it easy as if they were enjoying in a park. They certainly had an understanding with the rioters and gave them a free hand.
"While I was leaving the place after the situation normalised following police action, some cops caught me and started beating me. Then they pushed me in a van and took me to a police station," Sadaf said, adding that she was on the spot video-streaming the scenes of violence.
"This government cannot suppress my voice. I can say that I am against the Citizenship (Amendment) Act and the National Register of Citizens and, will oppose it more forcefully than before," she said.
Her mobile phone, which was confiscated by the police, was still at Hazratganj police station, she said.