Information "not available" on Shah's claim of bomb factories in Bengal: Union home ministry
The home minister had also claimed in the TV interview that law and order had 'gone for a toss in' in the state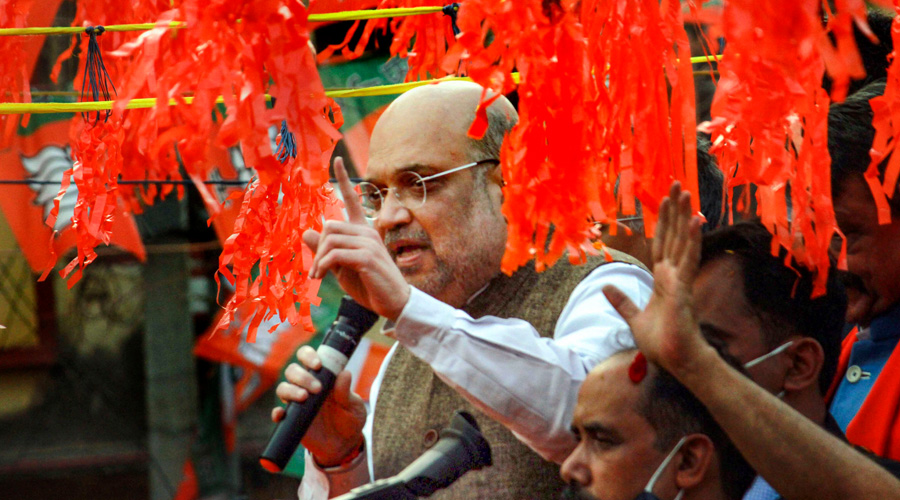 ---
New Delhi
|
Published 10.03.21, 01:37 AM
|
---
If Amit Shah has inside information on bomb-making factories in Bengal, his home ministry does not appear to have been brought up to speed.
The Union home minister had said in an interview to a news channel last October that "bomb-making factories are present in every district of West Bengal".
But the Union home ministry has replied to an RTI query that information on Shah's claim "is not available" with it, according to transparency activist Saket Gokhale. 
In fact, the Union home ministry has advised Gokhale to approach Bengal police to obtain the "factual information".
"The information asked by you vide point number 1 to 3 is not available with the offices of which the undersigned is the CPIO (central public information officer)…," says the March 3 reply attributed to the home ministry, which has been uploaded by Gokhale on Twitter.
Email and text messages sent by this newspaper to the home ministry for corroboration and comment did not elicit any response till late on Tuesday night.
Shah had in the TV interview claimed that law and order had "gone for a toss in" in Bengal. "There are bomb-making factories in every district of Bengal," he had said while speaking on the poll-bound state.
Gokhale had filed a four-point RTI application on October 18, asking for "(1) A list of bomb-making factories district-wise in Bengal as referred to by Amit Shah (2) Whether MHA had briefed Shah about this (3) Whether Shah's remarks were based on official inputs/records by agencies and the ministry."
According to the reply attributed to the Union home ministry and bearing the sign of Praveen Kumar Rai, director (CT)&CPIO, "it is further informed that 'police' and 'public order' are State subjects as Seventh Schedule of the Constitution of India and State Police is the first responder in case of any criminal/terrorist activity. Therefore, you may obtain the factual information from CPIOs of State Police…."
Gokhale said the ministry was silent on his fourth query — whether a list of the purported bomb factories in every district of Bengal, as mentioned by the Union home minister, had been shared with the Bengal government or Bengal police. 
"They haven't done that. Why? Because no such factories exist," he tweeted. 
"It is SHOCKING that the Union Home Minister of India would openly perpetrate fake news about internal security matters just to malign & insult the state of West Bengal for electoral gains. How can the Home Minister be trusted when he lies openly on record about things?" Gokhale tweeted.
"This blatant lying also happens because mainstream interviewers & reporters NEVER ask the ruling party to provide sources or facts to back their claims. They never challenge their falsehood. And this is why they manage to push such lies with impunity," he said.
Gokhale said it was not easy obtaining information on Shah's claim.
"Getting this info wasn't easy. MHA stalled giving a response since October. Even 1st appeal wasn't responded to. An MHA official called me & said 'we've been told not to reply on this'. Finally got the response after issuing a legal notice last week," the activist claimed on Twitter.
Last year Shah's home ministry had in reply to an RTI query filed by Gokhale admitted that the "Ministry of Home Affairs has no information concerning tukde-tukde gang". The derogatory term is used liberally by BJP politicians and sections of the media to refer to the critics of the government.