Rahul Gandhi insists on repeal
Amarinder Singh asks farmers and Centre to reach an amicable solution
This position is not in tune with Rahul Gandhi who advocated rigidity by insisting on scrapping of the new farm laws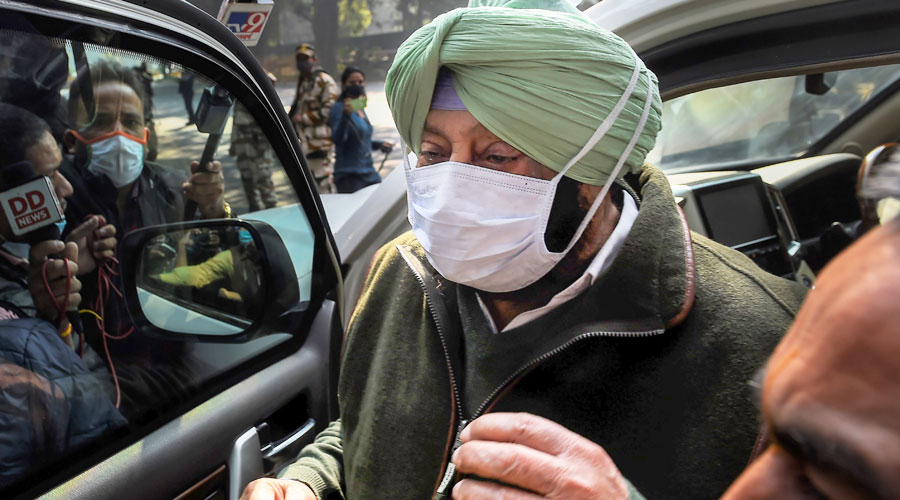 ---
---
Rahul Gandhi on Thursday asserted that nothing except scrapping of the new farm laws was acceptable even as the Narendra Modi government indicated its readiness to make some amends to address the apprehensions of the farmers.
Interestingly, Punjab chief minister Amarinder Singh had also asked both the government and the farmers to find a meeting ground at the earliest. He didn't insist on scrapping or withdrawal of these three laws after his meeting with Union home minister Amit Shah.
As farmers resumed negotiations with the government on Thursday morning, Rahul tweeted, "Accepting anything else than complete scrapping of the black farm laws will be a betrayal of India and her farmers."
Amarinder's tenor was indisputably different as he appealed to both the sides not to show rigidity. "My appeal to farmers is that they just urgently find a solution to this problem. It is impacting national security and Punjab's economy. The two sides should not take rigid positions and a meeting ground must be found," he said.
This position is not in tune with Rahul who advocated rigidity by insisting on just one acceptable solution.
Amarinder, however, stressed the need to protect the MSP and continue with the Agricultural Produce Market Committee-based mandi system but didn't set any precondition like withdrawal or scrapping of laws.
Sources said the chief minister's concern over the deadlock can be understood as Punjab is in a state of paralysis owing to the movement going on for months now. They said apart from Punjab's economy, the chief minister is concerned about lakhs of people from the state stranded on the road.
Rahul's stance appeared to be in tune with the farmers' inflexible position. Farmers have not yet shown any
inclination for a compromise and even asked the government on Thursday to stop the charade of negotiations if they were not willing to withdraw the laws.
The Congress also echoed their demand for calling a special session of Parliament to withdraw the three farm laws.
Congress's leader of the Lok Sabha, Adhir Ranjan Chowdhury, wrote to Speaker Om Birla to convene the session to discuss farmers' movement and Covid-19 vaccine protocol. Many other Congress MPs like Manish Tewari and Partap Singh Bajwa also called for an immediate Parliament session.
Amarinder's mellowed posturing allowed the Akali Dal to criticise him as it asked why was he linking the peaceful farmers' movement with national security.
Amarinder has often stressed that Punjab was a sensitive border state which has suffered a lot because of militancy.
He had earlier warned that Pakistan and China could fish in troubled waters and exploit peasant unrest to foment trouble.
He also expressed grief over the death of two farmers, Gurjant Singh and Gurbachan Singh, who were participating in the ongoing protests against the farm laws and announced financial assistance of Rs 5 lakh each to their families.