Amar's parting kick: Good actor need not be a good human being
Amar Singh, once the go-to man for those carrying some of the most famous surnames in the country, is wrapping up, as it were, his 18-year-long political career in the heart of New Delhi.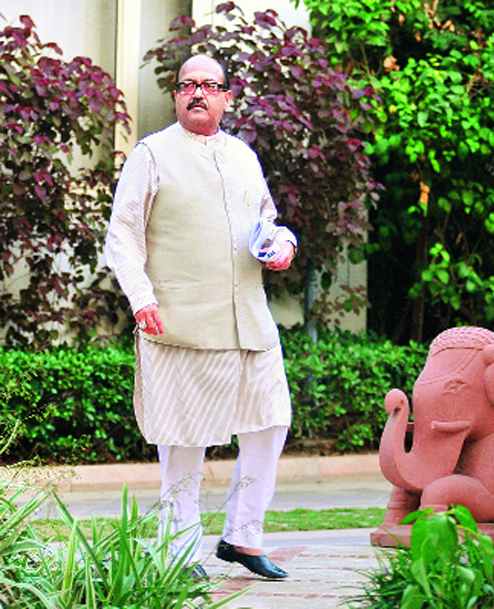 ---
Published 21.05.15, 12:00 AM
|
---
New Delhi, May 20: Amar Singh, once the go-to man for those carrying some of the most famous surnames in the country, is wrapping up, as it were, his 18-year-long political career in the heart of New Delhi.
Literally so.
Amar Singh is moving from his coveted 27 Lodhi Estate bungalow, 13 years after he first moved in.
He spoke to The Telegraph, sitting on a huge grey sofa in his study, looking puny surrounded by sheaves of documents ready to be bundled off to his Chattarpur farmhouse in south Delhi.
According to some erstwhile insiders, the study was once adorned with large portraits of Dhirubhai Ambani, Amitabh Bachchan and Mulayam Singh Yadav. The walls have been stripped bare - so much so that Amar Singh was reluctant to get his picture clicked there.
Built over a plot of around an acre, the bungalow, counted as one of the plushest in Delhi, has lawns dotted with statues of cherubs and angels, colourful fountains, big glass picture windows, wood-panelled walls, a bar and a jacuzzi (Amar Singh wouldn't confirm the last two).
The bungalow has now been allotted to Union minister Giriraj Singh, who has been staying in the MP's quarters at Vitthalbhai Patel House.
However, Amar Singh says, it is not the loss of the bungalow that makes him sad.
"I am not feeling bad about leaving this house because whether it be the Prime Minister of India or the President, they eventually will all have to vacate government premises," the former Samajwadi Party MP points out.
"I feel bad more for the people who I called family and they ditched.... Houses are lifeless... but human relations... you put everything at stake. You don't calculate. I have learnt in life that one should be very pragmatic and practical instead of fighting battles for others," Amar Singh says, referring to his soured relationship with the Bachchans.
Political lore has it that Amar Singh's break-up with the Bachchans was over a Rajya Sabha seat for Jaya Bachchan. But Amar Singh says the breaking point came over a dinner when Amitabh accused him of manipulating the situation to make the Bachchan family resign from the Sahara board.
"Remorse is for human beings, not for the house. Families like the Bachchans, if there was a death in the house, they would have my and my wife's names on the cards as family members. For the wedding of their sons and daughters, they used to print cards referring to us as family. I also treated them as family. I don't regret doing anything for them, whatever you do for the family, you don't regret," Amar Singh says.
"I regret the way they treated me opportunistically. But I maintain that a good human being can be a bad actor and a good actor may not necessarily be a good human being," he adds.
Amar Singh recalls the days when Amitabh and Aishwarya, after her engagement with Abhishek, stayed in this very bungalow and how he toned down the lavish spread of his birthday parties on the request of the superstar.
"I used to give big parties on my birthdays, but Mr Bachchan said he was uncomfortable, so he said, 'I will come to the party and I will decide the guest list.' I toned down the parties for him as I treated him as an elder brother. It was like his wish was my command," Amar Singh recounts, adding that the actor had last attended his party in 2008.
"Mr Bachchan, according to me, is contrary to Baghban (gardener), the role he played on screen. Off screen, he is Bagh-ujar (uprooting a garden), at least emotionally. I am saying this on record," Amar Singh says at one point.
Amar Singh says the experience with the Bachchans has made him realise why Congress president Sonia Gandhi refuses to accept anything from anyone on her birthdays. "I used to be amazed as to why she did that. But after these experiences in my life, I have realised that she does the right thing. She knows that all these bouquets and flowers and gifts are temporary facets in life. They are happening because she is somebody in life, and the moment she ceases to be somebody, it will stop."
"From 1996-2009, I was always under the spell of the shining sun, I did not feel that (the sense of being a nobody)... but in 2009 I lost my two kidneys, I was seriously ill, I was struggling for my life, then I got treatment, was arrested. I realised that there was no one... my two small children, my wife who had become paranoid, petrified and insecure and not trusting anyone. Anyone who is more affectionate, or more friendly, she gets scared. So I am more pained about these things, not about the house," he says.
(Amar Singh was arrested in the cash-for-vote case but was acquitted.)
He adds that Amitabh had neglected to invite him to his 70th birthday bash - "where even his spot boys were called, but not me" - but he conceded that Amitabh wishes him and his daughters on their birthdays every year through text messages.
Once known as a power-broker, Amar Singh cuts to the heady days of deal-making. "This is the room (the study) where Jayalalithaa used to come, Chandrababu Naidu used to come. Congress cadres used to come here, comrade (Prakash) Karat used to come here... these are the chairs in which many alliances were discussed. I have seen it all, done it all. Eighteen years is a long innings. Politics is not a livelihood for me, in a way the moving is a load off my head," he laughs.
He is carrying everything he has bought - paintings, antiques, fountains, some plants and European lamps dotting his landscaped lawn - to his new house.
"The house I will go to live in will look even better. For me and my children, it will not be a demotion, but a promotion.... In fact, my new house has a swimming pool and is built on four acres," he says.
From the wood-panelled gate to the name etched on an uneven slab of marble, the premises send an unmistakable message that the occupant loves to spend money.
"There was seepage all over. I did waterproofing and changed the entire flooring. The flooring that you are seeing is not the CPWD floor. This kind of flooring you will not find even in the Prime Minister's house, I can assure you that. I have done it at my own expense. It took me eight months to make this house liveable," Amar Singh says about his bungalow.
The bungalow has an external stairway that leads to a rooftop garden where Amar Singh likes to take walks.
As he walks this correspondent out, he points with pride to a refurbished and modified Bolero. "It doesn't look like a Bolero, no?" he asks.
"What I don't like, I change," Amar Singh declares, turning around swiftly with a near-dismissive wave of his hand.