Defence counsel slams scandalous leakage
Delhi court finally, 'officially' denies bail to Zubair
Earlier, unverified news of Alt News co-founder's 'freedom' sparked row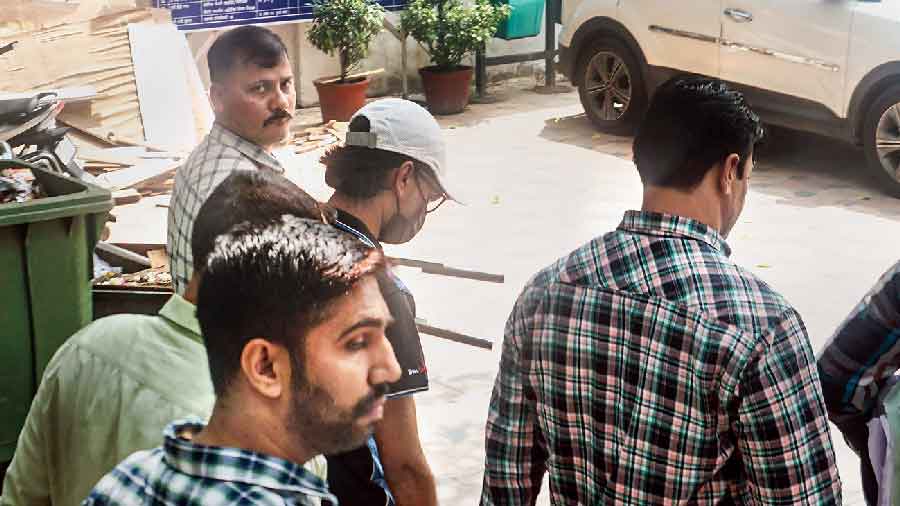 Mohammed Zubair (in cap) being produced in the Delhi court on Saturday
PTI Picture
---
New Delhi
|
Published 03.07.22, 03:06 AM
|
---
A Delhi court on Saturday denied bail to AltNews co-founder Mohammed Zubair and sent him to 14 days' judicial custody, after Delhi police added new charges that included alleged donations totalling Rs 2 lakh from abroad.
The police ran into controversy by announcing the verdict — correctly as it turned out — before it had been delivered. The court pronounced the order around 7pm, four-and-a-half hours after a senior police officer messaged reporters on WhatsApp: "Bail rejected, 14 day JC granted".
Zubair was arrested on Monday on the charges of hurting religious sentiments and promoting enmity through a 2018 tweet, which showed a still image from a 1983 Hindi film that had been screened without controversy. He was produced before chief metropolitan magistrate Singdha Sarvaria on Saturday after the expiry of his police remand.
K.P.S. Malhotra, deputy commissioner of police (intelligence fusion and strategic operations), admitted to incorrectly informing the media that Zubair's plea had been rejected and the journalist had been sent to 14-day judicial custody, PTI reported. When the officer had sent the message, the court had not pronounced the order.
Soutik Banerjee, a lawyer for Zubair, said: "It is extremely scandalous and it speaks of the status of rule of law in our country today. Even before the judicial magistrate has sat and pronounced the order, the police have leaked the order to the media."
Following the allegations, Malhotra said: "I had a word with my IO (investigating officer). I misheard it due to noise and inadvertently the message was posted in the broadcast."
Chief metropolitan magistrate Sarvaria, who had reserved the order earlier in the day after the hearing, pronounced the judgment after the open court reconvened in the evening.
Special public prosecutor Atul Srivastava had sought 14 days' judicial custody, telling the court that new provisions - penal sections 120B (criminal conspiracy) and 201 (causing disappearance of evidence) and Section 35 of the Foreign Contribution (Regulation) Act -- had been invoked against Zubair.
This prompted Zubair's counsel Vrinda Grover to say: "Just because the 295A and 153A story is over, they start a new story to create uproar about the misuse of funds so that people make noise."
Srivastava alleged that Zubair had received donations from foreign countries, including Pakistan and the UAE, and that the matter required further investigation.
Grover said the funds had been received by Pravda Media, the company that owns AltNews, and not Zubair in his individual capacity.
Earlier, police sources had told reporters that Pravda Media had received over Rs 2 lakh through various transactions via the Razorpay payment gateway, where either the mobile phone number or the IP address was an overseas one.
Grover sought bail for her client, saying the case had been registered with mala fide intentions and expressing fear that the police might tamper with evidence.
"I am placing an application that no hash value or clone has been generated by the cyber crime (branch) from my hard disk and my mobile phone that have been seized," she said.
"Thus there is real likelihood of tampering and manipulation in order to add new sections against (my) client."
Two phones
Grover told the court that the phone used in posting the 2018 tweet had been stolen in 2021 and a police complaint had been lodged. So the police had no business seizing the journalist's current phone.
Srivastava argued that Zubair had changed his SIM after being summoned to appear before the police's special cell on Monday.
"When the phone was analysed, it was found that prior to that day, he had been using another SIM. When he received the notice, he took out the (SIM) and put it in a new mobile. Please see how clever the person is. The probe is at a nascent stage," he said.
Grover said: "Is it a crime to change my mobile phone or SIM card? Is it a crime to reformat my phone? Or is it a crime to be clever? None of this is an offence under the penal code…. Surely my intelligence cannot come in the way of my freedom."
She argued that offences under Section 201 could have been made out if there was tampering of the device used to post the 2018 tweet.
"It's on record that I lost that phone in 2018. The phone I was carrying presently is not evidence, it's my private property - so how can it be tampering of evidence?" she said.
"I was told that I formatted the phone. It's private property and I can do absolutely anything with my phone."
Srivastava said: "He has smartly deleted things. Why have you deleted it? Time is more important - at what time he has deleted."
FCRA slur
Srivastava told the court: "If anyone accepts donations from a person residing in a foreign country, it is violation of foreign funds…. Zubair has accepted foreign funds from Pakistan, the UAE (and) Riyadh (Saudi Arabia) via Razorpay."
Grover said the foreign funds had been transferred to Pravda Media and not Zubair personally. She accused the deputy commissioner (cyber crime cell) and senior officers of media leaks to create prejudice.
The maximum punishment under Section 35 of the FCRA is five years.
Laptop
Grover said the seizure of Zubair's laptop had made a "mockery" of the "guidelines laid down by various courts".
"They bring a laptop. Neither the hash value…. Four officers accompany him to Bangalore (where Zubair has a flat). This is all public resources. They did not take a single technical person," she said.
"Everybody understands that this tweet was done from an Android phone but there has been a seizure of the laptop. It wasn't required. It was excessive. This case is a dead end."
She said the police had also picked up the tax invoice of a phone Zubair had bought last January. "As far as I know, there is no embargo on purchasing a mobile phone. How is this suspicious?"
To the police argument that they needed to analyse the data, she said: "Data has to be analysed and it is not disputed. But its sanctity is to be protected by law. This is an electronic device which can be manipulated and tampered."
2018 tweet
Grover stressed that the 2018 tweet showed a still picture of a scene from a successful, uncontroversial 1983 film, and had been shared by many people.
"These tweets are still on Twitter. No direction on Twitter to pull it down and the film is also available online," she said.
"For 40 years it (the film) has created no disturbance and an anonymous account with one follower raised it (the tweet) to the police. Mala fide is writ large in this. They have no prima facie case. It's a malicious prosecution. They know it."
Srivastava said: "We have not concluded the investigation. Why investigation or PC is required we have already demonstrated. We may drop certain offences or add some offences at the final stage, so at this stage to argue that nothing is made out is not true.
"The tweet was uploaded in 2018 but it's still here. And if it's there, everyone else is following. It is a continuing offence."
Grover said the purpose of investigations was not to "harass someone and harm reputation".
"We are not living in a police state. Till they demonstrate a prima facie case, if it's made out, I'll submit to law."
'Hurt sentiment'
Referring to the invocation of Section 153A, Grover said: "What is required is there must be two groups. What are those two groups? They have to be religious, race, linguistic, caste…. A person can feel hurt -- this is not an Indian Hurt Sentiment Code; this is the Indian Penal Code. Apart from the part that we don't know who this anonymous person (complainant) is, there are no two groups."
She added: "My tweet is an image of a film. I haven't said a word. My tweet doesn't refer to any religion or religious group. It doesn't say anything inciteful for any God. There is no intent, no reference to any religion in the tweet."