Ally demurs but Rahul Gandhi firm on Veer Savarkar
Uddhav Thackeray had reaffirmed his respect for the Hindu Rashtra proponent on Tuesday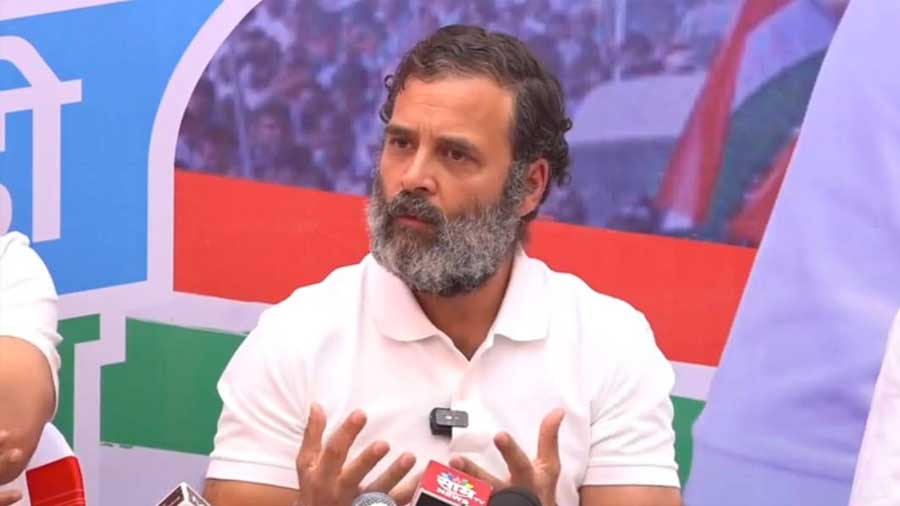 ---
New Delhi
|
Published 18.11.22, 03:15 AM
|
---
V.D. Savarkar not only sought mercy from the British but betrayed India's freedom fighters, Rahul Gandhi asserted on Thursday, refusing to dilute his position despite Maharashtra ally Uddhav Thackeray having expressed a different view on the Sangh parivar icon.
Uddhav had reaffirmed his respect for Savarkar after Rahul's criticism of the Hindu Rashtra proponent on Tuesday, the birth anniversary of tribal hero and freedom fighter Birsa Munda. Maharashtra Congress leaders too were wary of any controversy on Savarkar creating tensions within the Maha Vikas Aghadi, the party's alliance with the NCP and the Uddhav faction of the Shiv Sena.
Politicians of all hues in Maharashtra avoid criticising Savarkar, given the local sensitivities.
Rahul, however, is not known to alter his ideological stance over political exigencies. Responding to a question about the differing  perceptions about Savarkar at a news conference in Akola, Maharashtra, Rahul displayed a letter written by Savarkar to the British authorities.
"For me, this is the most important document," Rahul said. "I won't read out  the whole letter but tell you what the last line was: 'I beg to remain, Sir, your most obedient servant'. I shall translate this into Hindi: 'Sir, main aapka naukar rehna chahta hoon'.
Rahul rubbed the message in: "I haven't written this. Savarkar wrote this. Read the entire letter. If Devendra Fadnavis wants to see this, he too can. I am very clear on this. Savarkar helped the British."
Fadnavis had accused Rahul and other Congress leaders of lying about Savarkar and asserted that the people of Maharashtra would give them a proper response at the right time.
"I want to know how many Congress leaders suffered like Savarkar for 11 years. Despite such prolonged torture, he sang the song of freedom," Fadnavis said.
Chief minister Eknath Shinde too said that the people of Maharashtra would not tolerate such comments against Savarkar.
On Thursday, Savarkar's grandson Ranjit Savarkar registered a police complaint in Mumbai against Rahul Gandhi for allegedly "insulting" his grandfather. "No FIR has been registered. We are conducting further probe," a police officer told PTI.
Uddhav told reporters: "We don't agree with what Rahul Gandhi has said. We respect Veer Savarkar. But at the same time, when you are questioning us, the BJP should also have to say why they were in power with the PDP (in Jammu and Kashmir)." He added: "We have allied with the Congress to maintain the freedom we got from the British."
The Sena's coalition with the Congress and the NCP has weathered the differences over Savarkar in the past as well.
Rahul was forthright, saying: "Parties must put forward their views. My view is that when Savarkar signed this letter, the reason was that he was fearful. He wouldn't have done this if there was no fear.
"Mahatma Gandhi, Jawaharlal Nehru, Sardar Patel and others remained in jail for years but they didn't seek mercy. Savarkar's signature meant deceit. When he signed the letter, he betrayed the stalwarts of the freedom movement. His action signalled to the freedom fighters that they too could seek mercy."
Rahul contended that the Bharat Jodo Yatra was an initiative to present an imagination to the country that governance was possible with love, peace, brotherhood and mutual respect. He said the programme had succeeded in showing the BJP that there was another way of governance — without dividing people, without crushing the poor, without discrimination and violence.
"Why do people feel that showing hatred, being abusive and nasty, makes the country stronger? That's cowardice. Gandhi taught us compassion; why are we throwing it away? The message is that I am not going to thrash you only because I am more powerful," Rahul said.
"The millions of people coming out to join the Yatra feel that way. The principle we are putting (forward) here is not only political. We can put it in our lives. Show respect to others." Asked what the point was in harping on ideology when Congress MLAs defected to the BJP after winning elections, Rahul said: "A Shiv Sena MLA was walking with me. He said Rs 50 crore was offered to him but he didn't defect. Many others went. In a way, the Opposition is getting purged.
"The corrupt people who sell themselves for Rs 10 crore, 20 crore or 50 crore are joining the BJP. It's good for us. There is no dearth of clean people in Hindustan. Good people will come to us."