Akhilesh Yadav anti-Dalit, only wants their votes: Chandrashekhar Azad
'I want to forge an alliance with him to defeat the BJP'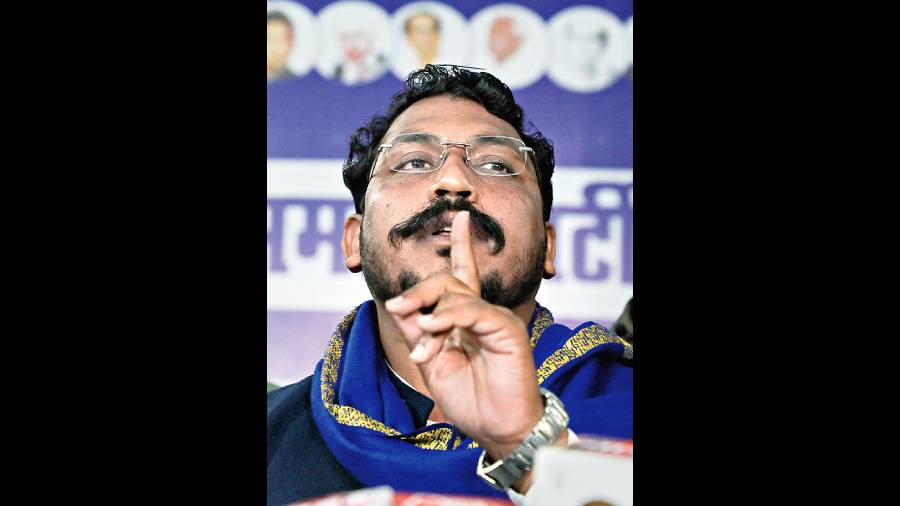 Chandrashekhar Azad addresses the media in Lucknow on Saturday.
PTI picture
---
Lucknow
|
Published 16.01.22, 03:01 AM
|
---
Dalit leader Chandrashekhar Azad on Saturday described Akhilesh Yadav as "anti-Dalit" and denied any truck with the Samajwadi Party, within 18 hours of their "friendly" meeting.
"Forgetting the past and his anti-Dalit attitude, I had met the Samajwadi Party chief on Friday and discussed the modalities of an alliance with my party. He had said that he would call me by today (Saturday) morning to confirm his decision but he forgot it. It is my insult. We have decided to close this chapter now," Chandrashekhar, the leader of the Azad Samaj Party, told reporters.
Chandrashekhar had on Friday said his meeting with Akhilesh was "friendly".
Chandrashekhar, who wields considerable influence among the Dalits in parts of western Uttar Pradesh, had on Friday night tweeted in Hindi: "There is strength in unity. It is not easy to defeat a party like an elusive BJP without strength and unity. It is the responsibility of the leader of the alliance to take care of their representation and respect them. The Dalit class of UP expects Akhilesh Yadav to fulfil this responsibility."
On Saturday, Chandrashekhar told reporters that he had been in talks with Akhilesh for the last 110 days.
"Despite seeing him silent on the issue of atrocities or murder of the Dalits in the state, I wanted to forge an alliance with him to defeat the BJP. I had told him on Friday that he has to take a decision as an elder brother. But Akhilesh is not interested in social justice. He only wants the votes of the Dalits. I wanted him to declare firmly that he would take decisions with regard to the empowerment, reservation and promotion (of the SCs) in government jobs after winning the election. But he appeared unwilling to do so," Chandrashekhar said.
"The way Akhilesh was behaving makes it clear that he would allow his supporters to keep harassing the Dalits, burning their houses and killing them if he became the chief minister," he added.
Chandrashekhar also wished Mayawati on her 66th birthday and said: "I wish her a long life."
Asked about the development, Akhilesh said: "The Congress is hatching a conspiracy against us from Delhi. There are others also who are doing so."
Political observers believe that Akhilesh, who has grown confident of his consolidated position after the entry of many OBC leaders in his party, has failed to understand the importance of Chandrashekhar who can create doubt in the minds of the Dalits about the intention of the Samajwadi Party chief.