Airport hospitality 'abuse'
T.M. Thomas Isaac suggested that Shah's 'empty threats' had stemmed from his frustration at BJP's failure to elect more than 1 member to the state Assembly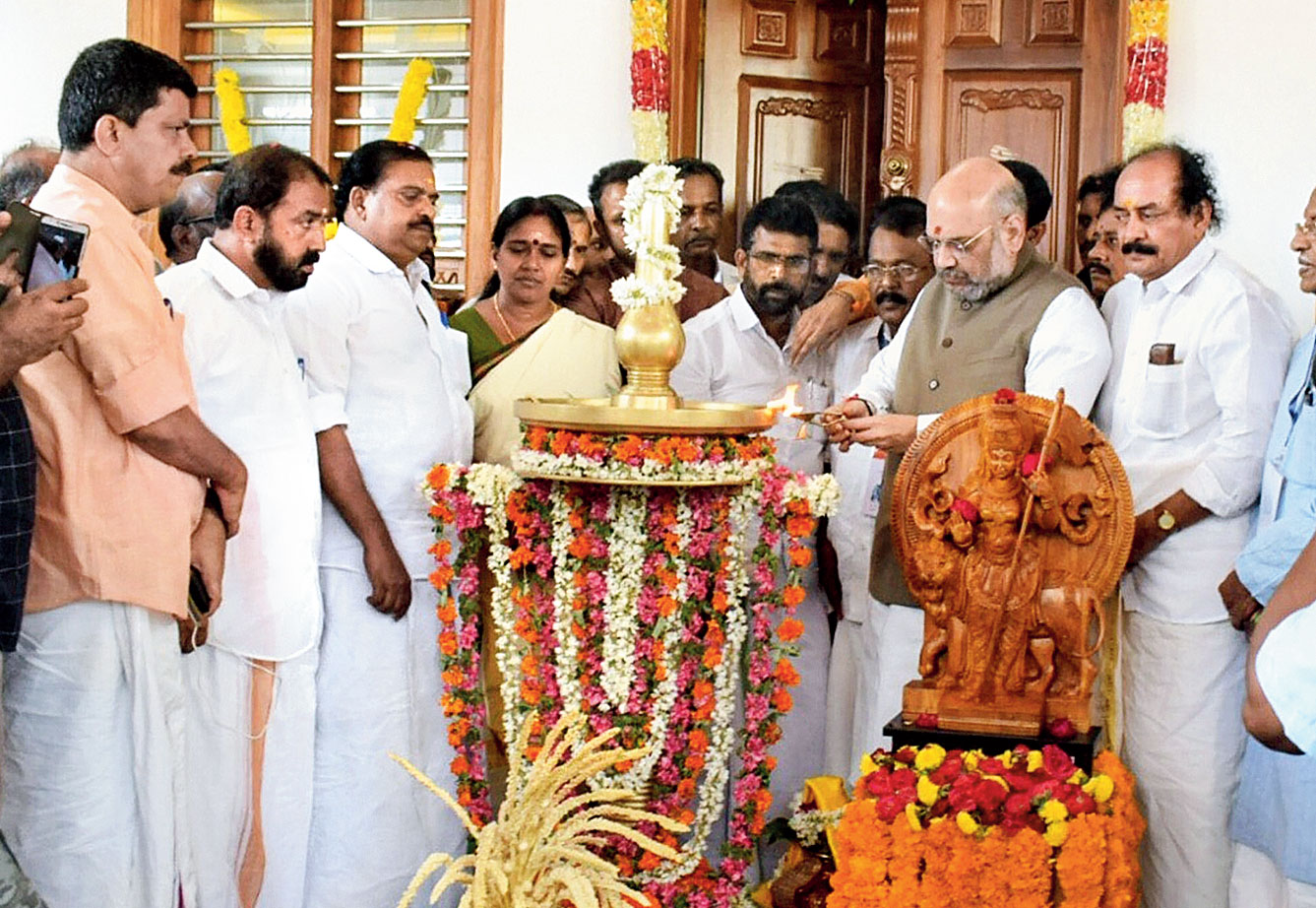 ---
Thiruvananthapuram
|
Published 28.10.18, 09:55 PM
|
---
A Kerala minister on Sunday accused Amit Shah of abusing the state's "tradition of hospitality", citing the BJP president's threat to oust the Left Front government after it had courteously allowed his flight to land in a yet-to-be-opened airport.
The state Congress, the main Opposition, seized its opportunity to build a controversy around the state government's gesture of letting Shah use Kannur's un-inaugurated airport, alleging an "understanding" between the Left and the BJP.
State finance minister T.M. Thomas Isaac slammed Shah in a tweet that said: "Amit Shah permitted to land in Kannur airport which is yet to be opened. That is our tradition of hospitality. But he is threatening to oust Kerala government."
He suggested that Shah's "empty threats" had stemmed from his frustration at the BJP's failure to elect more than one member to the state Assembly.
"Such empty threats do not frighten us. Try to win (a) few seats in (the) Assembly. Your frustration is understandable," Isaac tweeted.
Kannur's airport, the fourth in the state, is scheduled for inauguration on December 9. Shah made a one-day visit to Kerala on Saturday to inaugurate the BJP's new district office in Kannur and attend the commemoration of saint and social reformer Sree Narayana Guru's mahasamadhi near Thiruvananthapuram.
During the visit, Shah ripped into the state's CPM-led government for trying to implement the Supreme Court order allowing women to enter the Sabarimala temple irrespective of their age.
The BJP and the Sangh parivar at large have been spearheading a devotees' protest that has so far prevented any woman of childbearing age from entering the shrine.
Shah warned chief minister Pinarayi Vijayan that he would have to pay a "heavy price" if the police action against the protesters continued. He said BJP workers "would not hesitate to pull the government down".
The Congress, which too has been opposing the court verdict citing devotee sentiments, slammed the Left government for "specially" opening the airport for Shah.
Rath yatra
The BJP has announced a "rath yatra" as part of its Sabarimala protest, starting on November 8 at Kasargod and ending in Pathanamthitta on November 13.
State BJP president P.S. Sreedharan Pillai said the party would "continue its protests against the arrest of Ayyappa devotees who participated in the agitation".
BJP workers will observe a day's fast in front of the DGP's office in Thiruvananthapuram on October 30.