After riots in northeast Delhi, 'gated community' means this now
Hindus and Muslims both feel they need more security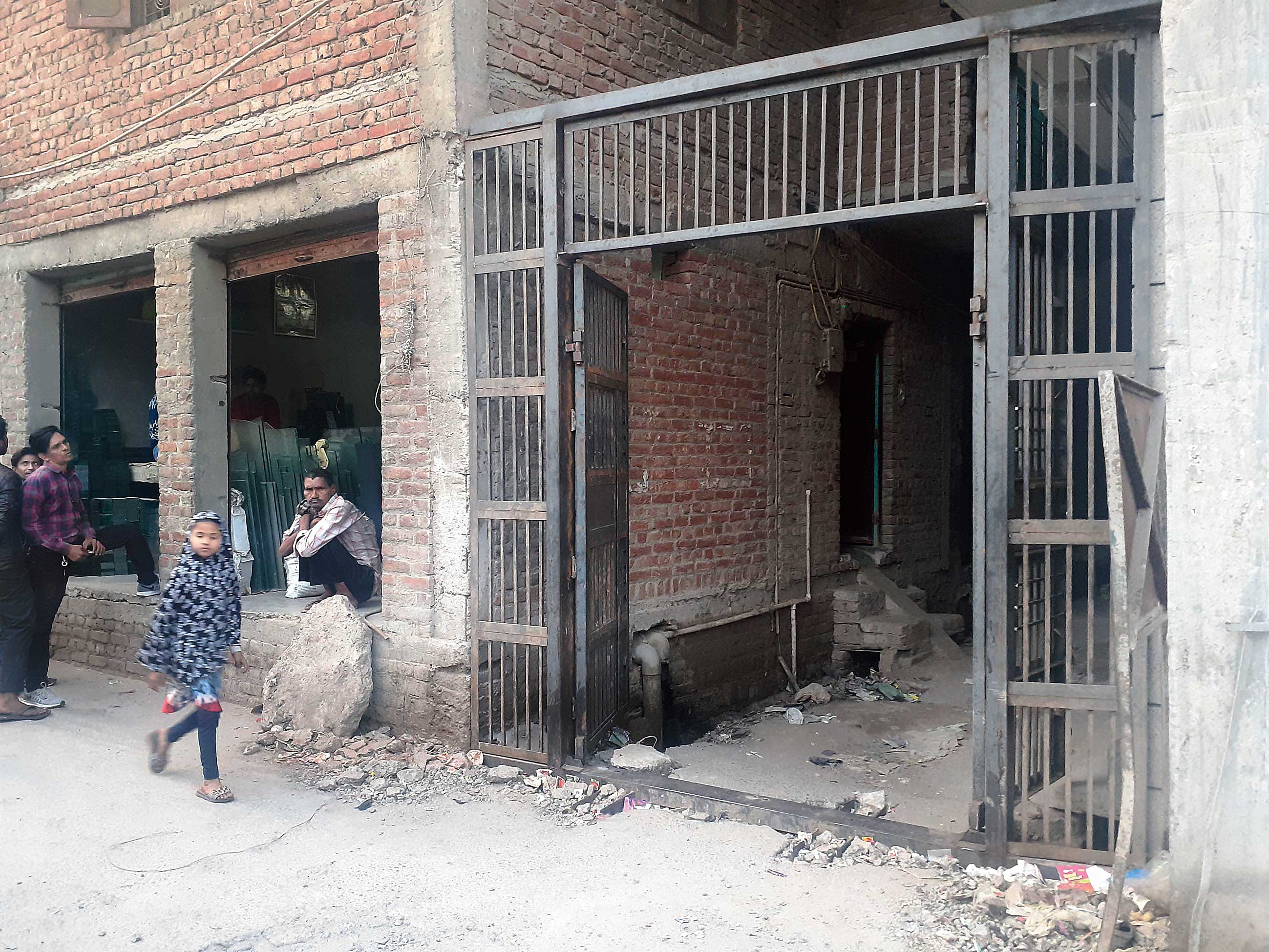 An iron gate installed at New Mustafabad in northeast Delhi in the aftermath of the riots. Similar gates have come up in Hindu-dominated Brijpuri on the other side.
Picture by Pheroze L Vincent
---
New Delhi
|
Published 11.03.20, 10:49 PM
|
---
The "border" is being fortified with gates on either side of a sewer that cuts through northeast Delhi where riots killed as many as 52 people a fortnight ago.
Hindus and Muslims both feel they need more security. Steel fabrication, the residents say, is the only business that is booming since the riots singed this periphery of the capital.
Nine bodies have been fished out of four interconnected sewers that drain into the Yamuna. Hindu-majority Brijpuri and Muslim-dominated New Mustafabad are divided by one such sewer with garbage strewn on both banks.
"On February 25, it was like the India-Pakistan border," said Ankit Rajput from Brijpuri on the southern bank.
Rajput, an AIIMS employee, and his Hindu neighbours at Brijpuri's Lane 3 have contributed Rs 2,500 to Rs 3,000 each to erect four iron gates — two each at either end of the lane that is barely wide enough to let a car through. The gates will cost a little over Rs 2 lakh.
Brijpuri residents say a mob of around 300 people from across the sewer hurled stones and fired towards their lane during the riots last month, injuring Class IX student Vinesh Kumar who was struck on his right palm when he peeped out of a window.
Vinesh told this newspaper that he would appear for his exams, scheduled to begin on Thursday, with the help of a writer. The bullet broke his hand, which has now almost healed but is still bandaged, making it impossible for him to write.
"The gates may not stop a mob, but they will slow them down. They will at least give us enough time to bolt ourselves in our homes. We're not waiting for the government grant to erect the gates. The money had been promised to us by a local Aam Aadmi Party leader. It's a question of life and death," said Manoj Singh, who owns a printing shop.
Heaps of rotting garbage in the area and foul fumes from the sewer pose a more immediate threat to health. However, the fear of more riots and suspicions about neighbours are agonising the locals more every day.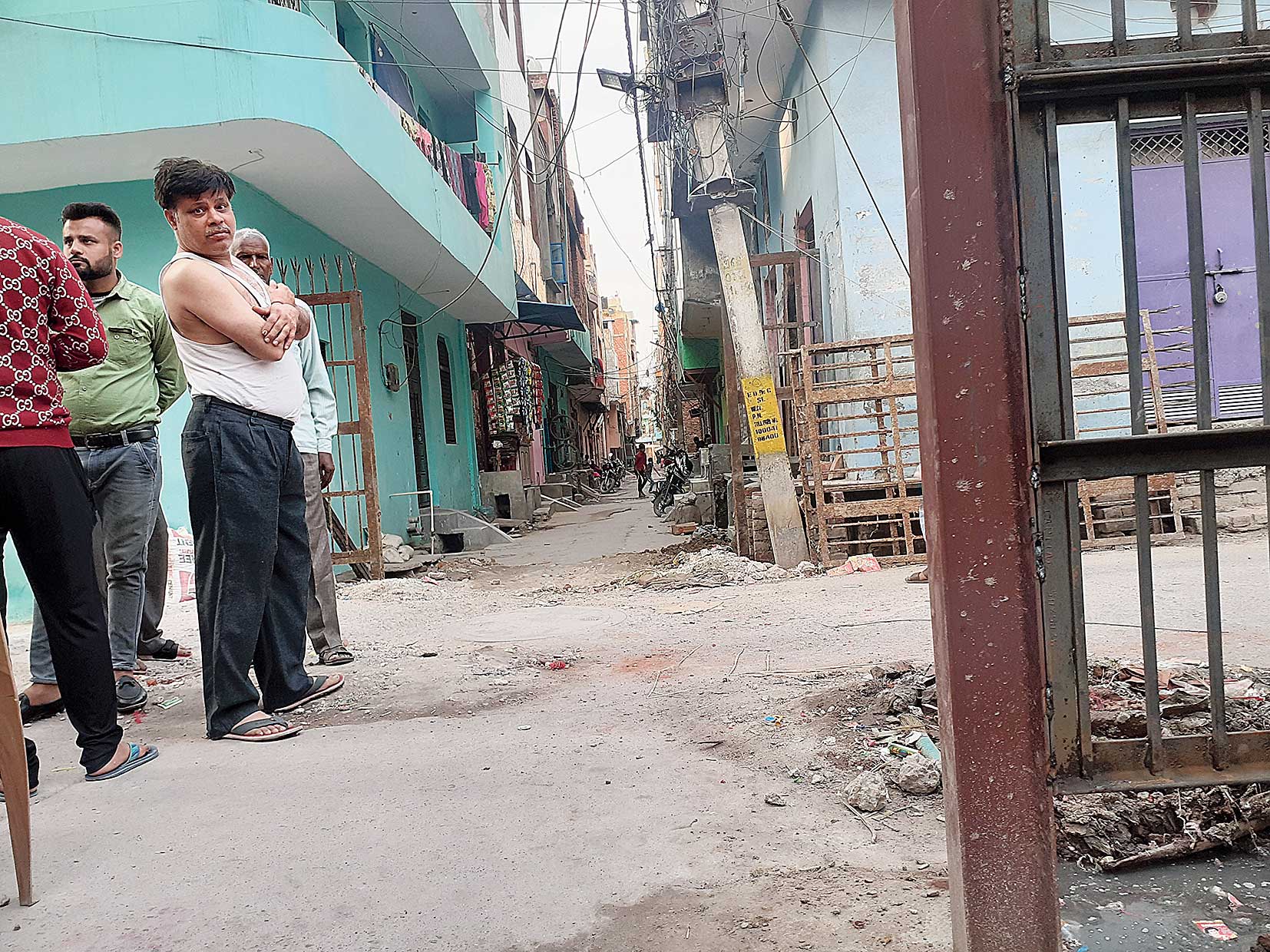 "We don't want rations, or sanitation or compensation. We just want security," said Jaipal Singh, a Delhi Transport Corporation employee who lives on the street.
Most Hindu and Muslim neighbours have not spoken to each other since the riots. Hindu men patrol Lane 3 at night. Delhi police and Central Reserve Police Force personnel hold the main road, a stone's throw away.
"The homes on our street, near the sewer, belong to Muslims. The mob used the home of an ice-cream seller to attack us," Rajput says.
Singh contradicts him, saying the ice-cream seller is innocent, although the sons of the trader's neighbour, a momo vendor, haven't been seen for a fortnight. "They've probably fled for fear of being arrested for rioting. We never harmed any Muslims on our street," Singh said.
A Muslim resident, who did not want to be named, said: "We are all very scared. If gates can help, so be it."
Rajput smelt vote-bank politics in relief operations. "The MLA (the AAP's Haji Yunus) only cares about Mustafabad. They are poor people who vote for his party. We haven't received any support from the Delhi government yet. The Bajrang Dal and (BJP leader) Kapil Mishra have offered some monetary help," he said.
A few blocks to the south of Lane 3, Fahim and five of his colleagues work overtime at their workshop on 20-feet Road to deliver on orders for 10 gates. Most lanes have already dug pits to erect pillars that will hold the gates.
"The gate prices start at Rs 30,000. A wrought iron gate takes a week to complete. There are around 100 such workshops in the district and they are all flush with orders," he told this newspaper.
"Everyone is scared, Hindu and Muslim. Maybe these gates will make them feel better. We feel bad that now our streets will all be gated. But this is the only employment here now. All other businesses are struggling (in the aftermath of the riots)," he added.
Across the sewer, Yameen Raza wistfully looks at Brijpuri from his glass shop on New Mustafabad's Lane 12. The volume of Raza's glass business has fallen to 10 per cent of what it was before the riots. Yet he has contributed for the gates to be erected beside his shop.
At Rs 35,000 to Rs 40,000 a pair, 15 gates have come up in this part of New Mustafabad.
"The gates are simply to restrain youths if they get excited. There are 85 Hindu families down the street and two temples too. They were untouched in the riots. Yet the police keep picking up boys from the streets every day. It's scary even to sit at a tea shop," Raza said.
Raza and others, however, praise the Border Security Force that guards the area — for their impartiality and calming influence after the riots.
Delhi minister Gopal Rai on Wednesday met senior police officers and said later: "After the riots, we have been getting complaints from different constituencies that cases have been filed against people who were not involved in the riots. We had held a meeting with police officers earlier on the situation and found out that lower-level officers are filing the cases.
"We met senior officers today and deliberated on how the police must be careful in reporting such cases so that innocent people are not arrested or framed. Strict action must be taken against those against whom there is strong evidence."
Raza, the glass trader, told this correspondent: "If we don't make an effort at brotherhood, things will become worse. The other day I went to Anilji's shop in Brijpuri to repair my TV set. We chatted for two hours. Once you start talking, all fears go away."