Afghanistan, Covid-19, Ukraine have global consequences: MEA
Jaishankar articulated India's willingness to contribute to addressing the global shortfall in wheat caused by the war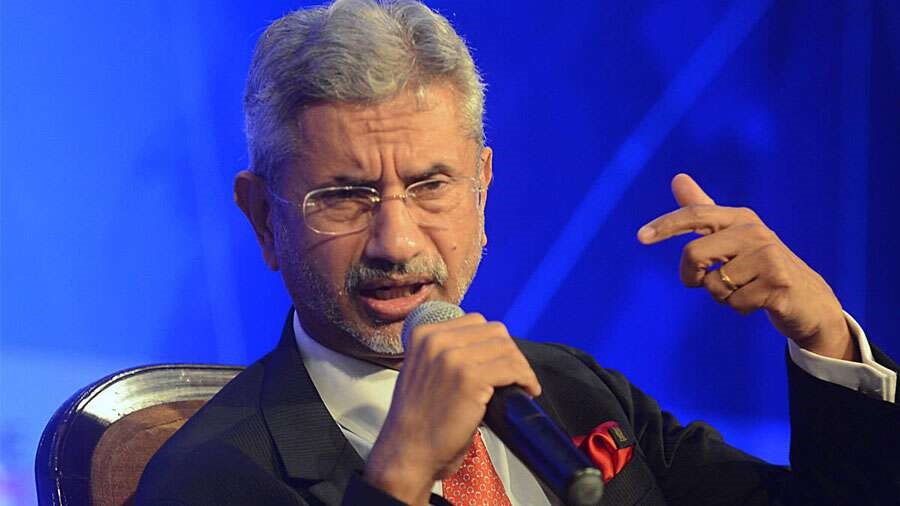 S. Jaishankar.
File photo
---
New Delhi
|
Published 27.04.22, 01:27 AM
|
---
External affairs minister S. Jaishankar on Tuesday flagged the world's abandonment of Afghan civil society last year to counter efforts by European foreign ministers to use the Raisina Dialogue forum to corner India on its refusal to stand with the western "democratic" world against Russia in its attack on Ukraine.
Responding to questions from his counterparts in western capitals at an interactive session, Jaishankar not only reminded the West of the way Afghanistan was thrown under the bus but also drove home the point that there was a world outside Europe with its own set of problems that the Europeans appeared to be unmindful of.
Iterating India's stated position on Ukraine — early cessation of violence, and return to dialogue and diplomacy — the minister also articulated India's willingness to contribute to addressing the global shortfall in wheat caused by the war but said there were constraints arising out of World Trade Organization limits on trading with public stocks.
Through the 45-minute session, Jaishankar faced several questions on India's position on the war. First off the mark was Swedish foreign minister Anniken Huitfeldt who asked him what role India saw for itself in defending free societies globally, arguing that Russia's invasion of Ukraine was an attack on democracy.
In response, Jaishankar said: "You spoke about Ukraine. I remember less than a year ago what happened in Afghanistan where an entire civil society was thrown under the bus by the world… We in Asia face our own set of challenges….
"Quite honestly all of us would like to find the right balance of our beliefs, of our interests, of our experience and that's really what we are all trying to do. It looks different from different parts of the world, the priorities are different. That's but natural…"
According to him, all of the four major shocks of the past couple of years — Afghanistan, Covid-19, Ukraine and big power rivalry — have global consequences. "Consequences for the everyday person," he said.
As Luxembourg foreign minister Jean Asselborn kept the focus on Ukraine through his question on what his Russian counterpart Sergey Lavrov offered as justification to India during his visit to New Delhi for what Russia is doing in Ukraine, Jaishankar shot back: "He's engaged many of you in Europe probably more on the subject than he has engaged us."
Shedding his combative tone, he said: "Both of you are my European colleagues and I understand that at this moment this would probably occupy you almost to the exclusion of everything else. But there is also a world out there…. There are equally pressing issues in other parts of the world. Afghanistan and the challenges which we face in Asia. If I were to put those challenges in terms of principles, when rules based order was under challenge in Asia the advice we got from Europe was do more trade. At least we are not giving you that advice. In Afghanistan, please show me which part of the rules based order justified what the world did there. Let's see this in the right context."
Asked by Swedish Prime Minister Carl Bildt about the possibility of Russia's actions emboldening China, Jaishankar said Asia had been dealing with its own set of problems for over a decade.
"For the last two months, we have been hearing a lot of arguments from Europe that a lot of things are happening in Europe, and Asia should worry about it. Guess what, things have been happening in Asia for the last 10 years….
"This could be a wake-up call for Europe, not just in Europe.... It could be a wake-up call for Europe to also look at Asia. This has not been an easy part of the world for the last decade," he said, pointing out that this is a region where boundaries have not been settled, where terrorism is still practiced — often sponsored by states — and where rules based order has been under continuous stress for more than a decade.
"It's not that problems are going to happen, the problems have been happening."