Advisory but no reins on ed-tech firms
These companies have mushroomed during the pandemic that has upended conventional modes of education, but there are no controls on quality and data privacy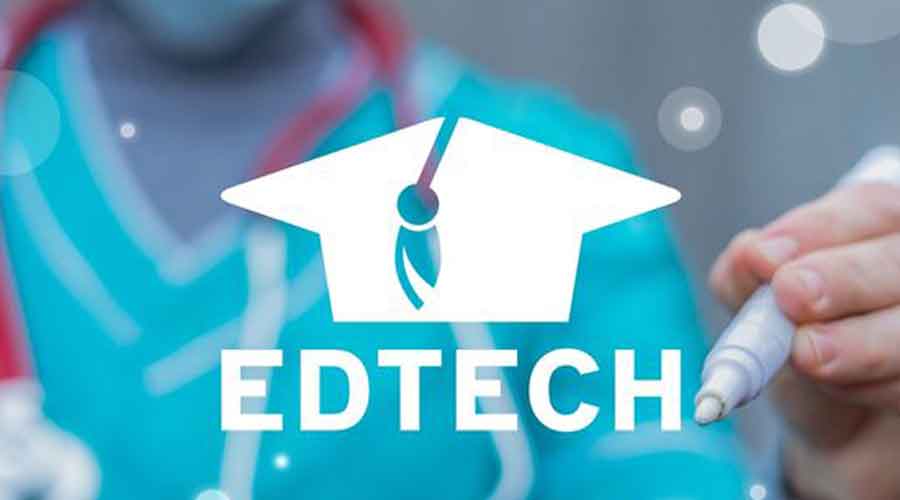 Representational image.
File photo
---
New Delhi
|
Published 03.02.22, 12:17 AM
|
---
The Narendra Modi government on Wednesday remained non-committal on regulating ed-tech companies that have proliferated in the past two years to provide online coaching, study material, certificate courses and mock tests, although it acknowledged in Parliament that these firms indulged in "exploitative practices".
Ed-tech companies have mushroomed during the pandemic that has upended conventional modes of education, but there are no controls on quality, data privacy and fee structure and collection.
Phulo Devi Netam and Neeraj Dangi, Congress MPs in the Rajya Sabha, on Wednesday wanted to know if the government intended to introduce any specialised policy to regulate the activities of ed-tech firms.
In a written reply in the Upper House, minister of state for education Subhas Sarkar said the government had already issued an advisory on what citizens needed to be careful about while seeking the services of ed-tech companies.
"In order to safeguard against the exploitative practices of ed-tech companies, the Government has issued advisory which includes dos and don'ts for the stakeholders. It has also reiterated legal provisions for e-commerce firms for information to citizens who are consumers of ed-tech services," Sarkar's reply said.
The advisory, issued in December 2021, had cautioned parents that some ed-tech companies were trying to dupe parents with the lure of free services
"It has come to the notice of the Department of School Education and Literacy that some ed-tech companies are luring parents in the garb of offering free services and getting the Electronic Fund Transfer (EFT) mandate signed or activating the auto-debit feature, especially targeting the vulnerable families," the advisory for citizens issued by the Press Information Bureau, the government's publicity arm, had said.
According to the advisory, parents and students should avoid the automatic debit option for payment of subscription fees, a mode in which a customer provides his or her debit or credit card details to the service provider and money is transferred without the need for authorisation. The government had advised parents to go through the terms and conditions carefully before accepting any learning software/ device as IP address and other personal data can be tracked.
E-commerce regulations put in place by the ministry of consumer affairs apply to the ed-tech firms as well, the advisory had said. As per the regulations, every ed-tech firm needs to have a grievance officer who is supposed to address complaints within a month.
Educationist Ameeta Mulla Wattal said the ed-tech companies needed to be brought under clear-cut laws to keep a check on them. They mainly breach the privacy of children by accessing their data from schools and reaching out to parents with proposals for coaching, she said.
"These companies manage to get data about children's performance in school assessments. They reach out to parents. The parents get annoyed. This is a breach of privacy. A proper law should be framed to prescribe what they can do and what they cannot," Wattal said.
She said education was not about mere literary and numeracy skills. Schools shape a child's personality by providing adequate exposure to social and behavioural skills and extra-curricular activities, while the ed-tech companies mainly focus on numeracy and literary skills, Wattal pointed out.
She flagged concerns about how ed-tech companies allegedly collect data on children's behavioural patterns and feared such information could be misused in the future.
"While doing any task online, the child will express his views and perception on any issue. Such views may change in later years. But the ed-tech companies can capture such responses and create data on behavioural patterns of individual children. This can be misused in the future," Wattal said.
An educationist specialising in pedagogy and assessment said the use of technology can help explain certain concepts better but the ed-tech companies lack teaching expertise and often make the teaching-learning process repetitive.
He too spoke about the possible misuse of data on students' behaviour. He said China had introduced a policy that makes it mandatory for ed-tech companies to be non-profit entities, in view of the exorbitant fees charged by them. In India, these firms are treated as education service companies and are allowed to make profit, the educationist said.
"Use of technology helps in explaining various things. For example, anatomy can be better explained by showing three-dimensional images of different organs. But if the instructor is an expert on pedagogy, he or she will use the technology better to help students gain deeper understanding. The instructors employed by ed-tech firms largely lack pedagogical skills," the academic said.
He said the aspiration of parents mainly pushes them to use the products of the ed-tech companies and they could become unmindful of how they could be duped.
"The government should bring rules instead of passing the onus onto the parents," he said.
In his reply in Parliament, junior education minister Sarkar said the University Grants Commission had notified regulations on full-fledged online programmes by higher educational institutions, prohibiting franchise arrangements with the private sector.