Advice against HCQ in severe Covid-19 cases
Instead, ICMR suggests use of three still-experimental therapies for treatment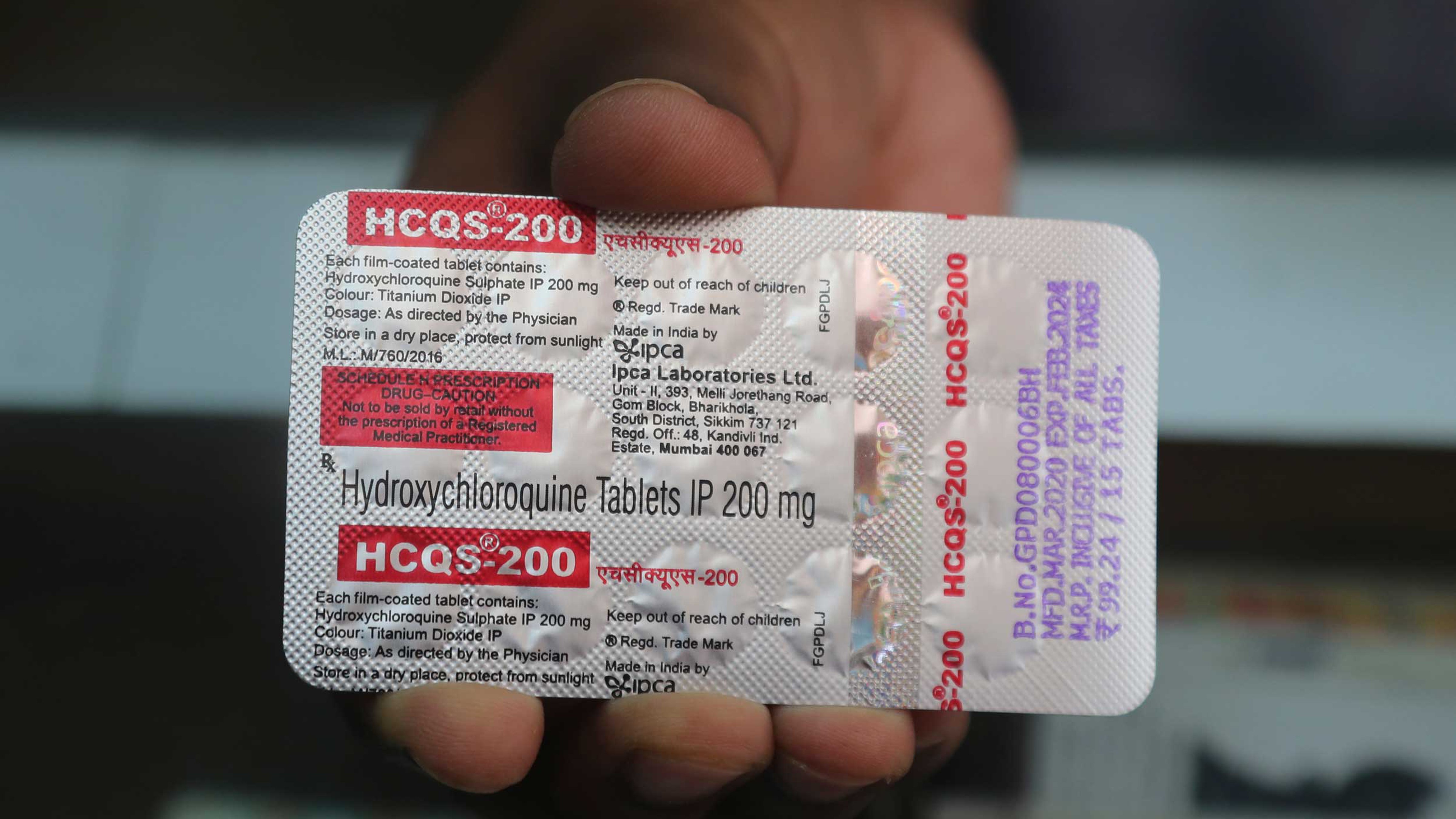 A chemist displays hydroxychloroquine tablets in Mumbai.
(AP)
---
New Delhi
|
Published 13.06.20, 11:00 PM
|
---
India's department of health research on Saturday recommended against the use of the anti-malarial hydroxychloroquine on patients with severe coronavirus disease and introduced three still-experimental therapies for the treatment of patients with moderate Covid-19.
The Indian Council of Medical Research (ICMR), in revised clinical guidelines for the management of Covid-19 replacing an earlier advisory, said patients with moderate disease may receive the anti-viral remdesivir, the anti-inflammatory drug called tocilizumab, and convalescent plasma.
The ICMR said the evidence for the use of hydroxychloroquine "remains limited" and this drug should "only be used after shared decision making with the patients" while awaiting the results of ongoing clinical trials.
"As in the case of other anti-virals, this drug should be used as early in the disease course as possible to achieve any meaningful effects and should be avoided in patients with severe disease," it said, also recommending that an electrocardiogram before the drug is prescribed to patients.
The ICMR's earlier guidelines recommending hydroxychloroquine and the antibiotic azithromycin for patients with severe Covid-19 had evoked criticism from sections of doctors who pointed out that evidence for this combination was weak and both drugs could potentially cause side-effects on the heart.
Some doctors had also expressed concern that patients with severe Covid-19 might be vulnerable to the side-effects of hydroxychloroquine under the physiological changes triggered by the viral infection itself.
The ICMR in its revised treatment guidelines said several large observational studies with severe methodological limitations had shown no effect on mortality or any other clinically meaningful outcomes.
The guidelines say remdesivir may be used under "emergency use authorisation" in patients with moderate disease who require oxygen. The guidelines specify certain conditions under which the anti-viral should not be given to patients.
The ICMR also said tocilizumab may also be considered in patients with moderate disease with progressively increasing oxygen requirements and in mechanically ventilated patients who are not improving despite use of steroids.
The guidelines also said convalescent plasma — a blood product taken from patients who have recovered from Covid-19 and that contains anti-viral molecules — may also be used in patients with moderate disease whose oxygen requirement is progressively increasing and who are not improving despite use of steroids.
Doctors in India have already treated many patients with remdesivir, tocilizumab and convalescent plasma — either as part of clinical trials or under compassionate grounds.
The vast majority of Covid-19 patients experience only mild respiratory symptoms such as fever, cough, sore throat and nasal congestion. For the treatment decisions, moderate disease is defined as pneumonia with respiratory rate of 24 per minute and oxygen saturation 94 per cent, while severe disease includes severe pneumonia with respiratory rate 30 per minute and oxygen saturation 90 per cent or lower.