Adanis mount NDTV takeover bid
Group intends to make an open offer to acquire another 26 per cent in the news organisation at a price of Rs 294 per share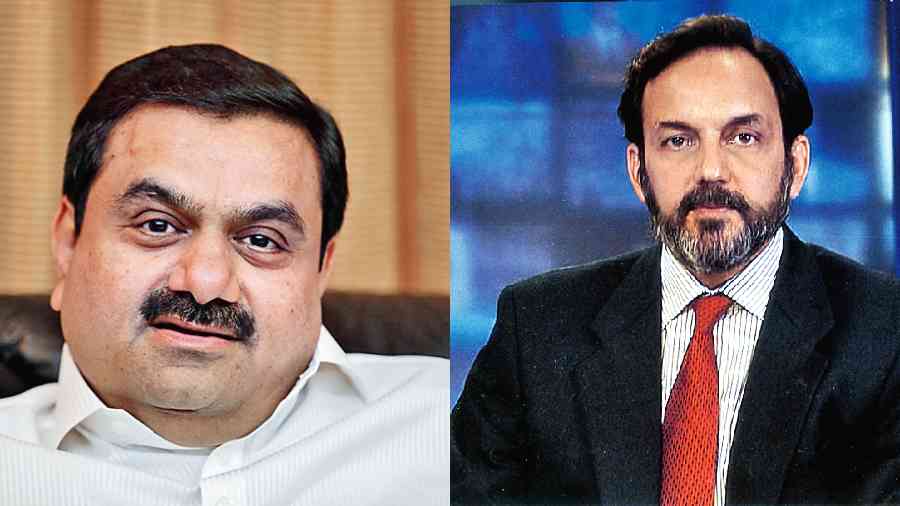 Gautam Adani, Prannoy Roy.
File pictures
---
Mumbai
|
Published 24.08.22, 02:28 AM
|
---
Gautam Adani, counted as India's biggest billionaire, has mounted a takeover attempt on New Delhi Television Ltd (NDTV), the media channel built by Radhika Roy and Prannoy Roy.
On Tuesday, the Adani group said it would acquire a 29.18 per cent indirect stake in NDTV, which was founded in 1984 and which launched the country's first 24x7 news channel in partnership with Star India in 1998.
The Adanis, who operate a wide swathe of businesses from shipping ports and power facilities to airports and infrastructure, have been looking to add the one missing block in its corporate edifice: mainstream media operations.
The group intends to make an open offer to acquire another 26 per cent in NDTV at a price of Rs 294 per share, aggregating to Rs 492.81 crore. The open offer price is at an almost 20 per cent discount to the current market price. The NDTV stock closed on the BSE at Rs 366.20.
Shareholders of NDTV may not bite the weak bait. But if the open offer is successful, the Adanis will control 55 per cent of the media company.
Under Sebi regulations, an acquirer who buys more than 25 per cent in a listed firm must make an open offer to the public shareholders of the company.
According to the shareholding data available with the stock exchanges, public shareholders held 38.55 per cent of NDTV in the quarter ended June 30. Of this, 14.70 per cent is held by foreign portfolio investors.
Controversy
The announcement by Adani Enterprises, the flagship of the Adani group, through a regulatory filing to the stock exchanges was immediately enveloped in controversy.
NDTV said in a late-evening filing with the exchanges that its founder directors and the media house had not been "consulted" before the notice was served on them on Tuesday.
The takeover bid for NDTV is being spearheaded by AMG Media Networks Ltd (AMNL), a subsidiary of Adani Enterprises.
AMNL is looking to acquire the media giant through its wholly owned subsidiary Vishvapradhan Commercial Private Limited (VCPL), which holds convertible share warrants in RRPR Holding Private Ltd (RRPR), which is the promoter of NDTV.
VCPL stands at the centre of the controversy. The company was incorporated in February 2008 and has changed hands several times. It is not clear when the Adanis took control of this entity.
In its statement, NDTV said: "(VCPL) has exercised its rights to acquire 99.50 per cent control of RRPR, the promoter-owned company that owns 29.18 per cent of NDTV. The NDTV founders and the company would like to make it clear that this exercise of rights by VCPL was executed without any input from, conversation with, or consent of the NDTV founders, who, like NDTV, have been made aware of this exercise of rights only today. RRPR, which owns 29.18 per cent of NDTV, has been told to transfer within two days all its equity shares to VCPL."
NDTV tweeted that it "has never compromised on the heart of its operations — its journalism. We continue to proudly stand by that journalism".
Crisis roots
The crisis that the Roys find themselves in dates back to June 2008 when RRPR borrowed around Rs 540 crore from Indiabulls Financial Services Ltd in order to fund an open offer for the shares of NDTV.
The cash-strapped Roys soon approached ICICI Bank for a loan of Rs 375 crore to repay Indiabulls. This loan carried a steep interest rate of 19 per cent.
That is why in July 2009, the Roys negotiated a Rs 350-crore loan from Vishvapradhan Commercial Pvt Ltd. The attractiveness of this 10-year loan was that it carried no interest. However, it came with a rider: RRPR and the Roys had to sign two call option agreements with two subsidiaries of VCPL: Shyam Equities Pvt Ltd (SEPL) and Subhgami Trading Pvt Ltd (STPL).
These two entities were together offered 100 million convertible share warrants that entitled them to convert them into equity in RRPR whenever the call option became exercisable.
SEPL had the right to purchase 11.01 per cent of equity shares of NDTV from RRPR at a call option price of Rs 214.65 per share. Likewise, STPL had the right to purchase 14.99 per cent of the equity shares of NDTV at the same price.
The Roys had not repaid the loan but the erstwhile owners of VCPL had never exercised the call option. The Adanis, however, have opted to do so.
An equity call option confers a right to buy shares in the company without an obligation to actually do so. A share warrant is a negotiable instrument issued by a company stating that its bearer is entitled to convert them into shares or stock specified in the document.
NDTV had got an inkling that something was brewing on Monday itself when it was approached by a business newspaper that wanted to know if the founder promoters of NDTV were selling their stake held through RRPR Holding Pvt Ltd.
The immediately denied any such move –- and issued a suo motu statement to the stock exchanges terming it as a "baseless rumour".
In Monday's notice, NDTV said: "Radhika and Prannoy Roy are not in discussions now, nor have been, with any entity for a change in ownership or a divestment of their stake in NDTV. They individually and through their company, RRPR Holding Private Limited, continue to hold 61.45 per cent of the total paid-up share capital of NDTV."
It was not immediately clear whether the Roys would mount a legal challenge to the Adani move which it hasn't yet unequivocally characterised as hostile.
Adani gambit
The Adanis have been sniffing around for acquisitions in the past few years and acquired control of the Mumbai international airport from the GVK Reddy group and the power distribution company in Mumbai that was once owned by Anil Ambani.
This marks the group's second purchase in the media segment. It bought a 49 per cent in Raghav Bahl- led digital business news platform Quintillion Business Media in May.
"This acquisition (NDTV) is a significant milestone in the journey of AMNL's goal to pave the path of new age media across platforms. AMNL seeks to empower Indian citizens, consumers and those interested in India, with information and knowledge. With its leading position in news and its strong and diverse reach across genres and geographies, NDTV is the most suitable broadcast and digital platform to deliver on our vision. We look forward to strengthening NDTV's leadership in news delivery," said Sanjay Pugalia, CEO, AMG Media Networks Ltd.