Gautam Adani's fortune rises nearly $20 billion in two weeks, leaves Mukesh Ambani trailing
Billionaire's wealth surges as fast-growing flagship Adani Enterprises reports quarterly profit surge of 73%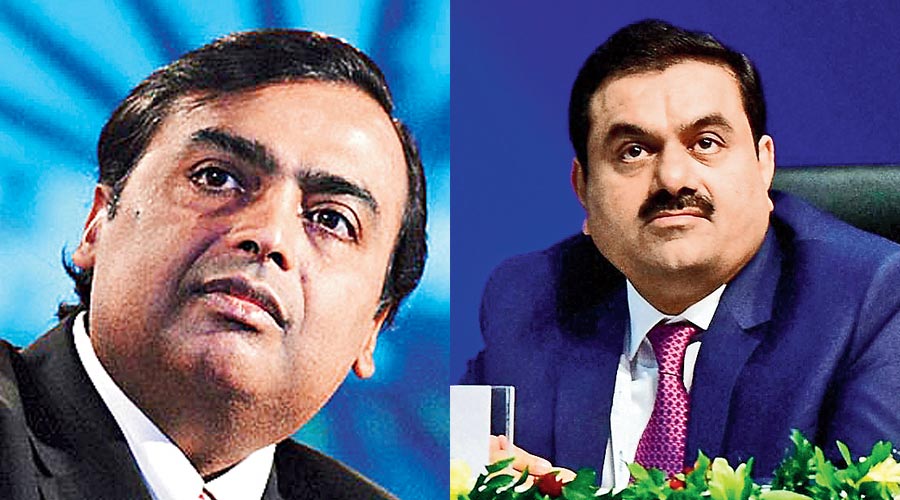 Mukesh Ambani and Gautam Adani
File picture
---
Published 05.08.22, 02:28 PM
|
---
Gautam Adani is soaring to heights where no Indian billionaire has gone before. He's worth an astounding $130.5 billion which is up almost $20 billion from two weeks ago, according to the Forbes Real-Time Billionaires List which tracks daily wealth movements of the world's super-rich.  
What's amazing is that Adani, who's now the world's fourth richest person, has sailed past the world's tech superstars like Google founders Sergey Brin and Larry Page. The self-made Gujarat-based tycoon also comfortably overtook the most famous veterans of the Rich List like Microsoft's Bill Gates and Berkshire Hathaway CEO Warren Buffett. On July 21, Adani was reckoned to be worth $112.5 billion. On Thursday, he was calculated to be worth $131.2 billion.
Adani is now far wealthier according to Forbes than Mukesh Ambani of Reliance Industries who's worth $94.5 billion on the Forbes Real-Time Billionaires List. Ambani and Adani have been trading places as India's and Asia's richest person. In fact, Ambani was the richest Indian in early June with a fortune of $104.8 billion but Adani has put significant distance between them in the past two months.
In 2021, the annual Forbes Rich List estimated Ambani's worth at $92.7 billion. Adani was way behind at $74.8 billion. Amazingly, Adani's wealth has shot up by almost $60 billion in less than a year. 
The latest numbers come as Adani Enterprises, the flagship company of the ports-to-energy Adani Group, on Thursday reported a 73 per cent jump in consolidated net profit at Rs 469 crore for the quarter ending June 30, 2022. Adani Enterprises' revenue from operations leapt 225 per cent to Rs 40,844 crore. Commenting on the results, Adani, who's the company chairman, said the group "continues to prove itself as one of the world's most successful multi-industry incubators." The company operates as an incubator, establishing new businesses in transport and logistics, and energy and utility sectors.
Shares of ports-to-energy Adani Group's listed companies have been on a tear, though some analysts have expressed concern that the valuations may be getting too far ahead of fundamentals. The Adani Group debt levels have risen considerably with its latest purchases that have been heavily debt-financed as it pursues its ambitious expansion plans. Its debts jumped to Rs 2.21 lakh crore in the financial year 2021-22, up 40.5 per cent from Rs 1.57 lakh crore in the previous year. 
Both Gates and Buffett have been chart-toppers ever since the early 199Os since the early days of The Forbes Rich List. The two billionaires have begun to donate huge amounts to charity which is the key reason why their wealth levels have fallen. Gates recently donated $20 billion to the Bill and Melinda Gates Foundation and has declared he wishes to give away almost all his wealth so that he's erased from the Forbes Rich List.
Gates is now worth $110.8 billion which puts him fifth on the Forbes Real-Time Billionaires List. Close behind is Buffett in seventh spot at $102.5 billion. Both have signed what's called The Giving Pledge. Buffett has donated generously to the Bill and Melinda Gates charity. In seventh place is Oracle's flamboyant founder Larry Ellison with $107.5 billion.
Adani's ports-to-energy conglomerate has been diversifying and moving at a terrific clip into new industries like telecom and cement. The move into telecom has caused talk about an Adani-Ambani clash in the sector with one publication speculating, "Will Adani do a Jio on Jio". This referred to Jio's price-cutting tactics when it entered the industry.
For now, Adani's made a modest move into the industry by taking part in the recent 5G auction and spending Rs 212 crore to purchase 400MHz in the 26GHz band which isn't used for public networks. There's considerable speculation, though, that this could be a trial run for a bigger move into the industry. The Adani Group has so far dismissed the talk, saying it has no intention of entering the consumer telecom space. It says it's acquiring the telecom bandwidth to improve cybersecurity at its airports and ports.
Equally significantly, the Adani Group has struck a $10.5-billion deal with Switzerland's Holcim Industries to buy controlling stakes in Gujarat Ambuja and ACC. This includes a $6.5 billion open offer – the largest-ever in India – to buy out shareholders. The group has raised $5.2 billion from international banks including Citigroup, BNP Paribas and Barclays to fund the acquisition.
Together, the two companies have a production capacity of 70 million tonnes and 23 cement plants, making them the country's second-largest cement outfit after Ultratech, the Aditya Birla Group company. Both Ultratech and Adani are looking at major expansion plans. Ultratech produces 117 million tonnes of cement while the Adani Group aims to expand to 140mt per annum. 
In its latest move, the group announced Thursday it will buy Macquarie Asia Infrastructure Fund's toll roads in Andhra Pradesh and Gujarat for Rs 3,110 crore. The portfolio has a long concession life with traffic in strategic traffic corridors, the group said.
Despite global market uncertainty, Adani's shares have kept rising. Adani Enterprises was at Rs 2,591 on July 29 and by August 4 it had climbed to 2,721. Adani Green was at Rs 1,876 on July 29 and on August 4 it was at Rs 2,188. It has climbed 45 per cent during the year.
The biggest boost to Adani's wealth has come from his move into green energy with shares of Adani Green Energy rocketing by more than 5,500 per cent in the last three years. Among his various moves, Adani has tied up with Total for an ambitious project to produce green hydrogen. The Ambani group is also looking at an equally ambitious project in green hydrogen.
Today, the Adani Group companies include everything from power to airports and ports, cement and gas distribution in cities across the country.  
There are still three people ahead of Adani in the Forbes Real-Time Billionaires List. In third position there's Amazon's Jeff Bezos who's worth $168.4 billion and whose wealth has climbed by $3.3 billion in one day. Second by a short hair is luxury retail tycoon Bernard Arnault of the LVMH group who's worth $169.9 billion. The world's richest man who remains far ahead of all others is Elon Musk, owner of Tesla and SpaceX who's worth an extraordinary $278.5 billion.
Adani's shares are still rising constantly. Adani Enterprises was at Rs 2,591 on July 29 and by August 4 it had climbed to 2,721. Adani Green was at Rs 1,876 on July 29 and on August 4 it was at Rs 2,188. It has climbed 45 per cents.