Adani row: Congress fires fresh salvo against Narendra Modi
Party asks whether PM is 'sacrificing India's national security interests for the financial interests of his cronies'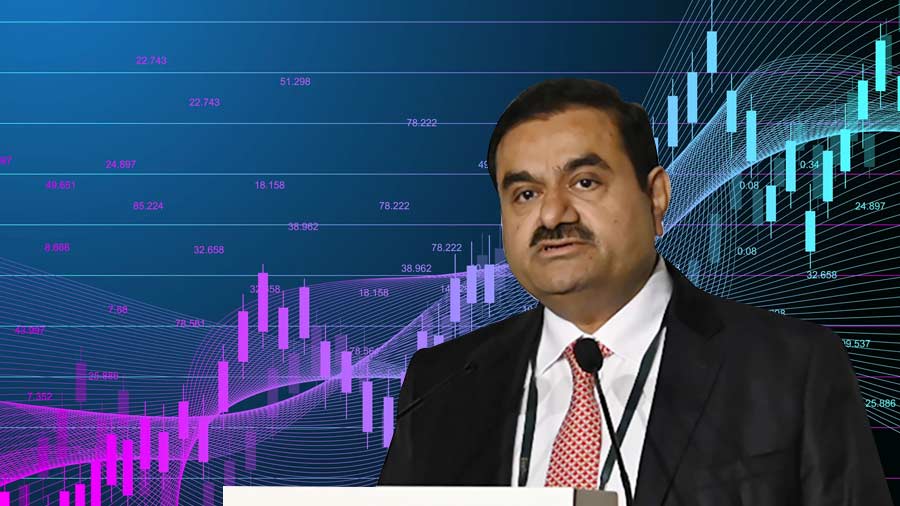 ---
New Delhi
|
Published 16.03.23, 03:17 AM
|
---
The Congress on Wednesday asked Prime Minister Narendra Modi whether he was "sacrificing India's national security interests for the financial interests of his cronies" as reports suggested a Mauritius-based "dubious foreign entity" is the co-owner of the Bangalore-based defence firm Alpha Design Technology owned by the Adani group.
Rahul Gandhi tweeted: "India's missile & radar upgrade contract is given to a company owned by Adani & a dubious foreign entity called Elara. "Who controls Elara (Elara India Opportunities Fund)? Why is India's national security being compromised by giving control of strategic defence equipment to unknown foreign entities?"
Congress communications chief Jairam Ramesh, as part of his Hum Adani Ke Hain Kaun (HAHK) series, said: "While Adani Defence Systems and Technologies owns a 26% stake, the Elara fund owns 25.65% directly and via an intermediary firm. Recall that, as of December 2022, the Elara India Opportunities Fund held Rs 24,600 crore of equity, of which an unusually high 99% — amounting to Rs 24,335 crore — was invested in Adani Enterprises, Adani Transmission and Adani Total Gas."
He added: "Alpha Design builds electronic warfare systems, radars, optronics and communications networks for the Indian Armed Forces and Isro. Should an opaque offshore fund, whose ultimate beneficial owners are unknown, be permitted to own a major stake in a sensitive defence firm? If the fund is, as accused, a stock parking entity for (Gautam Adani's brother) Vinod Adani and his associates, should the government not demand total transparency about the origins of its funds?"
The Congress leader insisted that Elara has more disturbing associations that make it unfit to invest in India's defence sector. "The notorious stock manipulator Ketan Parekh has a long association with the Adanis, with Sebi finding in 2007 that 'promoters of Adani Group aided and abetted KP entities in manipulating the market'. A close relative of KP's has worked with Elara Capital, the parent company of the Elara fund. Elara also is known to have had a relationship with the chartered accountant Dharmesh Doshi, a Parekh associate who absconded from India in 2002. With this record of involvement in nefarious stock market activities, how did Elara get clearance to invest in a firm like Alpha Design Technologies? Are you sacrificing India's national security interests for the financial interests of your cronies?" Ramesh said.
Citing more concerns, Ramesh said: "Chang ChungLing (aka Lingo-Chang), a Chinese national, has been a director in several Adani Group companies along with Vinod Adani. In 2005, Chang declared the same residential address in Singapore as Vinod Adani. His Singapore-based firm Gudami International was named by the Directorate of Revenue Intelligence in its investigation into the Adani Group's diamond trading scam in 2013. Gudami was also named in Enforcement Directorate chargesheets relating to the Agusta Westland VVIP helicopter scam in 2014 and 2017 before being mysteriously dropped in 2018.
"Chang is accused of smuggling petroleum products to North Korea in violation of UN sanctions using a Panama-registered oil tanker that had been part-financed by the Shanghai Adani Shipping Company. Should a person with dubious financial links to a Chinese national be permitted to play a role, benami or otherwise, in a strategic defence company?"