Activists to govt: Drop dams at origin, save Ganga
Cry against highway, mining and 'bumper-to-bumper' construction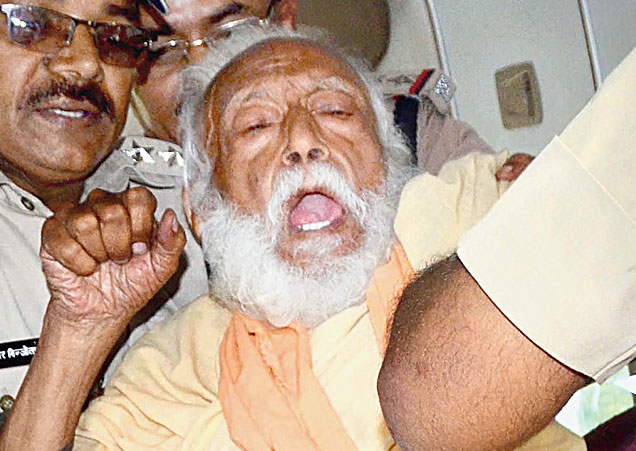 GD Agarwal being forcibly taken to hospital in Haridwar on October 10. He died on October 11.
(PTI)
---
New Delhi
|
Published 26.10.18, 09:07 PM
|
---
River ecology activists on Friday accused the Narendra Modi government of ignoring their calls to protect the Ganga by preserving its flows upstream despite three fasts-unto-death, the latest by professor G.D. Agarwal who died on October 11 after a 111-day fast.
Four groups campaigning to protect the Ganga released a statement in Delhi iterating their demand for an "immediate" stop to the construction of new dams on the Alaknanda, Mandakini, Bhagirathi and Yamuna tributaries that flow into the Ganga.
While funds are sanctioned and released to clean the river downstream, the proposed and under-construction dams and other activities, including the CharDham highway, are disrupting the river's free flow near its source, they said.
The activists want the natural pristine water flow to remain undisturbed near the source.
"The government is continuously and meticulously constructing hydropower projects at the very origin of the Ganga in the Himalayas," Ganga Avhaan, Matri Sadan, Tarun Bharat Sangh and IITians for Holy Ganga said in the statement.
The groups also cited scientific reports that caution that the dams threaten Ganga rejuvenation efforts.
Agarwal, a former professor of civil engineering at IIT Kanpur, died on October11 after a fast opposing the construction of the new dams planned on the tributaries.
Members of Ganga Avhaan said two other Ganga crusaders had died after similar fasts — Swami Nigmanand Saraswati in 2011 and Baba Nagnath in 2014.
"The dams are being built on a bumper-to-bumper manner," said Hemant Dhyani a member of Ganga Avhaan.
"The already fragmented river shall be further fragmented and will be completely devoid of natural flow. These dams are being built in ecologically fragile zones where exploitation of natural resources has already crossed threshold limits."
The groups have also asked the government to stop riverbed mining at Hardwar and make good on its pledge to introduce legislation that will ensure conservation and preservation of natural flow of the Ganga.
In the week that Agarwal died, the Union government had notified water flow requirements in the Ganga's tributaries but, Dhyani says the flow requirements specified in the notification are "insufficient and unscientific."
"They've set 30 per cent in the monsoon when flow is relatively strong and 20 per cent in the lean season when flow is weak — this is unscientific and the amounts insufficient," Dhyani said.
The activists have also pointed out that the CharDham highway project has long segments of the road being built along the Ganga's upstream tributaries.
"Huge amounts of top soil are being dumped into the Alaknanda, Bhagirathi, Mandakini and Yamuna, disturbing slope stability, water quality and the river bed levels," Malika Bhanot, a member of Ganga Avhaan.