Active patient count may hit 1m by mid-August: Researchers
An analysis by IMSc Chennai found that the pandemic continues to grow at an exponential pace for India as a whole, although the pace of spread has significantly slowed down in Delhi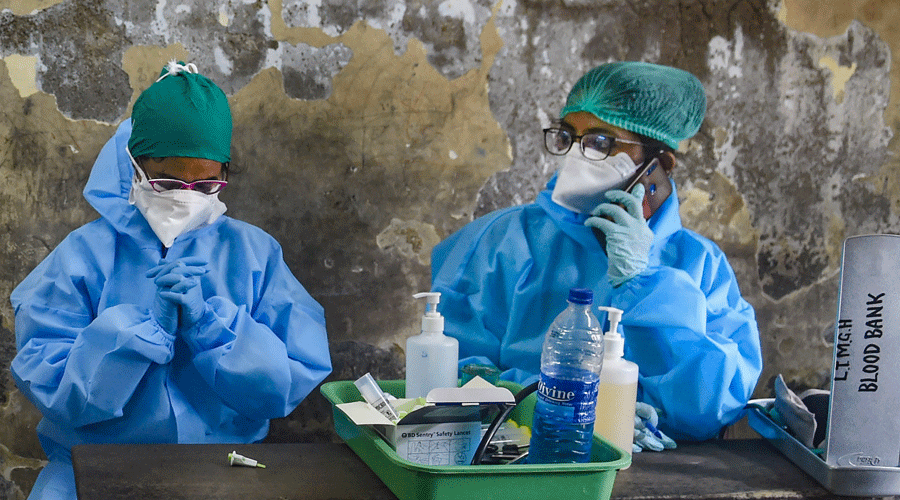 ---
---
India's count of the new coronavirus disease patients under medical supervision -– 426,167 on Thursday with a fresh single-day high of 45,720 new cases -– might reach a million by mid-August under the epidemic's current growth, researchers said.
An analysis by the researchers at the Institute of Mathematical Sciences (IMSc), Chennai, has found that the epidemic continues to grow at an exponential pace for India as a whole, although the pace of spread has significantly slowed down in Delhi.
Their calculations hinging on daily counts and not peer-reviewed yet have suggested the R value for India -– a measure of the pace of spread of the virus -– has increased slightly to 1.19 between July 11 and July 20 from 1.13 between June 12 and July 10.
"An R value below 1 would represent control of the infection – a situation where the number of people recovering per day is greater than the number of new cases detected," said Sitabhra Sinha, a biophysicist at the IMSc who led the analysis.
Only Delhi and Telangana, among 12 states analysed, currently show R values lower than 1, Sinha said. Among cities, both Chennai and Mumbai have R values very close to 1. The calculations are in line with observations of dips in the numbers of new cases in Chennai, Delhi and Mumbai.
India's number of lab-confirmed cases on Thursday increased to 1,238,635 of whom 782,607 patients have recovered and 29,861 have died. "If the present trend holds, we will breach one million active cases around mid-August," Sinha said.
But surveys have suggested that the actual number of Covid-19 infections is much higher.
Health authorities in Ahmedabad on Thursday said they had conducted the world's largest survey and found 17 per cent of the 30,054 people sampled across the city with antibodies to SARS-CoV-2, the virus that causes Covid-19.
The findings, extrapolated to an estimated city population of 6 million, would imply around a million people have already been infected. The Ahmedabad Municipal Corporation (AMC) study is the largest sample size taken worldwide, the city authorities said.
A Delhi survey by the Union health ministry had suggested that around 4.5 million of Delhi's estimated 20 million population is infected.
The AMC said the findings in Ahmedabad are similar to those in Spain, Switzerland and US that the population is still far from the calculated herd immunity threshold of 60 to 70 per cent.
The herd immunity threshold is a limit at which so many people are infected that the virus cannot spread within that specific population any more.
Public health experts say it is critical that people across the country continue to adopt multiple measures such as masks, physical distancing, and hand and respiratory hygiene to reduce their chances of picking up the infection.