UP 'accidental shooting' claim, with holes
Constable Prashant Chaudhary has said in his police statement that his pistol went off by accident when the victim deliberately knocked him off his motorbike with his car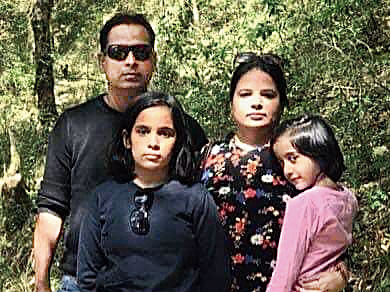 An undated picture of Vivek Tiwari with his family
Agencies
---
Lucknow
|
Published 30.09.18, 09:12 PM
|
---
The cop arrested for shooting dead an Apple executive around 2am on Saturday has said in his police statement that his pistol went off by accident when the victim deliberately knocked him off his motorbike with his car, a police source said.
If such a statement has indeed been recorded, it might suggest an effort by some higher-ups to protect constable Prashant Chaudhary, for a charge of accidental shooting would entail quicker bail and a lesser punishment if convicted.
Chaudhary had on Saturday told reporters at 5am, outside Gomti Nagar police station, that he had fired in self-defence when Vivek Tiwari tried to run him and a fellow constable over after they had caught him in an intimate position with a woman in a parked car.
However, he sprang the "accidental shooting" theory at 9am — after a meeting with senior superintendent of police Kalanidi Naithani — when a couple of reporters discovered him at the Ram Manohar Lohia Hospital.
The police had taken Chaudhary to Naithani's office in Hazratganj and then brought him to the hospital.
Chaudhary lay on a stretcher, seemingly writhing in pain from injuries suffered when knocked off the motorbike. There were no signs of external injury on his body, nor had he seemed in pain while talking to reporters at 5am.
A doctor at the hospital, speaking on condition of anonymity, said no one attended to Chaudhary: "He lay on a stretcher, trying to suppress a smile. Some cops took him away after two or three hours."
Earlier, doctors at the same hospital, where Vivek died at 5am on Saturday, had said the bullet had grazed his chin and lodged in the apex of his chest just below the neck, suggesting a downward trajectory.
Had Chaudhary fired accidentally after being knocked to the ground, the bullet would have had an upward path. A bullet fired from the ground and missing the bonnet would probably have hit the top of the windscreen or flown over the SUV, missing Vivek.
The woman colleague had said the car had "touched" the cops' motorbike while Vivek was "trying to figure out" why he had been accosted, and one of the cops fired just then.
Uttar Pradesh police chief O.P. Singh reaffirmed on Sunday: "The two are guilty of murder. They have given a bad name to the department. They have been suspended."
The state government on Sunday ordered a special investigation team probe. Chaudhary and colleague Sandeep Kumar have been booked on murder charges.
Constables are not entitled to carry firearms unless on a special mission, and police sources have suggested Chaudhary's pistol was not a service weapon.