September schedule swims against national, global trend
Academics question UGC exam order
September schedule swims against trend set by foreign universities and IITs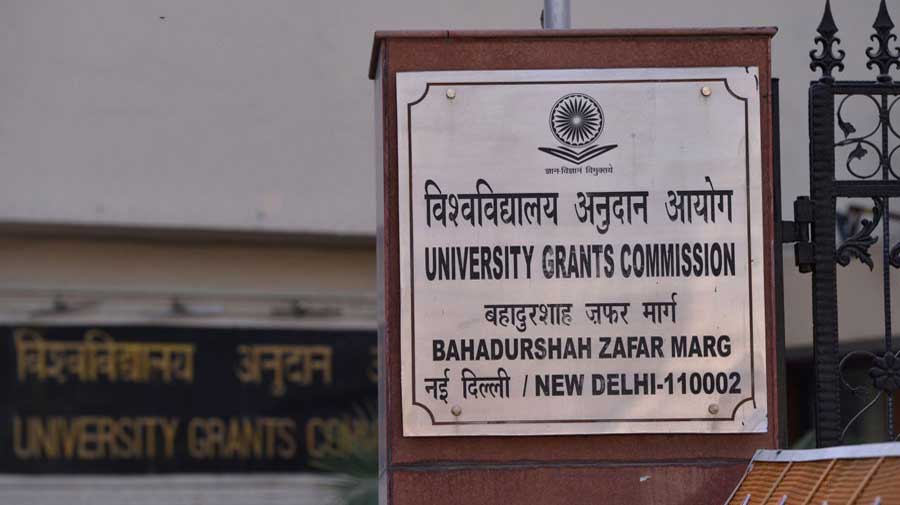 The UGC has taken the decision on exams on the basis of recommendations by a committee headed by RC Kuhad
File picture
---
New Delhi
|
Published 08.07.20, 02:53 AM
|
---
The University Grants Commission's move to direct universities to hold examinations for final-semester students in the middle of the pandemic has come at a time when top foreign universities and the IITs in India have decided to award degrees on the basis of past performance.
Final-year undergraduate and master's students will have to appear in exams to get their degrees, the government announced on Monday, while relaxing the earlier July schedule by saying these tests must be conducted by September-end. The universities will decide whether to conduct online or offline tests.
Several Ivy League universities such as Harvard, Massachusetts Institute of Technology (MIT), Dartmouth, Yale and Columbia will award general pass degrees instead of specific grades to students based on continuous assessments done before the pandemic. These universities usually assign grades ranging from A to F. In March and April, the universities issued statements announcing the change in grading policy.
In India, the IITs, which are the premier tech schools, have decided against conducting exams for final-semester students in the coveted BTech and MTech courses.
IIT Kanpur had said in a statement last month: "As a one-time exception, all the students will be awarded grades for their courses based on mid semester exam/quizzes/ assignments/ projects etc and such other performance indicators obtained through online instruction during suspension of the semester and as decided by the instructors. In the special grading scheme adopted specifically for these extraordinary times, only A, B, C and S grades will be awarded and no student will fail." The provision for failing has been done away with this year.
Several academics questioned the feasibility of the UGC's plan to hold exams by September. It also seems difficult since some states have already decided against holding exams.
"Foreign universities follow continuous evaluation more rigorously. They give about 80 to 90 per cent weightage to internal assessment like essay writing, quiz, debate, projects and other assignments. That is needed in Indian universities too," said Prof. M.M. Salunkhe, former vice-chancellor of Rajasthan Central University and currently the president of the Association of Indian Universities (AIU), which decides which foreign degrees would be considered for recruitments.
Salunkhe had last year headed a committee set up by the UGC to suggest examination reforms. He had supported the idea of continuous evaluations and tests after every unit. "The IITs are also giving a lot of importance to internal assessment," he said.
"I think it may be difficult to hold the exams by September for two reasons — the rising cases of Covid-19 and the digital divide," Salunkhe said.
A survey by Jawaharlal Nehru University teachers suggests that 40 per cent JNU students either do not have access to high-speed Internet or do not have the facility at all. A stable Internet connection is key to conducting online exams.
Another survey by the Delhi University Teachers Association  found that 85 per cent of students were not ready for online exams that the DU authorities want to hold.
The problem of access to the Internet is even more acute in case of students in state government institutions.
Prof. Rajeev Kumar, a computer science teacher at JNU, said online exams was likely to facilitate malpractice.
"Under the proposed online mode at universities, students can send the questions to another person and get the answers done. There is a lot of scope for fraud. In a way, this online test will legitimise fraud," he said.
Prof. Furqan Qamar, a management studies faculty member at Jamia Millia Islamia University, said the best option would have been awarding degrees on the basis of assignments, which students can do at their own convenience, and past results.
"Conducting offline proctored exams seems a risky proposition at the moment. Holding online exams is fraught with risks and (there is also the issue of) students' lack of access (to the Internet). The best way could be giving assignments to final-semester students and awarding some weightage to past semester results," he said.
The UGC has taken the decision on exams on the basis of recommendations by a committee headed by Prof. R.C. Kuhad, vice-chancellor of Haryana Central University. This newspaper asked Prof. Kuhad on the consultations and feedback received by the panel since the opinion of students, parents and teachers appear largely in favour of awarding degrees without exams, but got no response. Neither did the HRD ministry or the UGC reply to questions on why they endorsed the committee's proposal.