Academic campuses home to half of India's bird species, finds count
Researchers say many areas have experienced lower levels of habitat modifications than their surrounding landscapes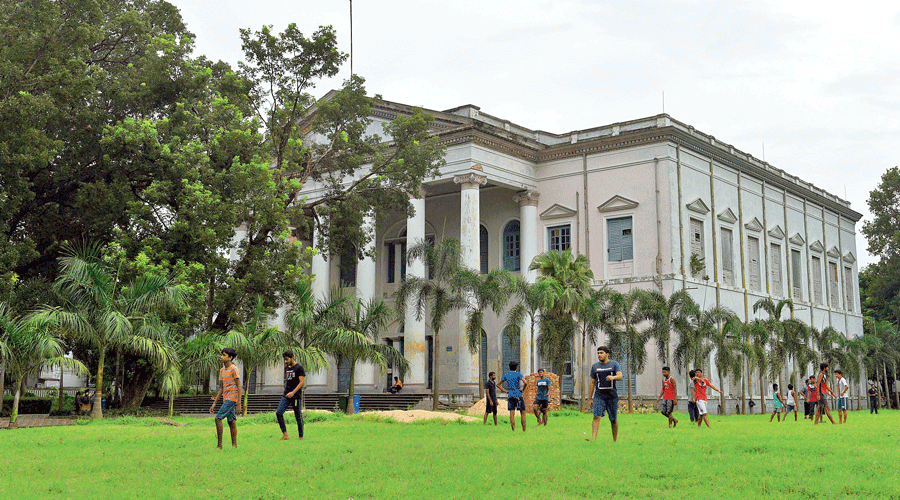 Serampore College in Hooghly, which had recorded 67 bird species.
Pradip Sanyal
---
New Delhi
|
Published 12.09.22, 01:53 AM
|
---
A nationwide bird-counting exercise has recorded more than half of India's bird species, including four critically endangered vultures, on academic campuses such as that of Serampore College in Hooghly, underscoring the conservation potential of small refuge areas in human-dominated urban landscapes.
Scientists at the Wildlife Institute of India (WII), Dehradun, have found that 335 academic campuses located across the country accounted for 779 of India's 1,327 known bird species, serving as fragmented habitat patches for birds.
The 335 campuses make up only 290sqkm, less than 0.008 per cent of India's land area. "It was a big surprise to find such a small land area had 58 per cent of the country's bird species," said Bilal Habib, a conservation biologist at the WII who led the study to assess bird diversity across campuses.
Among the 779 species were five critically endangered birds — the white-rumped vulture seen on 10 campuses, the Indian vulture on four campuses, the slender-billed vulture and the red-headed vulture, both on two campuses, and a diving duck called the Baer's pochard in a Guwahati campus.
The researchers say many academic campuses have experienced lower levels of habitat modifications than their surrounding landscapes. Campuses had on average 52 per cent of area under vegetation and 92 per cent of the campuses were located within 2km of a pond, lake, or river.
The bird species counts across campuses ranged from a high 373 recorded on the WII campus itself, which is adjacent to a forest, to a low 14 on the campus of the Pandit Jawaharlal Nehru Medical College, Raipur, located within the city.
The counts of species were on average higher on campuses that were close to forested areas and on those where the vegetation had remained largely undisturbed for decades, said Shivam Shrotriya, a WII scientist and study team member.
The researchers have noted that Serampore College, established in 1818, had recorded 67 bird species and was one of only two campuses in the country that had registered a seabird called the lesser frigatebird. The college is near the Ganga.
Their study results, published on Monday in the research journal Landscape and Urban Planning, implies that small and isolated patches of land could serve as a refuge for critical biodiversity amid surrounding landscapes of degraded habitats.
Much of current conservation efforts have focused on keeping large patches intact. "Our analysis suggests that academic campuses have an amazing ecological significance — possibly for native and migratory birds," Habib said.
Earlier studies have highlighted the conservation potential of campuses. A 2017 study in China had found that campuses in urban landscapes retained about 10 per cent of the country's plant species across only 0.0008 per cent of its land area. A 2019 study from Turkey had found 328 plant species on 31 campuses.
The WII team analysed data from a public bird sighting initiative called Campus Bird Count that is part of an annual global citizen science-driven exercise called the Great Backyard Bird Count launched in 2014.
The 335 campuses included colleges, central and state universities, engineering and medical colleges, research institutions, the Indian Institutes of Technology and the Indian Institutes of Management.
The large count of bird species observed on campuses could also be the result of active surveillance through the Campus Bird Count initiative, Shrotriya said. "It is possible that large gardens or golf courses located within urban landscapes might also serve as habitats for birds," he said.