Absolute fear and repression: Iltija
'Every statement that has come out vis-à-vis Kashmir is a bald-faced lie'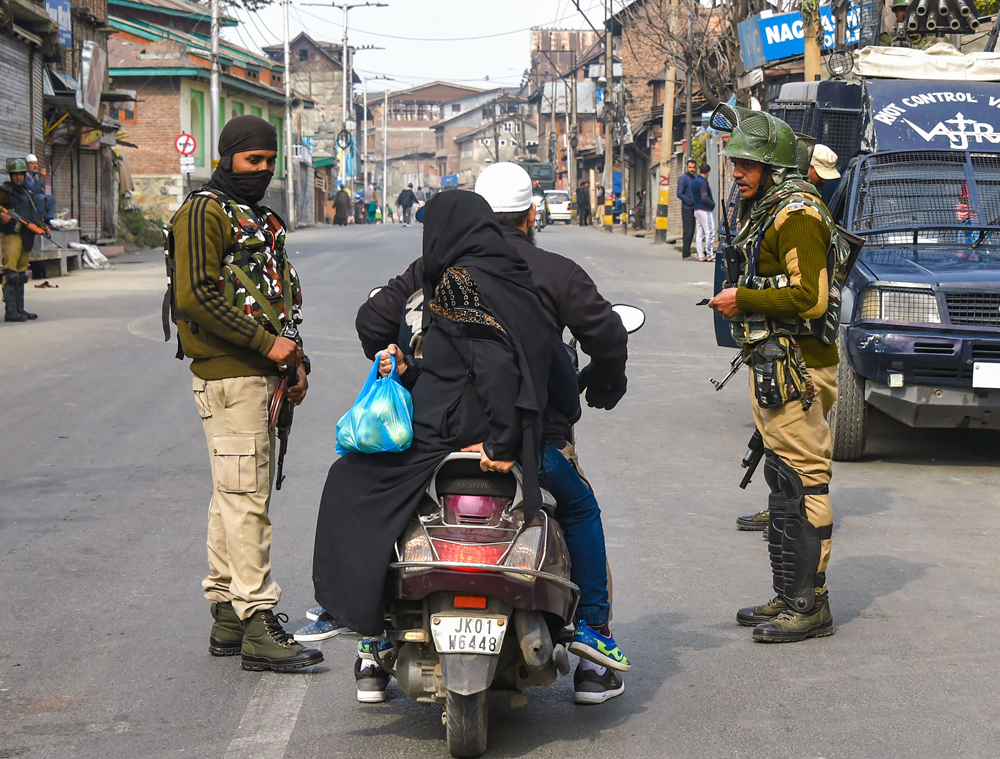 Security personnel ask a scooterist to divert his route during restrictions in parts of Srinagar on Friday, November 1, 2019.
(PTI)
---
London
|
Published 01.11.19, 08:44 PM
|
---
Iltija Mufti, daughter of Mehbooba Mufti, the former chief minister of Jammu and Kashmir who is currently under detention, told the BBC on Friday that the Narendra Modi government "has lost all moral authority".
Interviewed on the BBC Radio 4's Today programme by Mishal Husain, Iltija said: "They don't have any moral or legal restraints and life in Kashmir has become very stunted… There's absolute fear and there's repression and there's fear of reprisals so people are too scared to even speak up."
Mishal began the interview by introducing Iltija: "Mehbooba Mufti is a former chief minister of Kashmir who has been under house arrest since August. Communication with her is not possible but her daughter Iltija Mufti is on the line now and she recently went to Srinagar to visit her mother. Iltija Mufti, what did you find?"
The government point of view was put by BJP spokesman Nalin Kohli, who was asked for "the justification for keeping Kashmir in a state of partial lockdown".
"It would be incorrect to say Jammu and Kashmir is in a state of partial lockdown," Kohli responded.
"Life has started coming back to normal. Telephone lines in terms of landlines were first restored. Internet services are still to be reviewed in terms of whether it should be permitted or not immediately because we know that terrorists tend to use those networks through the Internet and social media, which obviously the state has a responsibility to protect the lives of its citizens.
"With regard to political leaders, the vast majority of people who were taken in preventive custody, they've been released since then. Now it would be down to maybe 200 or 300 as compared to over a thousand that was there in August," Kohli said.
Mishal expressed surprise that Mehbooba had once been a BJP ally.
Her daughter said: "If you look into the history of Jammu and Kashmir, in 2014 when we chose to align with the BJP it wasn't merely just for power. If it was purely on the considerations of power we could have aligned with a regional party called the National Conference and the Congress but we thought that Prime Minister Modi had this huge mandate and unfortunately he has squandered that mandate and his priorities seem to be polarising the country instead of working for its progress and development."
Mishal: "What about life in Kashmir? The Indian government is telling us that things are returning to normalcy or some degree of normalcy. What did you see?"
Iltija: "Every statement that has come out vis-à-vis Kashmir is a bald-faced lie and BBC is well familiar with how they cover protests and how the government first completely discredited that video only to go on to admit that they were like legitimate protests on Friday that happened in Srinagar."
Mishal: "So what is happening then on the streets? Are shops remaining closed? What about schools?"
Iltija: "You know people have chosen not to send their kids to school and I have to tell you, the government of India, the reason why they did mass arrest of civil society members, politicians, even separatists was so that people would feel rudderless and clueless about how to respond to this unilateral action but people have come together.
"What they are doing is they are observing a very strict form of civil disobedience, so shops are mostly shut barring a few hours in the day and this is the way of protesting but I don't know how much longer they will be able to keep this going because at some point it will financially damage them a lot."
Mishal subjected Kohli to some searching questions.
Mishal: "But everything you are saying shows why people in the Valley of Kashmir feel so strongly about their lives being severely affected by these measures. The politicians, who in your words, are under 'preventive custody', in their words 'house arrest', include people like Mehbooba Mufti whose daughter we've just been speaking to. This is someone who used to be an ally of your party. Why keep them locked up?"
Kohli: "So the measures are primarily security driven. They are not politically driven in any manner whatsoever…"
Mishal: "Shouldn't these Kashmiri politicians be able to make their own choices about the risks they choose to take rather than you keeping them under house arrest?"
Kohli: "Well, eventually everyone would. But under the State laws — by the State I mean Indian laws — that would apply equally to everyone. Kashmir politicians that you refer to are not a special class by themselves. They are as much Indian citizens as I am or someone else is…"
Mishal: "When you say 'eventually', how long is this going to last?"
Kohli: "It's been reviewed. In fact, the situation in Jammu and Kashmir also comes up before the Honourable Supreme Court. When you refer to Mehbooba Mufti's daughter, let's not forget she took relief in terms of approaching the State, meeting with her family under the Supreme Court orders. So it is directly being monitored with the Supreme Court and the government puts its point of view there.
"Others have an equal time and opportunity to put their points of view. So as the report is being given, as the things are easing out, more and more people are being released. There isn't a timeline but it is not indefinite either."
Mishal: "The United Nations has not been allowed to send any observers or fact-finding missions. There are foreign journalists including from news organisations who are based in India who are not allowed to go to Kashmir. There are foreign visitors such as an American senator who has been refused permission to visit the region. It's as if you really want those you have picked yourselves to be able to make a judgement about it such as the MEPs (members of the European Parliament) who have just gone — that too under freely tightly controlled circumstances."
Kohli: "Well the converse, Mishal, would also be equally true. We certainly would not like to take people there who are coming with a pre-motivated and prefixed view. The senator of the US who was denied an access to visit Jammu and Kashmir had come in with a predetermined view."
Mishal: "Would a UN mission be predetermined?"
Kohli: "We don't look for third-party mediation. And the government of India has a point of view, which we will put across at the UN. There is no mandate that makes it compulsory for the UN to visit Jammu and Kashmir or any part of India."