Aam Aadmi Party's plan has no room for Mahatma Gandhi
In Delhi as well as Punjab, state governments have directed that images of Bhagat Singh and Ambedkar replace those of other leaders at govt offices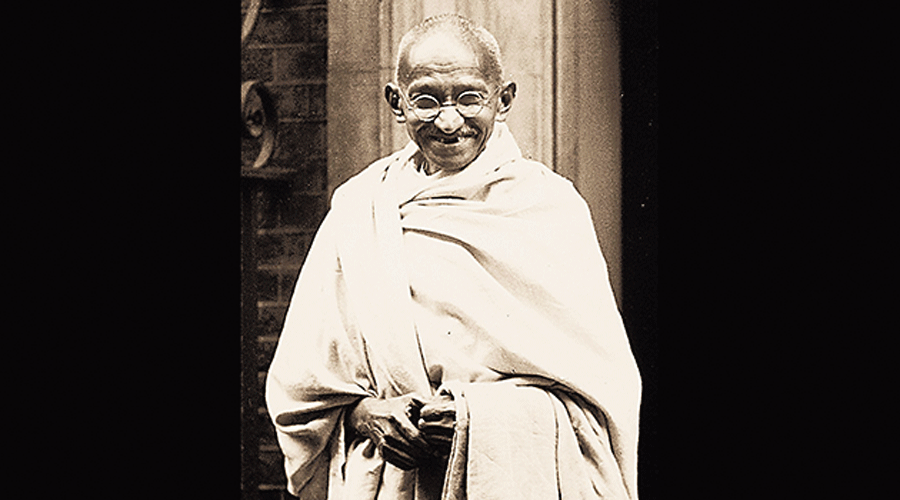 Mahatma Gandhi.
File photo
---
New Delhi
|
Published 04.04.22, 01:52 AM
|
---
The Aam Aadmi Party's efforts to claim the legacy of Bhagat Singh and B.R. Ambedkar is part of a larger plan by the party to regain its activist image and emerge as the fulcrum of the national Opposition, a source said.
The party's move has surprised some political observers, and its distancing from Mahatma Gandhi has prompted queries, following which party leader and Delhi CM Arvind Kejriwal visited Ahmedabad's Sabarmati Ashram.
In Delhi as well as Punjab where the AAP recently swept to power, the state governments have directed that images of Bhagat Singh and Ambedkar replace those of other leaders at government offices.
Most government offices had pictures of the chief minister, governor or lieutenant governor, Prime Minister and the President on their walls in addition to those of the Mahatma. In Punjab, several police offices additionally had the picture of the serving director-general of police.
Although no order has been passed to remove Gandhi's pictures where they do exist, chief ministers Arvind Kejriwal of Delhi and Bhagwant Mann of Punjab have been silent on the display of his portraits.
Kejriwal, also the party head, appeared in a webcast last week with the images of Bhagat Singh and Ambedkar alone in the background. Previously, the national flag and the Ashoka Capital were seen in the background of Kejriwal's webcasts.
"Arvind is now trying to position himself as the leader of the angry Opposition, as he was once seen to be," an AAP national council member said.
"His combative stand against the Centre's promotion of The Kashmir Files (a film that attacks Left liberals in the context of Kashmiri Hindus being driven out by insurgents in 1990) is on the same lines. Bhagat Singh is seen as an outspoken rebel against an oppressive system."
The party's fondness for Bhagat Singh isn't new. Kejriwal had invoked the freedom fighter during his unsuccessful 2014 contest against Narendra Modi from Varanasi. Mann began projecting himself as a follower of Bhagat Singh around the same time.
The Delhi government launches new schemes on Ambedkar's birth and death anniversaries every year. However, the AAP's ideology, described in Kejriwal's book Swaraj, is a contemporary interpretation of the Gandhian concept of self-rule."Gandhi's image has been tarnished by the ruling dispensation and we expect it to be tarnished further by the Savarkar film (the upcoming Swatantra Veer Savarkar)," the AAP source told The Telegraph.
"Bhagat Singh and Ambedkar are icons who are now accepted by a wider section of society, so much so that even the BJP is trying to appropriate them."
Another party source said: "Gandhi went on a hunger strike to stop the communal riots in Noakhali. Arvind had his reasons not to go to northeast Delhi during the (2020) riots. He doesn't see merit in the Gandhian method of directly intervening in communal strife. Hence, the party needs icons that reflect its own style."
Both Bhagat Singh and Ambedkar wrote extensively against bigotry and caste. Bhagat Singh was an atheist while Ambedkar adopted Buddhism minus its rituals. The Kejriwal government, however, funds pilgrimages.
In a 1928 essay titled "Communal riots and their remedy" in Amritsar's Kirti periodical, Bhagat Singh wrote: "These religions have sunk the boat (beda ghark) of India…. We need to inculcate class consciousness to prevent people from fighting."
Chaman Lal, translator and archivist of Bhagat Singh's works, told this newspaper: "Today, one can be lynched for saying such a thing. The irony today is that hardly any party takes a clear line against religious discord, yet all of them want to appropriate Bhagat Singh."
After Kejriwal's recent webcast, former AAP member and journalist Ashutosh tweeted: "@ArvindKejriwal There is a small question that shouldn't Gandhiji's picture also be there along with Babasaheb Ambedkar and Shaheed-e-Azam Bhagat Singh? There was a picture of Bapu in Ramlila Maidan hunger strike."
Ashutosh told this newspaper: "Gandhiji doesn't fetch votes for parties any moreand the use of his photo is merely symbolic. The basic premise of Hindutva is that Gandhi was responsible for Muslim appeasement, beginning with the Khilafat movement in 1919, and in today's Hindutva paradigm he is a misfit…. The mention of Gandhi and Nehru today can damage electoral prospects rather than improve them."
He added: "Bhagat Singh on the other hand has been made a symbol of masculine nationalism. People (at large) do not know that he was an atheist and a communist.... They believe the myth that Gandhi did not save him from being executed.
"Ambedkar can't be ignored as he is the icon of Dalits who are more than 17 per cent of the electorate…. In Gujarat, the AAP is forced to invoke Gandhi as he is from the state although today Sardar Patel has become a bigger icon in Gujarat."