A year on, Mayawati ready to move court against MLAs
On July 27, Rajasthan High Court had dismissed BJP MLA Madan Dilawar's petition to disqualify the BSP MLAs so that the Congress could be defeated in the floor test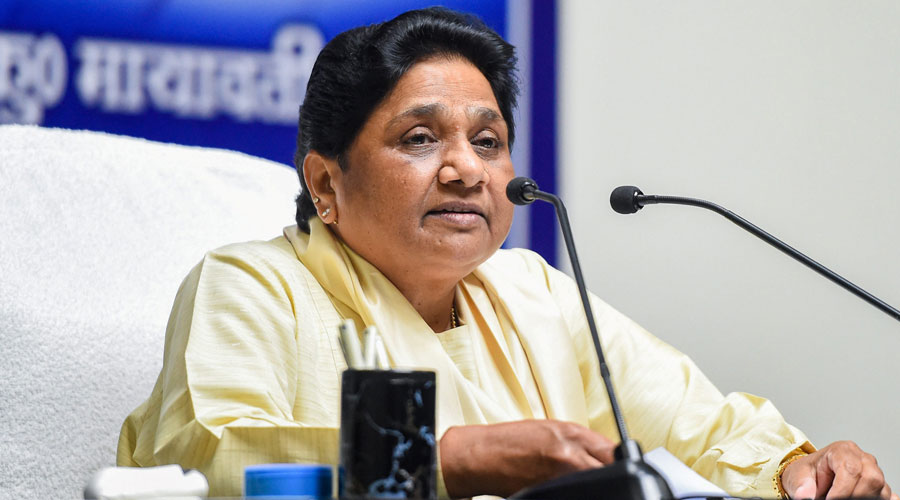 ---
|
Lucknow
|
Published 04.08.20, 01:55 AM
---
Bahujan Samaj Party chief Mayawati has said the BSP will move the high court if six former MLAs of her party ignore the whip to vote against the Ashok Gehlot government in Rajasthan during a floor test.
Interacting with reporters at her residence in Lucknow last Tuesday, Mayawati said her party had extended "unconditional support to the Gehlot government in Rajasthan (in December 2018) to keep the communal forces at bay, but the chief minister of the state ditched the BSP by inducting its elected members in the Congress".
"We are not going to let them act against the whip so easily. We can move even the Supreme Court to teach Gehlot a lesson," she said.
Openly standing with the BJP, the BSP chief said: "Gehlot was involved in damaging the BSP. We were waiting for an opportune time to give him a befitting reply and I believe the time has come."
On July 27, Rajasthan High Court had dismissed BJP MLA Madan Dilawar's petition to disqualify the BSP MLAs so that the Congress could be defeated in the floor test.
Before that, Rajasthan Assembly Speaker C.P. Joshi had dismissed the BJP's request to disqualify the BSP MLAs.
Mayawati had shown little interest in the issue when her MLAs — Lakhan Meena, Deepchand Kheria, Sandeep Yadav, J.S. Awana, Wajid Ali and Rajendra Gudha — announced in August last year that they had switched over to the Congress.
The BSP issued a whip against them on July 26 this year when the BJP activated its purported game plan of toppling the Gehlot government after the revolt of Sachin Pilot, who was sacked as the deputy chief minister of the state.
Eleven months after the defection of the six MLAs, Mayawati now claims that their joining the Congress was against the Tenth Schedule of the Constitution of India, which was added in 1985 to formulate a rule for political defections.
Mayawati said the union of the MLAs of a national political party at a local level was not possible unless the entire outfit was merged with the Congress.
"They are MLAs because of the BSP, which is a national and not a Rajasthan-based party. Any merger is possible nationally only," she said.