A prayer to unbuild this tomb
After the verdict: Why I am vindicated but far from blessed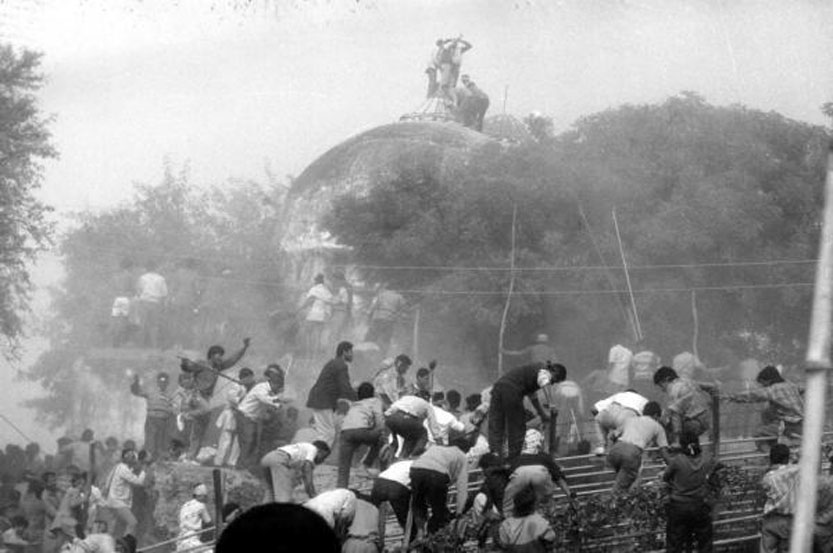 The Ayodhya case was not about a place of worship — we have so many of those in India that one less, of any community, would not matter.
Telegraph picture
---
Published 11.11.19, 08:16 PM
|
---
"If you had to choose one event that has changed India, what would it be?" our deputy editor, Deepayan Chatterjee, asked one evening in The Telegraph newsroom.
"The Babri Masjid demolition," I replied without even thinking.
"Not the economic reforms?" he probed.
How had I not thought of that!
The reforms of 1991 had transformed my life, as that of a large number of Indians. Phone calls, air travel, computers and so many choices in everything. Looking back now it's hard to imagine a time when Ambassadors and Premier Padminis ruled the roads, owned by a privileged few; when we waited for relatives to visit from abroad, carrying clothes and toys and stationery we couldn't dream of getting in India; when trunk calls had to be booked if you wanted to speak on the phone to someone outside the city, which was cumbersome and expensive; when travel was almost always by train.
All of this and more changed with the reforms Manmohan Singh introduced in the budget of 1991 that made Union budget presentation something to look forward to on television even for citizens without a deep interest in economics.
Yet, a decade on, the reforms did not spring to my mind when the question about the event that changed India was asked. The Babri Masjid demolition did.
I am not a Muslim. Nor am I a Hindu devotee of Ram waiting for the day I could worship the lord in his birthplace. The Ayodhya dispute did not affect me, or my family and friends, in any way. The demolition had changed nothing in our daily lives.
But I repeated, this time after giving the question a thought: "The Babri Masjid demolition."
What was lost on December 6, 1992, was not just a religious structure but our faith in the rule of law. The blows that rained on the masjid's dome mutilated our trust that India was a secular country where all citizens were equal.
The structure may have been dilapidated, prayers may or may not have been offered there regularly, not many Muslims outside Ayodhya may have cared to visit it, but it was a mosque nonetheless. A place that the minority community in India, which had chosen secular India over Islamic Pakistan, believed was their house of worship. The State was bound by the Constitution to protect it.
Yet on that winter day, it not just failed in its duty, the protector actually revealed itself to be in cahoots with the predator. It was a staggering blow to the soul of India, a young democracy that had in that midnight hour of freedom set for itself the high standard of ensuring for all of its children equal rights, privileges and obligations.
Communal riots followed, and within months of the demolition, India suffered its first terror attack not inspired by a desire for azadi when the serial blasts bled Bombay.
Cosmopolitan Bombay, our city of dreams, became the Shiv Sena's Mumbai. An ideology that did not believe in the idea of India, that found it difficult to raise the Tricolour even decades after Independence and that had been tied to the murder of the Father of this Nation was catapulted to power.
A quarter of a century later, the Mahatma who led India's freedom struggle and taught the world non-violence and satyagraha has been reduced to a sanitation missionary and his assassin is on his way to being put on a pedestal as a true patriot. The country that prided itself on its unity in diversity, its many faiths, languages and cultures, is now a land where a skullcap on the head can be seen as an invitation to murder. When the Babri Masjid fell, it took down much more with it than one place of prayer.
On November 9, 2019, a judgment of the Supreme Court that no one took authorship of added an inexplicable dimension to the vile act of destruction 27 years ago. The court accepted that the mosque had been desecrated in 1949 and illegally demolished in 1992, but said that it would now have to give way to a temple. Mandir wahin banega. To the minority community that had knocked on its doors seeking justice were thrown the crumbs of a larger plot of land elsewhere in Ayodhya to build a mosque.
The Ayodhya case was not about a place of worship — we have so many of those in India that one less, of any community, would not matter. Called a title dispute, it was not even about land — although it would be interesting to see the Supreme Court try to settle other property cases in the manner it has done this one.
This was a test case for rule of law. A disputed structure had been demolished in plain sight of everyone in violation of this very court's orders. Would the aggressors get away with their crime? Yes, strictly speaking, the outcome of their trial in another court is still awaited. Their actions have even been held to be illegal by this court. But by declaring that a temple will be built on the site where they destroyed the mosque, the highest court of the land has gifted them what they set out to seek and, in their own words, left them feeling "blessed" and "vindicated".
This case was also about whether all Indians are equal before the law, irrespective of faith. That was not a point being argued by either side, but it is that unspoken question which made this verdict so important. The Muslims who cried on their Prophet's birthday on Sunday were not crying only over the loss of one mosque, they were crying for their country in which they felt they had lost their place as equal citizens.
The judgment of the Supreme Court of India, the defender of its Constitution, had driven what felt like a nail in the coffin of the constitutional ideals of secularism and rule of law. The judgment did not come as a surprise — public statements by various voices had for weeks, possibly months now, been pointing towards this. The announcement that the verdict was to be delivered the next morning had set off early celebrations in New Delhi in the temple camp — crackers were already being burst on Friday night. And yet, when it came, it still dealt a gutting blow. Was this it? Had the Old India been buried forever? And then, out of nowhere, lines read years ago which have no connection to the unfolding events came flooding back: "I silently laugh at my own cenotaph.…/ Like a child from the womb, like a ghost from the tomb/ I arise and unbuild it again."
The India where one man's fast could end a riot may have taken a battering over the years, but it lives. It lives in all those countrymen and women — writers, students, veterans, artistes, scientists, lawyers, journalists, judges — who are standing up and speaking for those who cannot speak for themselves. It lives in those of us ordinary citizens who have shivered with the family of Mohammed Akhlaque, who feel the pain of the Kashmiris and share the tears of the Muslims after the Babri verdict. Bapu's India may not always be visible but it is not dead. It will arise and unbuild this tomb yet.